Sustainable Construction
Miller Bros. Construction Inc. was demonstrating its expertise in environmentally-sound design and construction years before "building green" became an industry buzz phrase.
In 1999, we set out to build a very "green" building for the most environmentally conscious organization in the state -- the Department of Environmental Protection (DEP).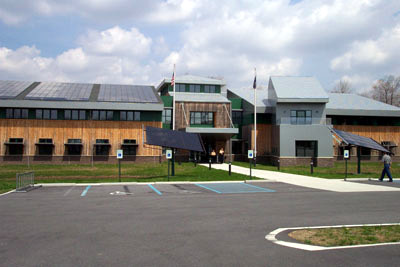 In 2001, our efforts were honored with the Governor's Award for Environmental Excellence and the Award of Excellence from the Associated Builders & Contractors. It was also the country's first building to be Gold LEED-certified (Leadership in Energy and Environmental Design). All three DEP offices that we've done have been Design-Build projects and Gold LEED Certified.
Geothermal heating, R-32 walls utilizing insulated concrete forms, demountable partitions, indirect lighting, and extensive use of recycled materials are a few of the features that helped earn the accolades. We worked with architect John Boecker of Kimball Associates to bring together the key elements of:
sustainable site design
water conservation & quality
minimizing impact on the environment
energy-conserving approach & systems
minimizing the use of non-renewable materials & resources
Click here to view more shots in the Photo Gallery; select Sustainable Construction Album