Miller Bros. Construction Reports: 2016 Progress and Completions
Yuengling's Tampa brewery was the site of construction activity in 2016 as MBCI completed installation of an on-site wastewater pretreatment plant. Work started on the project in March.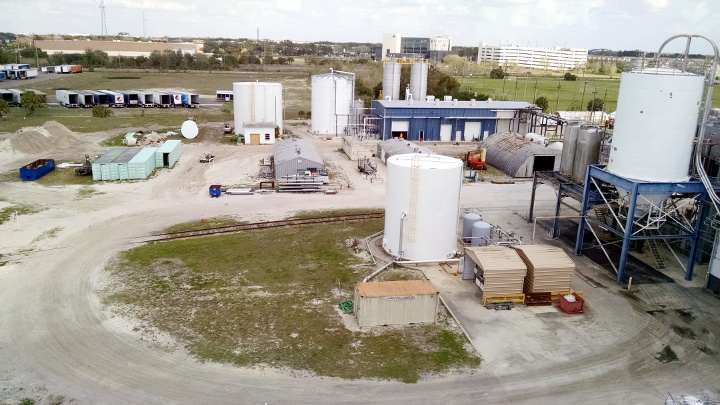 Scope of work included all sitework, concrete, masonry, erecting a pre-engineered metal building, interior finishes, plumbing and mechanical.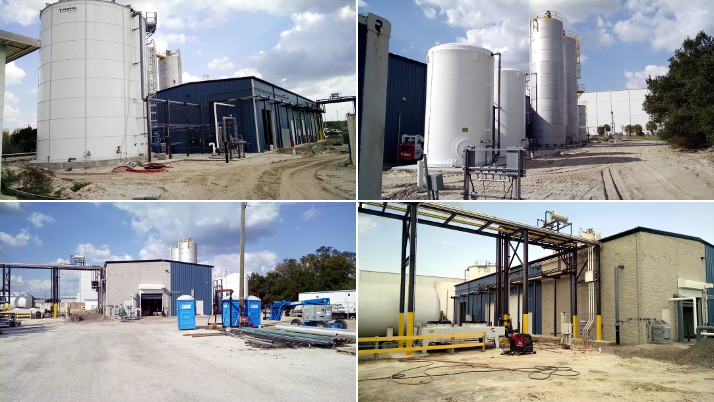 The 6,000-square-foot steel structure, completed with concrete block interior walls, houses the controls of a Veolia Water Treatment System.
---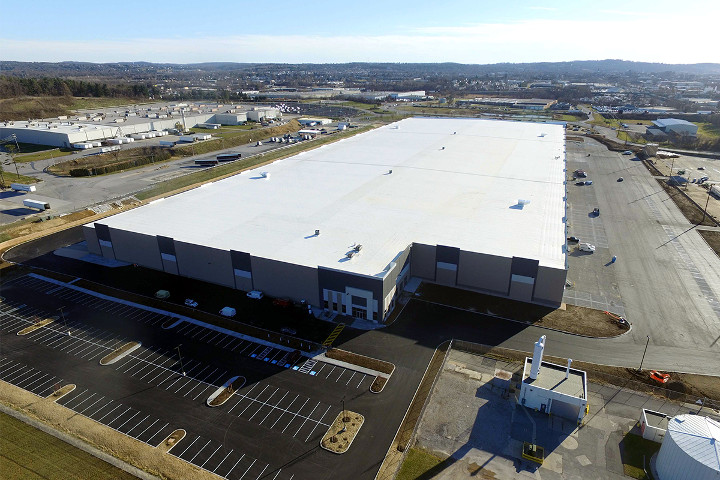 NorthPoint Development, the same Kansas City-based group that developed a major distribution center in Schuylkill County's Highridge Business Park for Hudson's Bay Company, called on MBCI once more for an office fit out within a newly-constructed 750,000-square-foot distribution facility in York County.

The new tenant in the newest building in the Eden Road Logistics Center was Post Consumer Brands, maker of Grape Nuts, Bran Flakes and many other nationally-known cereal brands.
NorthPoint asked for 5,000 square feet of new office space to be carved out from within the building footprint. Scope of work included erecting and insulating interior walls, HVAC, rough and finish electrical installation, ceilings and floor covering. All to be completed within just 8 weeks.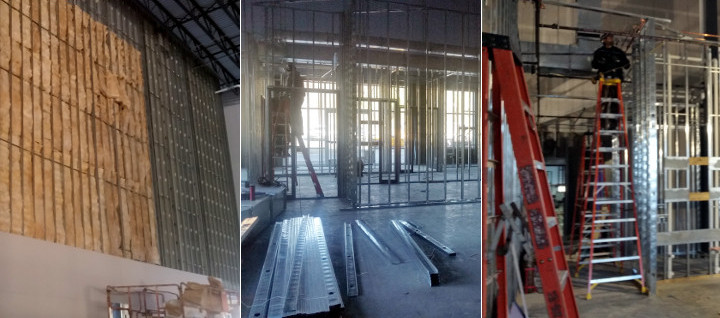 The newly-created interior space encompassed two conference rooms, several managers' offices, an open work space for operations personnel, a break room and men's and women's rest rooms.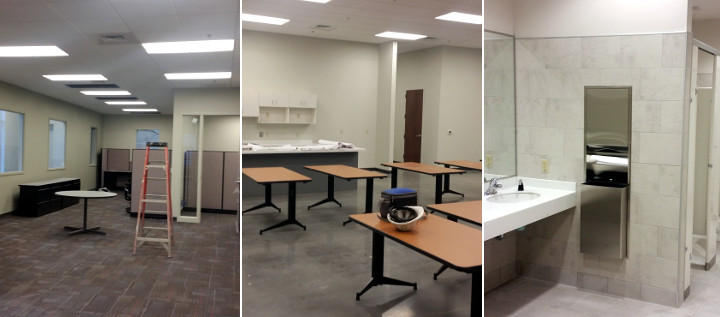 As the work moved forward in the office space NorthPoint contracted for additional work, including sub-surface and above ground plumbing, data cabling in the office and warehouse, security alarm systems in office and warehouse, and men's and women's rest rooms in the warehouse. All aspects of the project were completed on time as Post took occupancy on December 30, 2016.
---
In the fourth quarter of 2016, the engineering department of a nationally-known brand with a manufacturing facility in Berks County hired MBCI for exploratory work in the plant. Our task was to determine the extent of suspected corrosion on existing concrete-block-encased steel columns.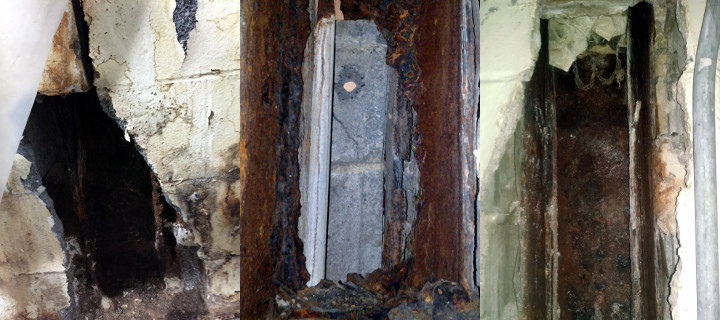 Upon exposing the steel, we found significant deterioration that included visible holes in the columns.
The 22-foot columns spanned from the first floor through a second-floor mezzanine to the roof. The columns were supporting the roof and a live load from equipment mounted on the roof.
We immediately installed temporary supports for the roof and worked with our client's engineers to design a column replacement plan. Together our teams created a procedure that included excavation of new piers and installation of 8x8x5/8-inch galvanized tube columns immediately adjacent to the soon-to-be-abandoned columns.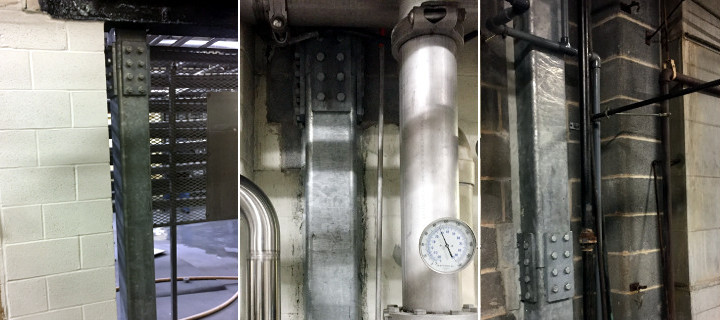 Constrained by existing equipment placement and height restrictions in the space, we fabricated the replacement columns in three sections, installing them with large splice plates for each connection.
---
Achieving a fault-free makeover in a busy bottling plant that's churning out more than 7 million beverage containers per day is a task few contractors are qualified to perform. Yet our MBCI teams of seasoned construction pros know how to install renovations and improvements without compromising the cleanliness and hygiene of adjacent production areas.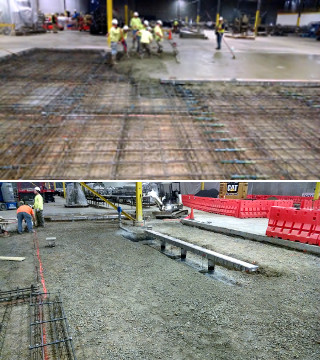 Haskell Company of Jacksonville Florida, operating as a project Construction Manager (CM) for a nationally-branded water bottler, hired MBCI in late 2016 to complete two projects inside the client company's Pennsylvania bottling plant.
We were tasked to complete floor saw cutting, concrete reinforcement and concrete placement in an area of approximately 5,000 square feet.
We removed an 8-inch thick concrete pad and replaced it with 12 inches of reinforced concrete, designed to meet structural requirements for the installation of new bottling machinery.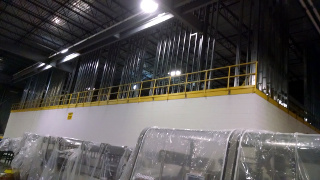 Haskell also awarded us the general trades package for a second-floor logistics office expansion.
The scope of work within a space of approximately 6,000 square feet includes offices, a conference room, two new stair towers, and an elevator.
We will be installing metal studs, drywall, ceiling, painting, structural steel, concrete, doors, windows, flooring, masonry, and a sprinkler system.
---

Dollar General operated over 13,000 stores in 43 states as of October 28, 2016. MBCI is honored to be selected by Dollar General as a partner in its growth in Ohio and Pennsylvania.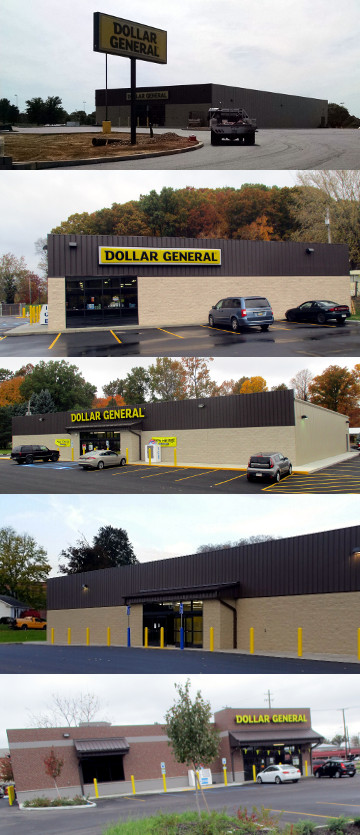 Within the four-week period ending November 11 MBCI completed seven new Dollar General stores.
In addition to stores in Berrysburg, Pa. and Lorain, Ohio we completed stores in (top to bottom):
Chambersburg, Pa. -- start to finish within 73 days


Urichsville, Ohio -- start to finish within 73 days


Amherst, Ohio – turned over two weeks ahead of schedule


Troy, Pa. – scheduled for completion January 2017; ready for turnover as of mid-October


Cleveland, Ohio – turned over three weeks ahead of schedule
Nationwide construction projections for Dollar General include the completion of approximately 900 new stores by the end of 2016 and 1,000 new stores in 2017. Also 1,775 existing stores will be remodeled or relocated during the same period.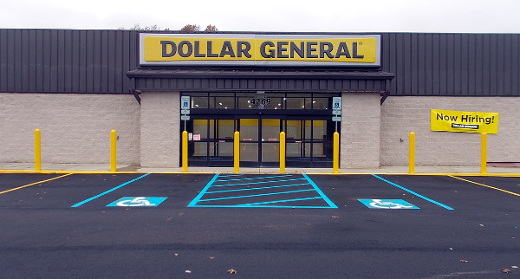 Upon the turnover of this Geneva, Ohio store on November 18, 2016 we completed 45 Dollar General units in Pennsylvania and Ohio.
Construction start-to-completion of the Geneva store happened within 90 days – supporting Dollar General's growth target for the month.
As of mid-November, going forward we already have 13 new sites permitted and approved to start. These are currently scheduled for turnover over during 2017–2018.
---
On July 5, 2016 MBCI began sitework to support the installation of an electric substation on the grounds of the Samuel Adams Pennsylvania Brewery in Breinigsville, Pa.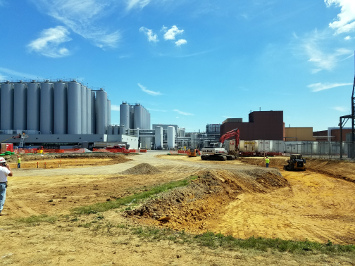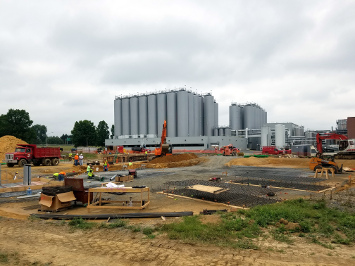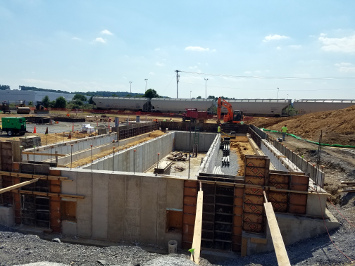 Our scope of work included excavation, forms work and concrete installation for approximately 70 individual foundations for various kinds of electric power distribution equipment.

In addition, we erected and closed-in a concrete-block power control building and laid down 4,000 linear feet of concrete-encased underground conduit.

Upon finishing our portion of the work on October 6, we earned a reward incentive for our exceptional performance that resulted in early completion of the project.
Our customer's project manager said, "Your efforts into the planning and coordination clearly showed. The installation went seamless and at the end of each day, you couldn't even tell your team was in there."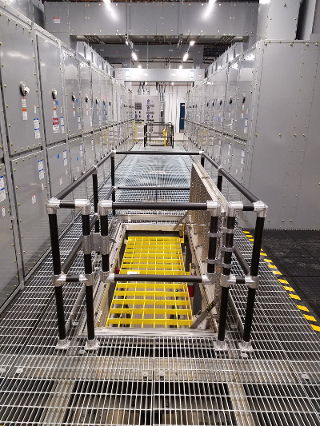 The early completion that sparked the subsequent reward incentive is a tangible tribute to the work ethic of each member of our team. The guys pushed through days of heat in one of the hottest summers on record, working 60 to 70 hours a week, and brought the project to completion in just 93 days.
---
MBCI recently completed a design-build project encompassing the creation of a new employee center inside the Samuel Adams Pennsylvania Brewery.
A new Brewers Employee Center was created inside an existing brew house where seven copper kettles were formerly used in the old-world-style fire brewing process. Fire-brewing uses a direct flame rather than steam to heat the brew in copper kettles. Today some consider the process to be somewhat inefficient. Yet fire brewing still enjoys a measure of popularity within a niche market of beer drinkers.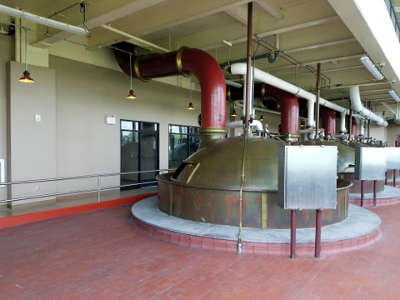 We refurbished four of the seven kettles.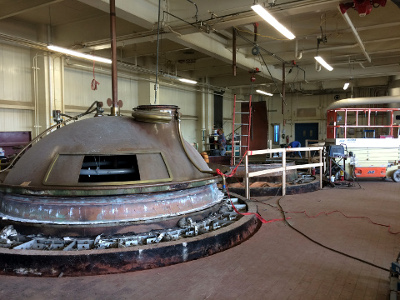 We removed three kettles to reclaim the space.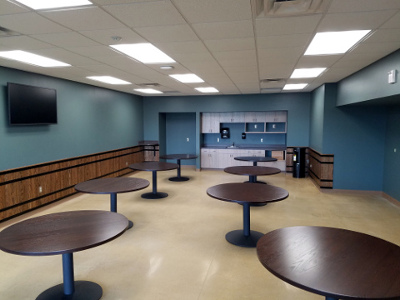 And put into place a bright new employee center consisting of break room, offices, restrooms, and training-conference area.
MBCI construction time on site totaled five months.
---
Location: 175 North Henderson Road, Upper Merion Township, Montgomery County, Pa.
Owner: KOP Management LLC
Architectural Design: RHJ Associates
Structural Design: MBCI
RHJ Associates is a full-service architecture, planning and design firm with a portfolio of projects that includes medical offices, senior and assisted living facilities, educational facilities, automotive dealerships, carwash facilities, retail units and shopping centers, restaurants, fire houses, and fitness centers.
The most recent in a string of RHJ-MBCI project collaborations is a fully-automated carwash facility located near the intersection of DeKalb Pike (U.S. Route 202) and Henderson Road in the village of King of Prussia in Upper Merion Township, Pa.

The aesthetics of the 150-foot by 43-foot building include two prominent towers visible from the highway, a red metal standing seam roof, and red aluminum windows.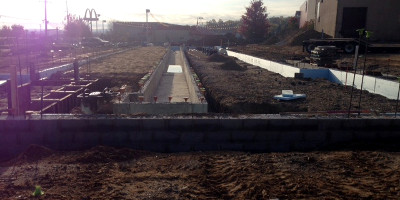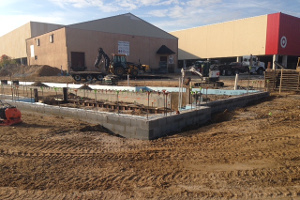 Exterior wall surfaces comprise ground face block, sand blast block, black granite tile at the entrance and exit, along with a white exterior insulation and finish system (EIFS). EIFS is a non-load bearing cladding system that provides exterior walls with an insulated, water-resistant, finished surface in an integrated composite material system.
---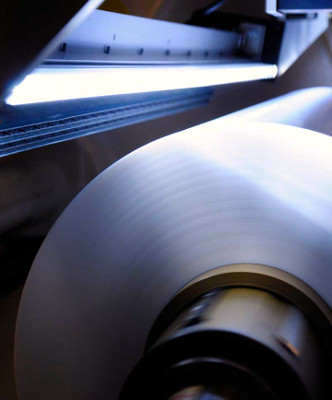 Tredegar Film Products is a global leader in the plastic films industry with a wide range of capabilities in polyolefin-based films — supporting demand for applications in various end-use markets — including those used in personal care, electronic display and lighting.
In expanding production capability to meet growing demand, the managers of the Tredegar plant in Mar-Lin, Pa. had to find a way to create more space, add more equipment, and avoid any disruption of ongoing production activity while installing a new film production line. In addition, their manufacturing processes occur in a clean room environment that could not be contaminated by construction activity.
They hired MBCI to do the work in November 2015.
The work space was tight. The new production equipment was large. The project was a challenge.
The scope of work consisted of creating a large mezzanine to support multiple pieces of equipment above. Below the mezzanine was a primary and secondary cleanroom to include mass foundations with embedded rails designed to support the computerized equipment used to produce plastic film.

All the demolition, excavation and concrete work needed to be performed while enclosed in a pressurized tent to ensure adjoining clean rooms could continue to operate with no chance of contamination. At one point a temporary wall had to be erected to allow the knocking down of an existing wall, followed by the raising of a new permanent wall, then the dismantling of the temporary wall.

[Note: In deference to the proprietary nature of our client's production processes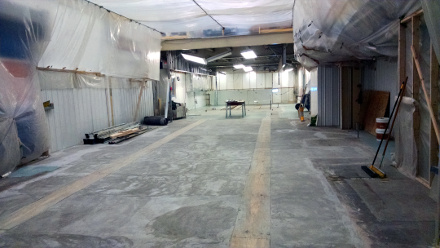 we have elected not to display any photos of this now completed, fully-equipped space.]
The MBCI scope of work concluded on August 9, 2016. This allowed sufficient time for Tredegar to complete final hook ups of their production equipment and begin rolling out product.
Both clean room and mezzanine are now fully functional and operating.

---

PHOENIX Rehabilitation and Health Services, Inc. offers rehabilitation and physical therapy services through more than 40 outpatient locations in 30 Pennsylvania counties. Established in 1997, the company comprises professional rehabilitation specialists who deliver "hands-on" care, personally treating patients during their entire recovery process.
Our most recent project for PHOENIX is in Lehighton, Carbon County, Pa.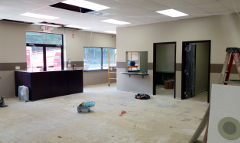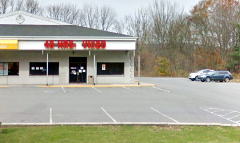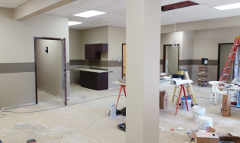 The scope of work in this make-over of a former video store into a new physical rehabilitation center included upgrades to plumbing and electrical systems and new interior finishes.
The remodel now encompasses approximately 3,100 square feet of treatment rooms, offices, reception area, gym space and kitchenette.
MBCI has created PHOENIX outpatient facilities in other Pennsylvania locations including several in Schuylkill and Bradford Counties.
---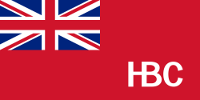 Hudson's Bay Company, founded in 1670, is the oldest company in North America. Not content with sitting on its laurels, today HBC ranks as one of the fastest-growing department store retailers in the world. In North America, HBC's leading brands include Hudson's Bay, Lord & Taylor, Saks Fifth Avenue, Gilt, and Saks OFF 5TH, along with Find @ Lord & Taylor and Home Outfitters.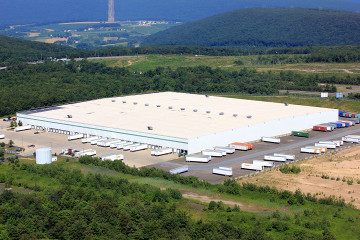 In early 2016 NorthPoint Development, a Kansas City based real estate development, management and leasing firm, acquired a site at 25 Keystone Boulevard in Pottsville's Highridge Business Park comprising an existing 450,000 square foot distribution center and adjacent land available for expansion.
Shortly afterward Northpoint entered a long term lease agreement with Hudson's Bay Company.
In March HBC disclosed plans to open the Highridge Park facility through a phased approach, expanding by January 2017 to a total of 617,500 square feet. The space would house a best-in-class robotic retail technology distribution center, photo studio and office. At that time HBC contracted MBCI to fit out office space with a footprint of 46,500 square feet inside the existing building.

HBC had to have the work done in 90 days. Target date for turnover was June 1. Thought by some to be an impossible task. Or nearly impossible. In addition to the work itself, final drawings, submittals and permitting needed to be secured within this time period. And every square foot of already existing office space had to be demolished as well.

For the first three weeks the MBCI team worked on a "handshake" basis until the paperwork caught up with the work flow.


Despite the posting of additional work orders as the project moved forward, the client was able to occupy the space on May 31, one day ahead of schedule.
---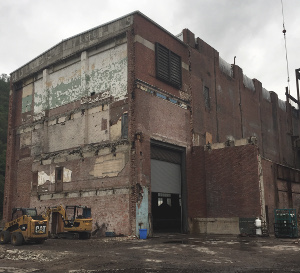 The Hunlock Creek Energy Center near Wilkes-Barre Pa. is a 130 megawatt combined-cycle generating plant, recently converted from coal to natural gas, owned by UGI Energy Services.
UGIES contracted MBCI to perform an exterior beautification project on the 1950s-era structure.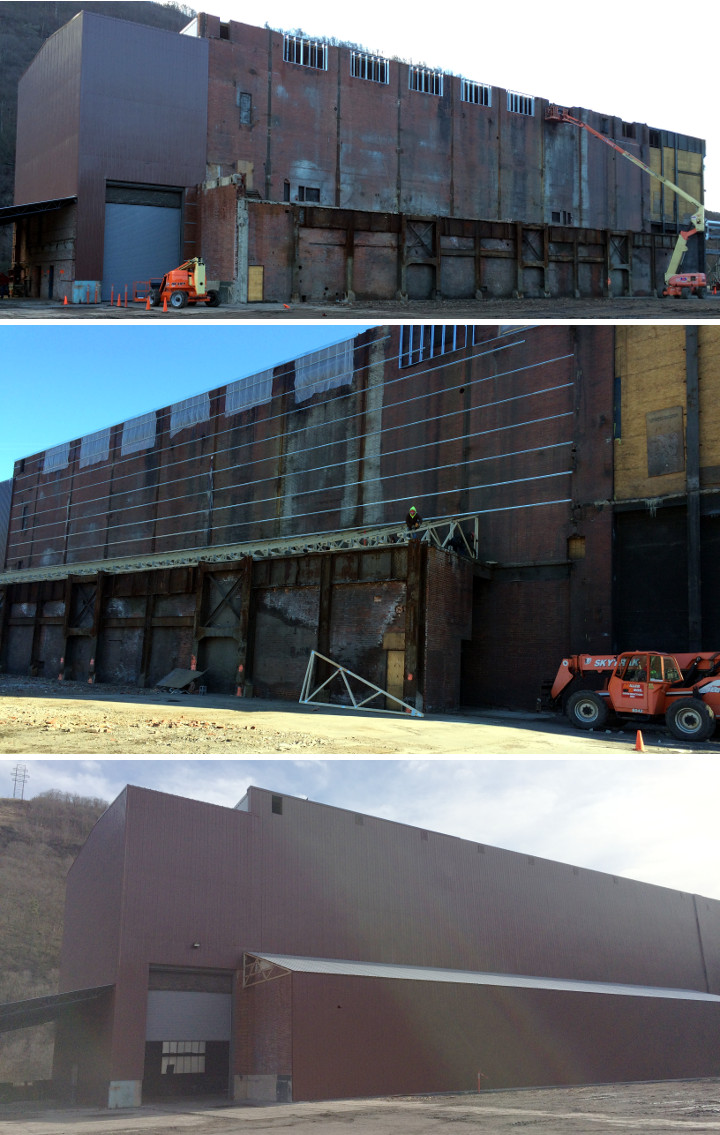 The project started in January of 2016. Over the course of five months MBCI built a small roof, erected the long roof over the front lower section, furred out the exterior wall and installed more than 20,000 square feet of steel siding to preserve the integrity of the building and improve its aesthetics.
---
An early morning fire on October 4, 2013 in the 100 block of Main Street in Mt. Carbon Pa. destroyed two homes and the headquarters building of the Mt. Carbon Fire Company.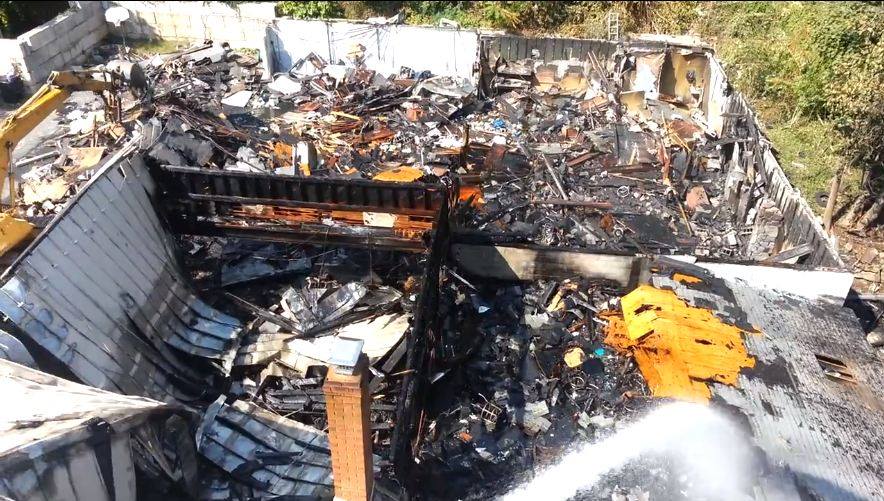 Two years of wrangling over legal issues relative to ownership of the properties ended with the fire company in posssession of clear title. Officers of the fire company signed a construction contract with MBCI in October 2015. A groundbreaking ceremony was held on February 27, 2016.
The design-build agreement calls for the erection of a 7,800 square-foot structure comprising inside parking for a pickup/rescue vehicle and two fire trucks in addition to a social hall and kitchen.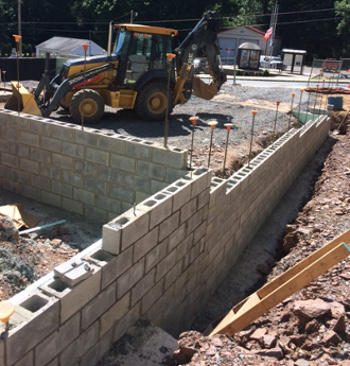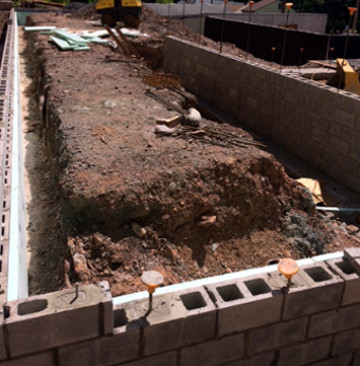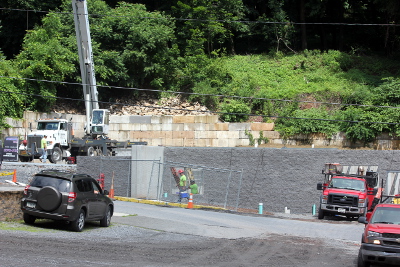 Other design specifiations include:
Concrete and CMU foundation walls
Split-faced block and vinyl siding
Wood truss with asphalt shingle roof
As of July 1, 2016 the project is on time and on budget. Completion is anticipated by the end of September.

---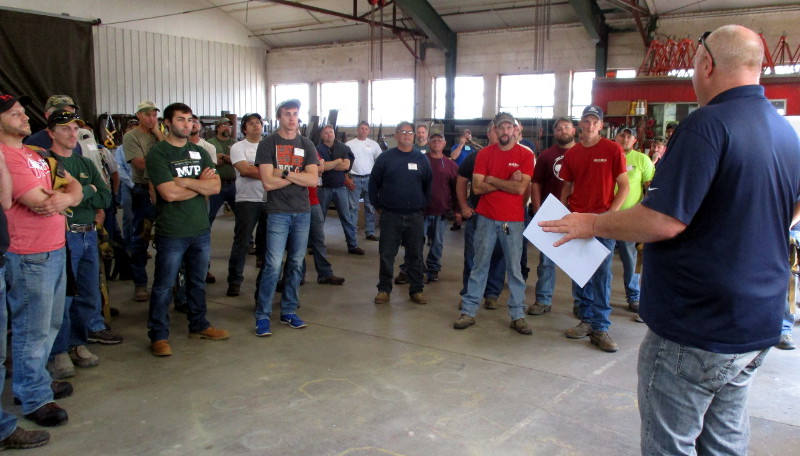 In a reaffirmation of its decades-long commitment to safe work practices MBCI held a Safety Day on May 20. More than 80 employees and guests took part in a day-long series of safety seminars and workshops.
East Coast Risk Management led a seminar about fall protection, demonstrating procedures to avoid falls as well as other proactive measures to reduce workplace injuries.

Schuylkill EMS provided instruction in basic first aid, CPR, and the use of an automated external defibrillator (AED).
Trooper Hackman of the Pa. State Police and Motor Carrier Enforcement Officer Noell were on hand to answer any questions about commercial vehicle laws. The officers demonstrated proper trailer loading techniques and how to properly secure various types of cargo. They emphasized the importance of maintaining a safe vehicle and driving responsibly.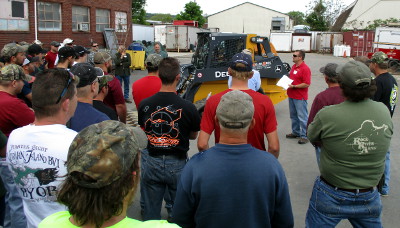 Sitework Project Coordinator Tim Nester described proper equipment usage and the importance of safety inspections before and after using heavy equipment.
This session also included guidelines for operating machinery safely on inclines and in rugged terrain.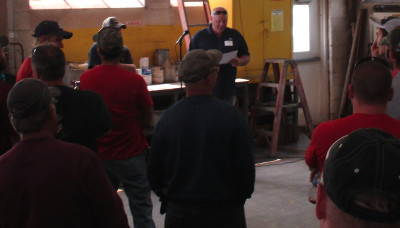 Project Manager Darrin Rapali reviewed proper procedures when coming across an unsafe machine or damaged piece of equipment.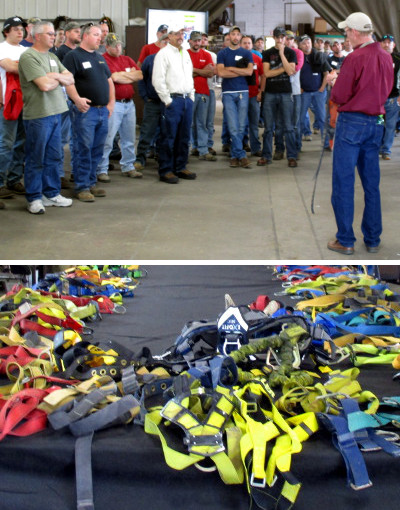 The event concluded with safety equipment inspections.
Jim Rich, Director of Safety and Risk Assessment, addressed the gathering on proper inspection of personal protective equipment.
All worker harnesses were inspected for defects and functionality and then redistributed to users.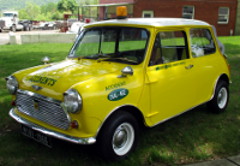 MBCI is serious about safety. Full-motion video of the 2014 MBCI Safety Day is available for viewing here.
---
In Pennsylvania -
Selinsgrove is located in Snyder County, about 50 miles north of Harrisburg. The Selinsgrove Dollar General was completed and opened to store customers the first week of May.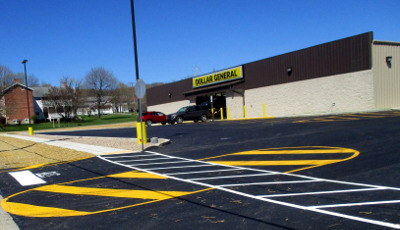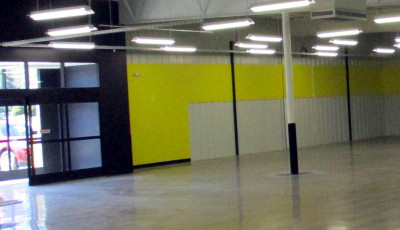 Schellsburg is in Bedford County, about 86 miles east of Pittsburgh. Our Dollar General project in Schellsburg opened to shoppers the first week of May. (photos)
Carlisle lies in south-central Pennsylvania roughly 20 miles west-southwest of Harrisburg. Our Dollar General unit in Carlisle is currently under construction with an expected opening at the end of August.
State Line is so named because it is located on the Maryland state line along Interstate 81 between Greencastle and Hagerstown, Md. Construction of our Dollar General store in State Line began the first week of May.
Chambersburg is located in the South Central region of Pennsylvania, approximately 52 miles southwest of Harrisburg. We will begin construction of a Dollar General unit there by the end of May.
Berrysburg is located in northern Dauphin County, 30 miles north of Harrisburg. We expect to be breaking ground for a Dollar General in Berrysburg no later than the beginning of June.
In Ohio –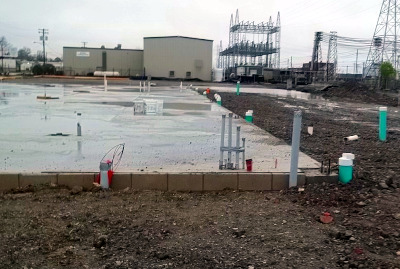 Lorain is a city found on the shore of Lake Erie about 30 miles west of Cleveland. Construction on a Dollar General unit is underway there now with an expected completion scheduled in late June. (photo)
Vermillion is a city that straddles Erie and Lorain counties on the shore of Lake Erie in northern Ohio. Construction of a Dollar General store is underway there now. A late-June completion is scheduled.
Amherst is part of Greater Cleveland area, located a little more than 2 miles from the shore of Lake Erie. Construction of our Dollar General unit there will begin by the end of May.
Cleveland is a major city in Ohio and home to almost 400,000 people. We will be breaking ground for our next Dollar General retail unit in Cleveland before the end of May.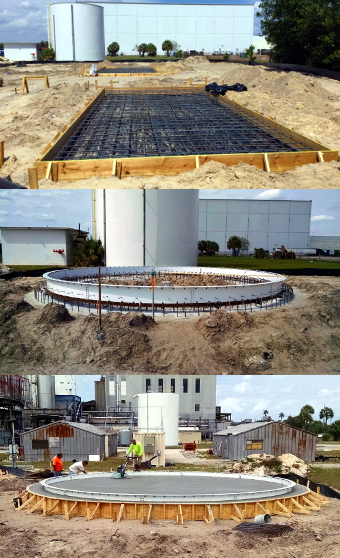 Yuengling's Tampa brewery was the site of new construction activity in March as MBCI started building an on-site wastewater pretreatment plant at the Florida facility.
Our scope of work includes all sitework, concrete, masonry, erecting a pre-engineered metal building, interior finishes, plumbing and mechanical.
The building will be 6,000-square-foot steel structure with concrete block interior walls. It will house the controls of a Veolia Water treatment system similar to the one recently installed at the original Yuengling Brewery site in Pottsville, Pa.
Construction began at the end of March and we expect to be complete in late August.
---
Ice cream manufacturing operations in the 1930s-era Yuengling Creamery, a 40,000-square-foot brick, concrete and steel building, ended in 1985. In 2014 the building owner decided to rehabilitate the long-vacant structure for reuse, in part as a pretreatment facility for wastewater from the original Yuengling brewery located across the street.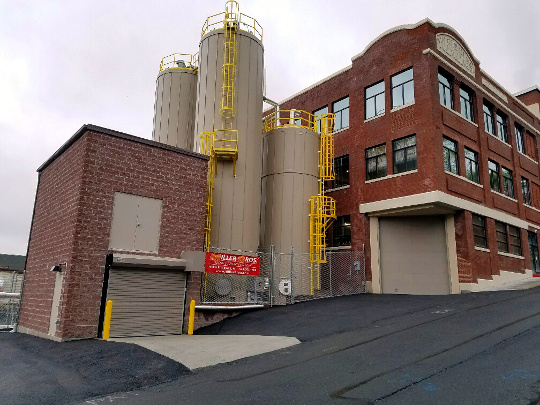 Late in 2015 MBCI took on the task of selective demolition, renovation and new construction on the lower level of the building in order to create space for an 8,000-square-foot wastewater pretreatment plant designed to process brewery wastewater prior to release into the sanitary system of the City of Pottsville.
Our scope of work included construction of new floors and walls, renewal of existing walls, new doors, new windows, new restroom with shower, and new material testing lab. Exterior work included excavation followed by installation of tank support foundations and pads, wet wells, manholes and sanitary piping from the existing brewery, and assistance with placement and anchoring of all new tanks.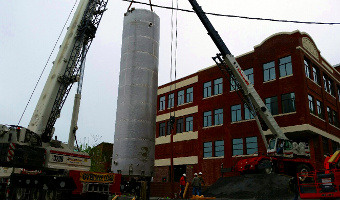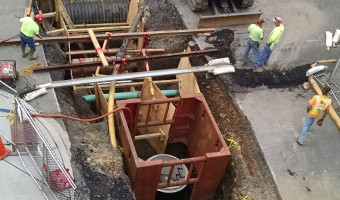 Installed in the first quarter of 2016, the treatment system is the Veolia Water ballasted flocculation system with Biobed Advanced Digester. The two taller tanks, 48 feet high and 12 feet in diameter, are anaerobic digesters. The two smaller tanks are equalization tanks. Each is 34 feet high and 12 feet in diameter. System capacity is 250,000 gallons per day.
---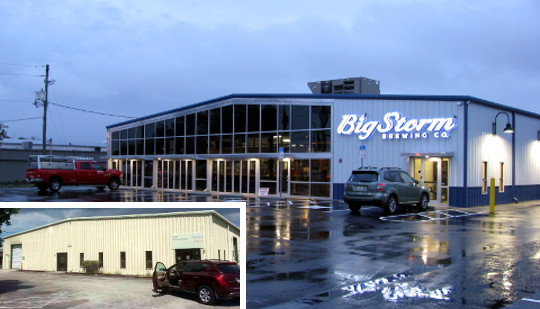 We started work on this project in May 2015. Our crews transformed a vacant deteriorated building into a modern fully-functioning 16,000 square foot brewery and taproom for Big Storm Brewing Company in Clearwater, Pinellas County, Florida.
A publicly-accessible Tasting Room is a key element in the design of the facility. The space features a rustic motif with stained and polished floors, reclaimed railyard oak wall covering, custom cabinets, concrete bar tops and a floor-to-ceiling glass wall where customers can watch the brewing process in action.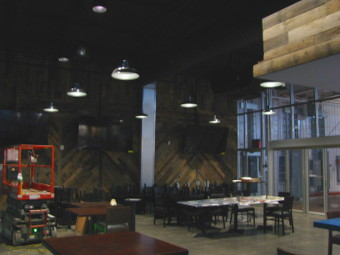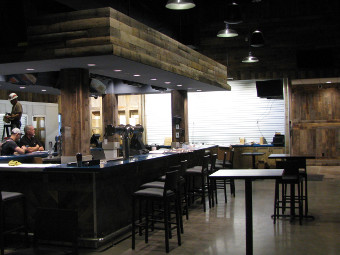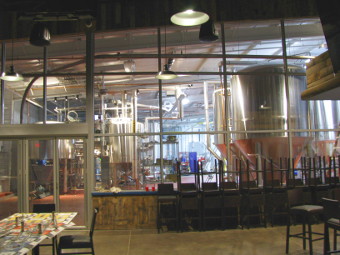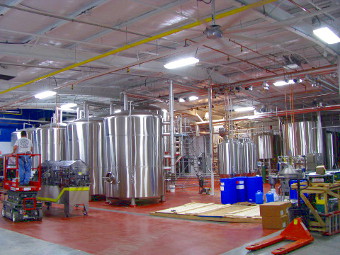 As of this writing, early February 2016, the anticipated public opening of the newest Big Storm Brewing Co. facility is just a few days away.
---
Oxford, Pa.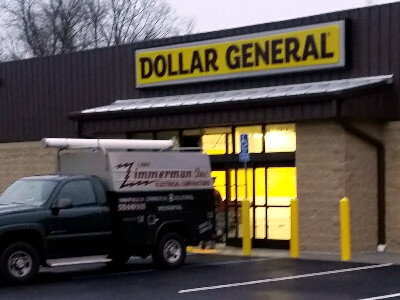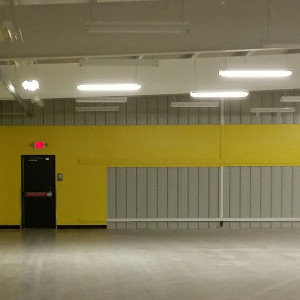 Consumers in Oxford, Pa. are now taking advantage of earlier-than-expected shopping opportunities in a new Dollar General unit that opened on February 1, 2016. Thanks to the cooperation of Mother Nature we were able to advance the construction schedule and turn over the unit one month earlier than anticipated.
Orwigsburg, Pa.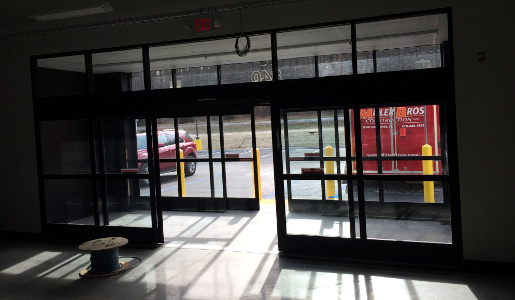 The unusually warm winter weather in the Northeast allowed us to move briskly through the construction schedule for the Dollar General unit in Orwigsburg, Pa.
The store was completed by February 1, three months early.
We are totally committed to support Dollar General's goal of opening two units a day or more in 2016.
---
August 2015 saw our construction start on a 5,670 square foot processing-storage facility for a prominent national brewer.
The new Barrel Room will be used in a final production phase called "finishing." Finishing is a creative way for the brewmaster to impart additional flavor from a variety of barrels before the beer is bottled. This final multi-step and lengthy process lasts several months, resulting in a brew offering great distinction and unique flavor.
Watch this brief time-lapse clip of our construction progress: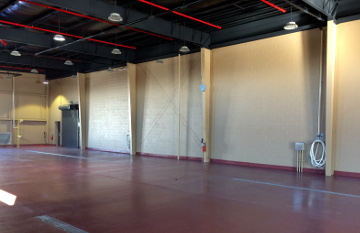 MBCI completed construction of the new barrel room in early January 2016.
Since 2012, MBCI has served as the contractor of choice for a number of this brewer's processing, storage, and fermentation projects.
---