About Us
In the Beginning:
In 1976, Jim Miller left his job with a general contractor to co-found a construction company with a partner who has since left the business.
"We didn't have a big, elaborate mission," recalls Jim, who now serves as president of the company. "Our philosophy was simply to deliver the best work possible at a fair price, whether the job was big or small."
The Growing Years:
In 1979, Jim Miller and his growing team acquired a barn in Cressona, Pennsylvania to convert it to a new home for Miller Bros. Construction, Inc.
As their reputation grew beyond Schuylkill County, so did the size of their projects. More staff was added. Within 20 years, the company portfolio included projects throughout Pennsylvania.
At the point where staff grew to more than 80, the 4,500 sf office had been stretched to the limit.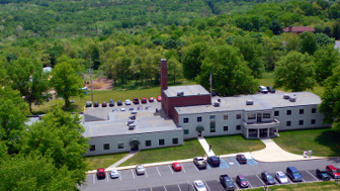 In 2002, the company purchased a building that once housed the Pennsylvania Anthracite Research Center, a state research facility.
Subsequently, after the state closed the research center, the building was used as a dormitory for the Schuylkill campus of the Pensylvania State University.
When it came into our hands we renovated it for use as our corporate headquarters.
Where We're Going:
Today Miller Bros Construction Inc. has dozens of projects in the works at any given time.
We established an affiliate organization, MBC Development LP, to handle the ever growing real estate development and leasing side of our business.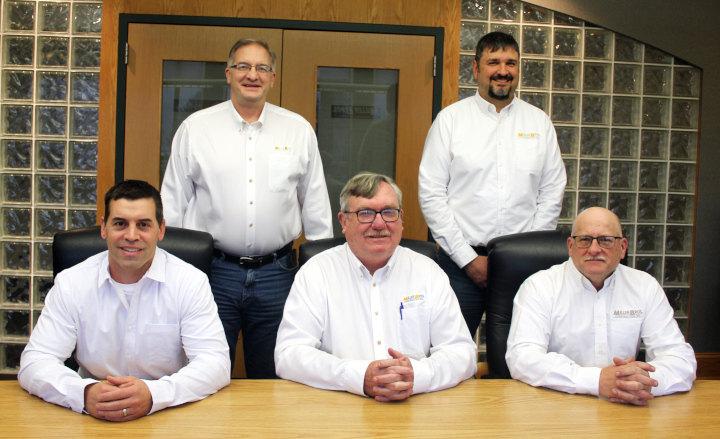 MBCI Shareholders (front row l-r) Beau Bruso, VP-Construction; Jim Miller, President; Bryan Herb, VP-Estimating; (back row l-r) Mike Major, COO; Mark Hoover, Executive Project Manager
Even as staff size grows beyond 100-plus, each member works as part of a cohesive team, a team widely recognized as one of Pennsylvania's finest construction companies.
Miller Bros. Construction Inc. possesses an uncommon ability to handle large, high-profile construction projects, yet continues to conduct relatively minor renovations and repairs with the same diligence.
"Relationships with some of our biggest customers began years ago as small projects," notes Jim. "We grew one job at a time and by recruiting the right persons to the team, one at a time."
Members of the MBCI Team:
Meet the team that has worked as a tightly-knit unit applying construction know-how, skill, and expertise to meet the needs of satisfied customers for more than three decades.
High-profile office buildings. Cutting-edge manufacturing plants. Efficient distribution centers. Attractive retail plazas. Rehabilitated historical site. Long-term partnerships with Fortune 500 companies. Winners of the Pennsylvania Governor's Award for Excellence in environmental design.
The diverse services of this exceptional commercial construction team are in high demand. Owners, construction managers and architects come to Miller Bros. Construction for a combination that's difficult to find these days: a versatile single source for outstanding workmanship, dependable scheduling and coordination, and competitive pricing.
General Management

James L. Miller, President: Jim co-founded our company in 1976, and still runs the show. He monitors everything from the financials and resource allocation through safety and customer satisfaction. Jim also serves on the front line with Design-Build and real estate land development projects.

Mike Major, Chief Operating Officer: Mike Major is responsible for overseeing the daily operations of the company as well as designing and implementing business strategies, plans and procedures.

Kate M. Reber, Controller: Kate Reber is responsible for providing financial and tax planning and reporting, debt financing, and overseeing the daily operations of the accounting department.
---
Construction Operations

Bryan Herb, VP-Estimating, Chief Estimator: Bryan produces upwards of 90 percent of our Plan and Spec estimates. He reviews and chooses the projects to bid, selects subcontractors and puts together the packages we submit on bid day. Once a contract is awarded, he reviews quotes, interviews subcontractors, and tracks costs. He helps with estimating of Design-Build projects when the occasion demands.

Beau Bruso, VP-Construction: Beau's estimating effort is focused in the Design-Build project category. He reviews quotes, interviews and selects subcontractors as well as tracks costs. As Project Manager, he works with owners and construction managers to define their needs and scope of their projects.

Rick Lettich, Vice President Emeritus: Retired from day-to-day operations, Rick guides design as needed on various projects. Also assists the Chief Estimator on bid day.
Director of Safety, Jim Rich

Executive Project Manager, Mark Hoover

Senior Project Managers
(l-r) Mike Panak, Joe Sitcosky, Ralph Renn



Project Managers
(l-r) Darrin Rapali, Dan McMahon, Tim Fitzpatrick



Nate Taylor, Brandon Shade, Frank Crampton



Civil-Sitework Estimator, Tim Butler; Sitework Project Coordinator, Tim Nester


---
Engineering
(l-r) Edward E. Davis, Sr., P.E., Director of Engineering; Kevin "P.J." Melocheck, P.E., P.L.S.;
Cole Boyer, P.E.; Bryan Gaughan, EIT




Marke Rourke, Senior CAD Technician; Christy Zulli, Engineering Technician


Draftsman, Jeff Butz; and Architectural CAD Technicians, Jim Chicora and Michael Schwalm



---
Administration
(l-r) Gina Brown, Project Accounting; Nancy Sidleck, Project Administrator;
Vickie Herb, Accounting; Mindi Eisenacher, Receptionist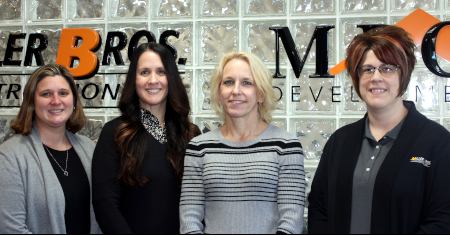 ---
Company Affiliate

View the team members of our affiliate, MBC Development