Miller Bros. Construction Reports: 2020 Progress and Completions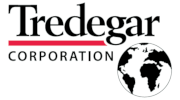 The Tredegar Flexible Packaging Films division produces specialized polyester (PET) films for use in food and industrial packaging applications.
Recently, Tredegar called upon MBCI to engineer and install mass-isolation foundations for two lathe machines in its plant in Pottsville, Pa.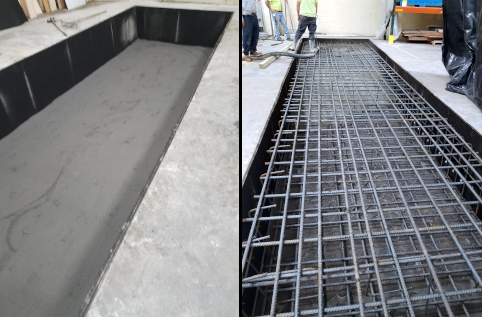 Vibration isolation is required in order to avert precision lathe equipment from undergoing any unwanted vibration that could be transmitted from the surrounding building environment to the foundations that in turn will support the lathes.
Proper isolation between the machine foundation and its surrounding area invariably results in trouble-free machine operation.
Our scope of work comprised:
vibration study
engineering of machine foundations
saw cutting and excavation inside the building
installation of sand base and isolation panels
installation of reinforcing bar and concrete
---
The installation of an MBCI-engineered pipe bridge spanning a railroad siding for AMCOR in Allentown concluded in late December.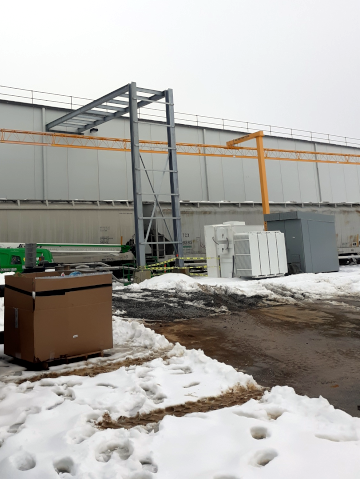 An electrical contractor is presently at the site installing conduit runs on our completed steel structure. The new conduits will supply much-needed additional power to this plastics manufacturing plant.
---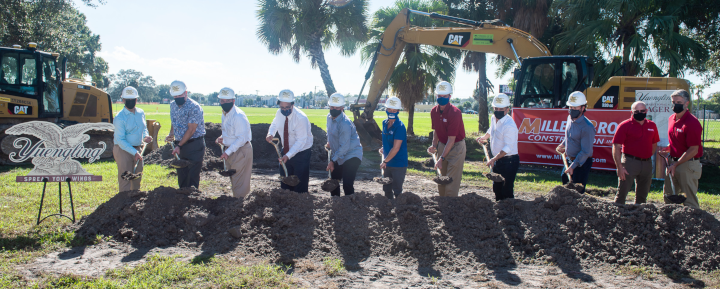 D.G. Yuengling & Son, Inc., America's Oldest Brewery®, broke ground on November 16, 2020 on a revitalization of its Yuengling Tampa Campus. MBCI is the general contractor for the development.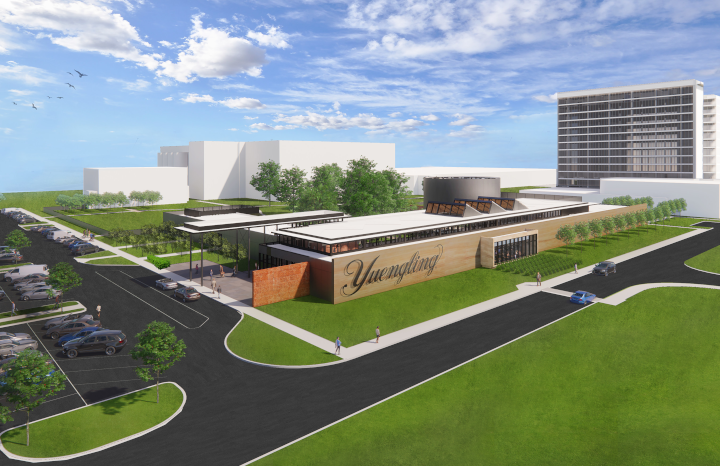 The Yuengling project includes a 15-story hotel, a restaurant, concert pavilion, gift shop, outdoor beer garden and private dining and conference rooms. The overall character of the design reflects Yuengling's rich industrial history as America's Oldest Brewery.
The new campus is slated to open in early 2022.
---

With 47,000 employees in more than 40 countries, Amcor is a global leader in developing and producing packaging for food, beverage, pharmaceutical, medical, home- and personal-care, and other products.
The Amcor Rigid Plastics USA plant in Allentown, Pa. required a new electric substation to sustain production capacity growth. MBCI was tasked with constructing concrete foundations and piers to support a design-build steel pipe bridge to carry electrical conduit over a railroad siding serving the facility.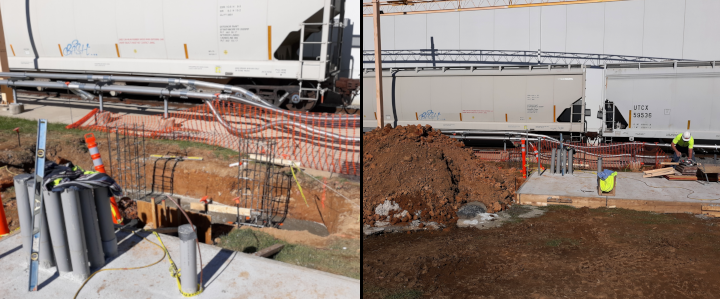 In addition, MBCI engineers submitted drawings for approval then fabricated in-house all the required steel. Placing the steel will require close coordination among Universal Electric – the contractor installing the substation, the Amcor maintenance team, and the railroad.
---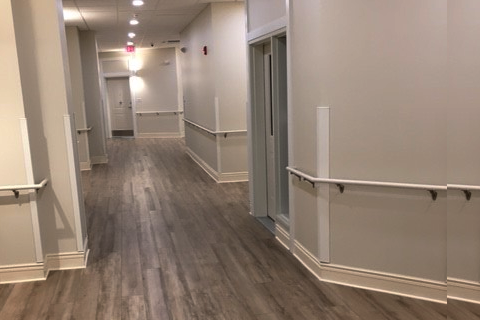 MBCI started work on the five-story Miners Lofts Project in November 2019.
The long-vacant former garment factory, comprising 64,375 square feet, is about to become the new home to senior citizens taking occupancy in 30 individual apartments.
MBCI's scope of work comprised installation of metal studs, drywall, acoustical ceilings, door frames, doors and hardware, casework and countertops, wood trim, and toilet accessories.
In addition, we put down a concrete overlay on the second floor and poured new concrete on the ground floor. Work concluded in November 2020.
---
MBCI was hired by the American Hose fire company to do various repairs on the exterior of the structure.
We installed new EIFS on several sides of the building. EIFS is a multi-layered exterior finish system. An abbreviation for "Exterior Insulation and Finish Systems," the material is also known as synthetic stucco.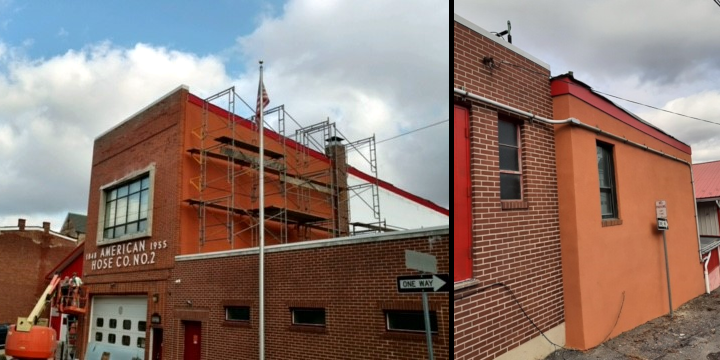 We repointed brick and replaced missing or damaged bricks. Installed a concrete walk at the fire escape area. Re-secured the fire escape to the wall and reattached broken fire escape railings, installed new fire escape support posts and repainted the fire escape.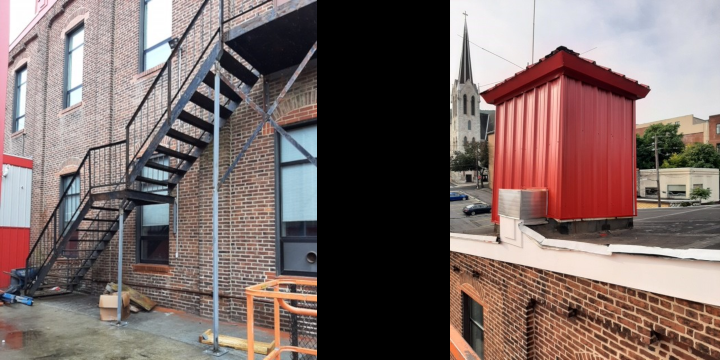 We completed the project in November 2020 upon the installation of new metal walls and roof panels on an existing cupola.
---
In September 2020 the Pennsylvaina State University contracted MBCI to rehabilitate a failing window wall in the Student Commons Building on the Wilkes-Barre Campus.
We removed two old, leaking aluminum storefront windows along with water-damaged studs and drywall.
Removed and replaced the associated roof structure.
Installed two new store front windows, new flashing and weather proofing as well as new exterior vinyl siding to make the entire system water- and weather-tight. We completed the work with new interior stud framing and drywall.
Students' living space is now protected from the vagaries of Mother Nature.
---
West Side Wood Products specializes in custom wood packaging, such as skids, pallets, crates, and boxes in all shapes and sizes to suit customers' specific shipping needs.
In September 2019 West Side Wood hired MBCI to add more production and office spaces to accommodate the firm's business growth. (see inset photo)
The scope of work included site preparation and erection of a 320' x 200' clear span structure to house increased production space and two-story offices. In addition, a detached 7,000 square foot garage was installed on the property.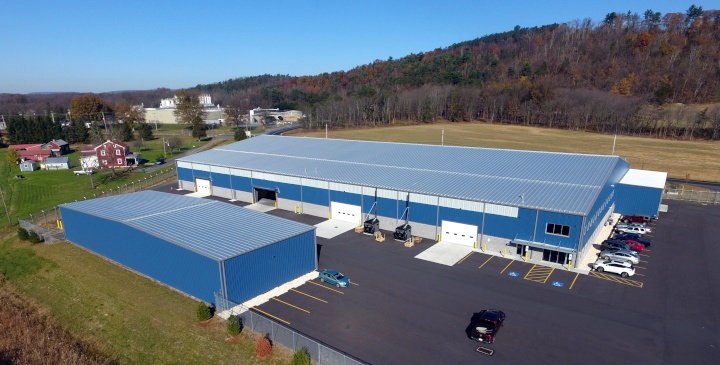 The project was completed in Summer 2020.
---
A total interior makeover of the Robert E. Roeder U.S. Army Reserve Center in Schuylkill Haven began in May.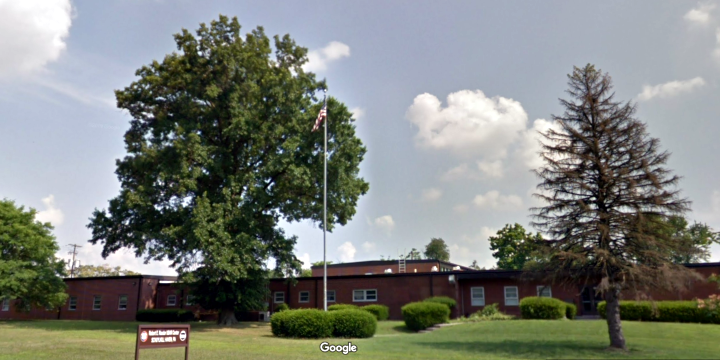 The scope of work includes new ceilings, wall paint, carpeting, vinyl composition tile flooring, markerboards and tack boards, even furniture.
Upgrades to electrical, data, and security systems are also part of the schedule.
The work is a design-build bid project for the U.S. Army Engineering and Support Center under the aegis of the Reliance Construction Company of North Carolina. Completion is expected in January 2021.
---
On Tuesday, August 11, 2020, the Schuylkill County Transportation Authority (SCTA) held a groundbreaking ceremony to celebrate the onset of construction for a new Schuylkill Transportation System (STS) operations and maintenance center. Federal, state, and local officials participated in the event.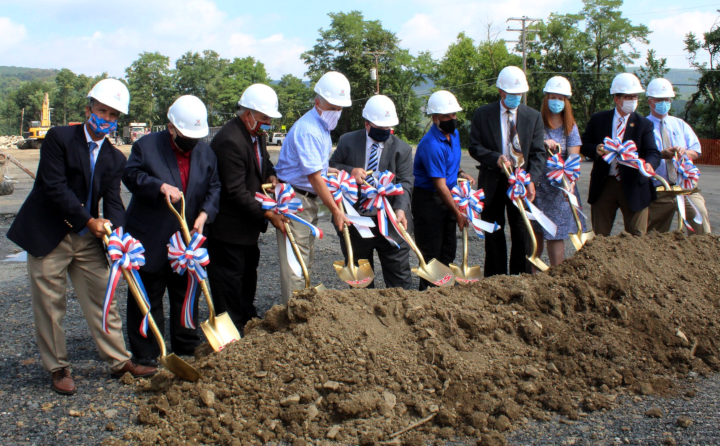 The 17-acre building site, located at 300 Wade Road in St. Clair, parallels the southbound lanes of Pa. Route 61.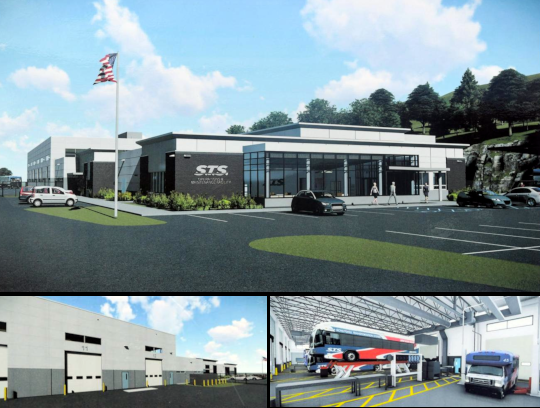 The planned 80,000 sf building is designed to house indoor storage, maintenance bays, administration space and a compressed natural gas (CNG) fueling facility for STS, a public transportation organization.
MBCI bid the project at $19.6 million on April 21.
SCTA issued a notice to proceed on May 18. Site work started on May 26.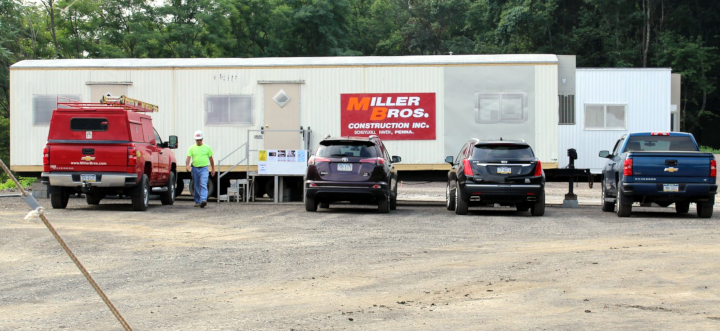 Construction is expected to be completed by July 31, 2022.
---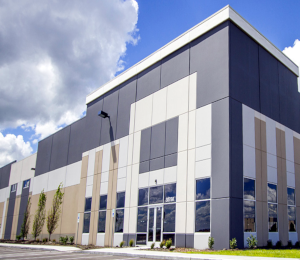 NorthPoint Development is a nationwide real estate firm specializing in Class A industrial properties.
One of the company's newest Pennsylvania projects is a 380,069 sf industrial building at 1700 Harrisburg Pike in Carlisle, Pa.
MBCI was invited to complete office space fit outs for two separate tenants in the same building. Both projects have very aggressive production schedules.
Project 1 This project comprises preparation of a 40-foot high space of 310 feet in length demising to separate sub-tenants and space for an office consisting of 2,960 sf. Project start date June 23 with expected turnover on or before August 31, 2020.

Project 2 This project includes 8,150 sf in total: office space of 2,350 sf and showroom space of 5,800 sf. Project start date on July 1 with completion of offices scheduled for August 31 and turnover of the showroom on or before October 1, 2020. The scope of work also includes cutting in new openings and creating nine dock positions.

---
Michael Foods Inc. processes and distributes refrigerated and frozen egg products to restaurants, retail, grocery, and convenience stores around the globe.
MBCI possesses a years-long history of successfully completed construction projects for the managers of the Michael Foods Inc. processing plant in Klingerstown Pa. When two spiral freezers began showing their age and needed replacement, Michael Foods hired MBCI to perform the architectural and structural segments of the project.

Spiral freezers serve as lifelines to many food production processes. No spirals mean no production.
These freezers were huge. So big they took up two floors. One measured 28 x 38 x 21 feet high; the other was 21 x 34 x 21 feet high. Both commanded spaces on the third and fourth floors of the facility and included elaborate drain systems for collecting leaking water.
MBCI took the lead on the project, delivering services covering the entire spectrum: designing, drafting, engineering, permitting and construction.
Since replacement time was of the essence, a 76-day production schedule was established.

The old freezers were integral to the structure since the north and west walls of the freezer space were exterior walls of the building. The work started more than 30 feet above finish floor (AAF) and topped out at 62 feet. We had to extend the building outward three to nine feet around the north and west walls and upward six feet to accommodate the new stainless-steel equipment.
The replacement freezers required protection from the elements during construction. They could not be exposed to sunlight or rain. We erected a 30 x 50 x 24-foot pole building in the parking lot for protection of the spirals.
The third and fourth floor spaces where spirals were to be installed had to be kept enclosed even while still allowing the spirals to be dropped in by crane from overhead. We needed to be inventive.
We conceived and created a 2,500-sf retractable tarp roof using cables, pulleys, ropes and two exceptionally large tarps.
Some snickered when they heard the idea. But it worked.
The sides would also be a challenge, requiring installation of gigantic tarps to enclose them. All this while protecting the floors below from any water damage.
The lower floors contained training rooms, offices, and breakrooms. We performed our work with little disruption to staff and no damage below. However, we did remove and replace ceilings in the occupied area where old leaks from the original spirals had occurred.