Miller Bros. Construction Reports: 2015 Progress and Completions
In May 2013 the Schuylkill County Board of Commissioners acquired a three-level building of 21,000 square feet in downtown Pottsville to house the county's department of Children and Youth Services.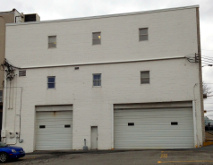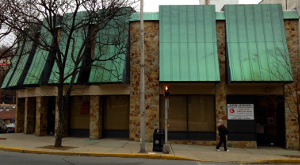 The county hired Miller Bros. Construction to perform a total building makeover in April 2015.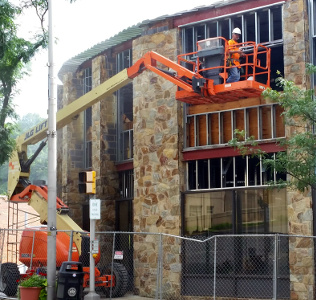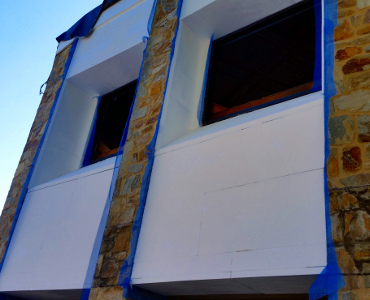 On the exterior walls, Miller Bros. created an envelope of insulation consisting of 2-inch rigid insulation combined with 2.5 inches of closed-cell spray foam resulting in a wall with a total R-value of 24.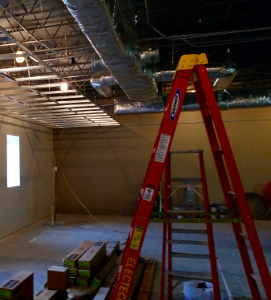 A new, computer-balanced, AAON heating and ventilation system consisting of rooftop units using electric to cool and natural gas to heat was installed to provide years of economy and comfort for county workers. The system maintains a stable, uniform temperature throughout the entire interior. Hot or cold spots in the building are eliminated.
A new roof was installed using roofing material made by Carlisle, the U.S. market leader in single ply roofing systems. It is guaranteed by the manufacturer against failure for 30 years.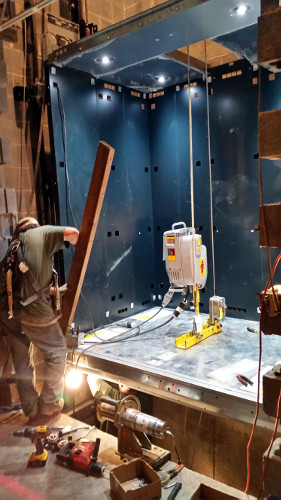 Miller Bros. installed the first elevator in the history of the building. The new Otis Gen2 elevator captures any excess energy produced by an empty elevator going up or a full elevator coming down. It then feeds this re-captured power into the building's electric grid for reuse by other building systems such as lighting.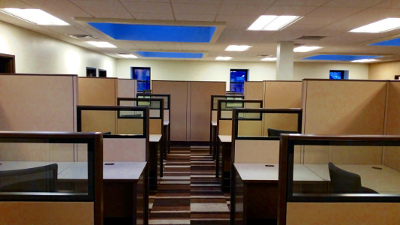 Other construction highlights include energy-saving LED lighting with motion sensors, 10 big skylights to let in natural light and add character to the top floor space, and a unique carpet that features a "Random Shuffle" pattern.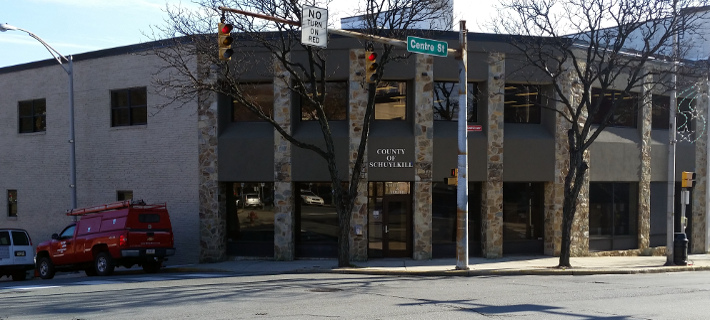 A view of the updated exterior upon completion of the project in mid-December 2015.
---
The Berks-Montgomery Municipal Authority of Gilbertsville, Pa. hired MBCI to complete a "General Trades Package" in support of the installation of a state-of-the-art ballasted flocculation system at its Swamp Creek Wastewater Treatment Facility. The plant serves residential and industrial customers in Douglass Township, Montgomery County and Colebrookdale and Bechtelsville Boroughs in Berks County.
A major logistical challenge met and overcome by MBCI was the mass excavation required on a very tight site.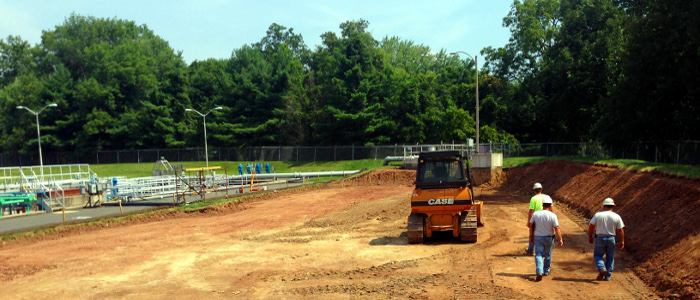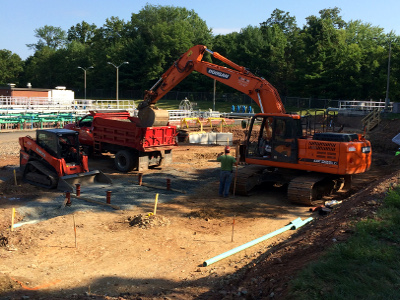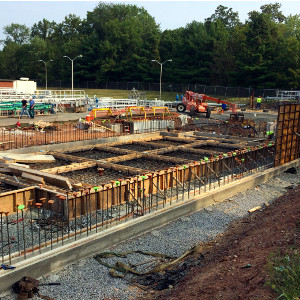 The scope of work included concrete foundations for two new ballasted flocculation system clarifiers and creation of two new buildings. The first is a 1,500 square foot reactor building of concrete and masonry construction topped by a pre-stressed hollow core roof plank product featuring single-ply ethylene propylene diene monomer (EPDM) roofing material. The second building, comprising 500 square feet of similar construction, will house an ultra-violet purification process.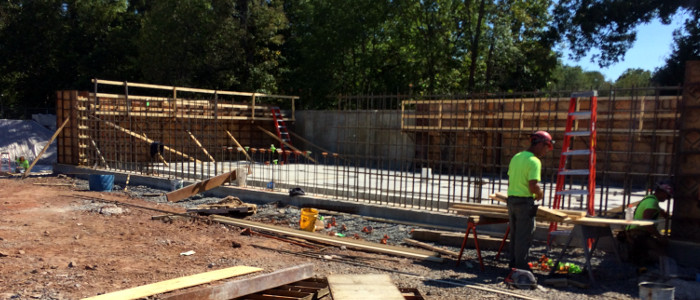 Construction progress continues to move forward without interruption to any ongoing operations of the existing wastewater treatment process. Project completion is anticipated in March 2016.
---

Construction recently concluded for a new Taco Bell restaurant located on a pad-ready site developed at the Bradford Mall in Bradford, Pa. by Miller Bros. affiliate MBC Development LP. The 2,527 square foot unit was built for Taco Bell franchisee Charter Foods North, LLC on an outparcel at the mall along East Main Street. A new signal-controlled intersection was also set up at the mall to facilitate traffic flow. The new unit opened in early November.
---
Avis, Pa.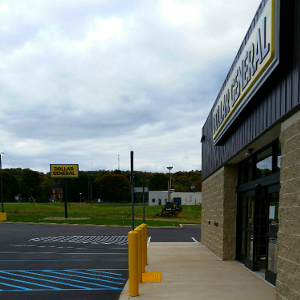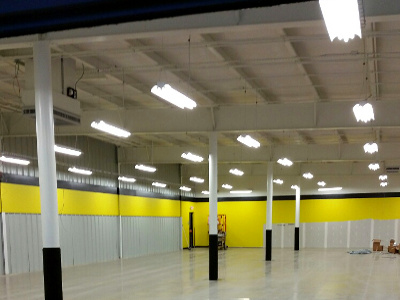 Consumers in Avis, Pa. now enjoy access to a new Dollar General store that opened in November. We were able to turn this site over early. We hear the store is generating strong sales volume.
Orwigsburg, Pa.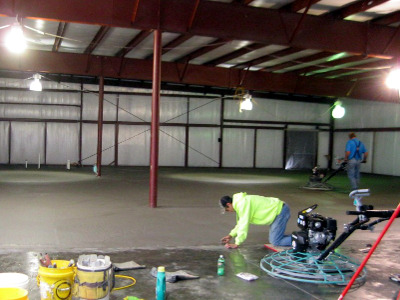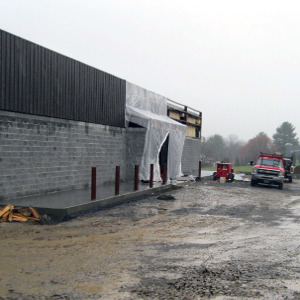 Despite weather-related interruptions in construction progress on the Dollar General site in Orwigsburg Pa., paving began the week of November 30. The project is anticipated to be complete by January 10, 2016. This is quite early as the promised turnover date is May 5, 2016. If the present pace continues, this new Dollar General retail unit will welcome its first customers in February.
Mentor, Ohio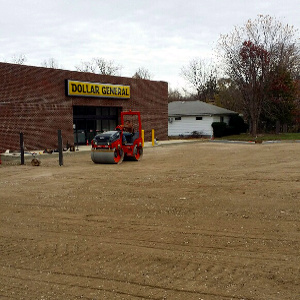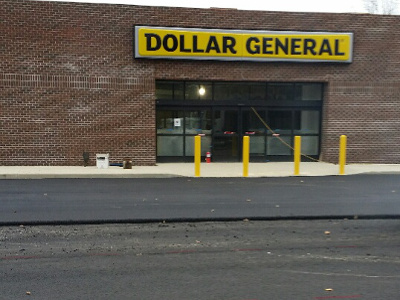 Our Dollar General project in Mentor, Ohio is scheduled for completion on December 7. This is an all-brick exterior design concept, especially created for compliance with municipal building codes requiring greater-than-standard construction materials.
Oxford, Pa.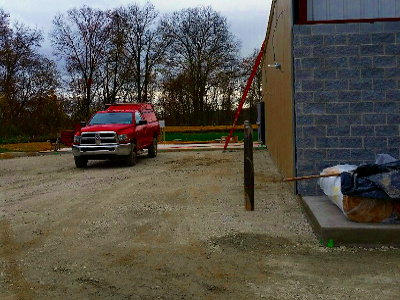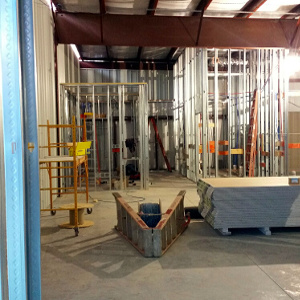 Paving finished on our Oxford Pa. Dollar General site in early December. We beat the weather and anticipate completion of the structure before the end of the year. The original turnover date was February 28, 2016.
---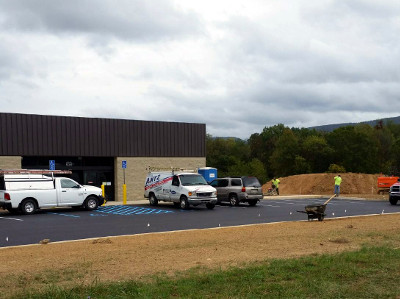 As of this writing (early October) the next Dollar General unit scheduled for turn over is a site in Pine Creek Township, near Avis on the east side of Pa. Route 150, just north of the U.S. Route 220 intersection.
With a summer construction start on the 1.37-acre unimproved building lot, completion of the 9,100 square-foot structure was originally anticipated in December.
Better-than-average progress on the project will allow Dollar General to begin installing store fixtures in the building on October 22. A public opening could happen before the end of the month -- weeks earlier than expected.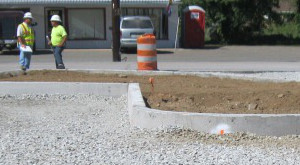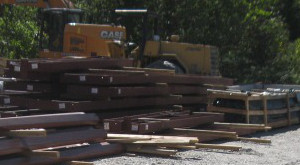 Another new Dollar General unit has started coming out of the ground this month in Oxford, Pa.
Curbing is complete. Materials for the new building are on site, ready for erection.
Given progress so far, this store could be ready for Dollar General to open before Christmas 2015.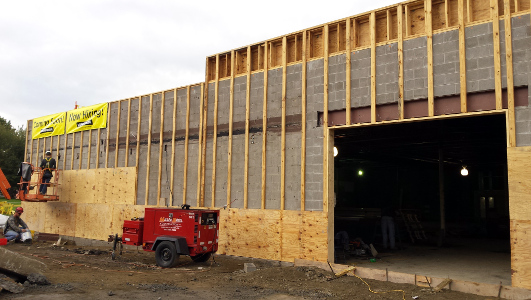 In the Borough of Lake City Pa., located about 17 miles southwest of downtown Erie, we are taking a 1950s era grocery store and bringing it back to life as a 21st century Dollar General.
Unavoidable delays in the pre-construction phase left our crew with a tight 90-day time window to meet our commitment to Dollar General.
At this moment, it looks like we will be turning the unit over on November 2 with the store opening to the public by November 10. Right on time.
---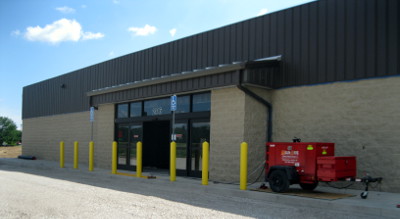 The first week of August saw Miller Bros. Construction complete paving and the installation of permanent power at a new Dollar General site in Bellefonte, Pa. The building will be turned over to the Dollar General Corporation by the first week of September with a store opening expected later in the month.
A Dollar General project in Avis, Pa. is advancing. A December deadline is called for in the contract documents.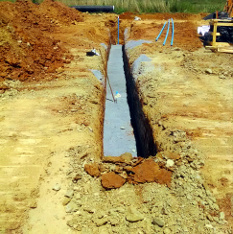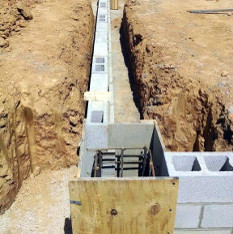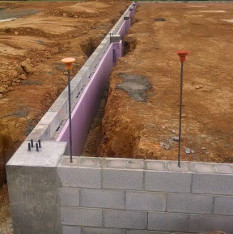 Construction progress is ahead of schedule and a turnover may occur up to four weeks earlier.
Ground breaking for another Dollar General store on a site in Mentor, Ohio occurred in early August. This retail unit is to be turned over in December.
Another ground breaking occurred in Oxford, Pa. This Dollar General location is anticipated to be fully operational by the end of the year.
On August 10, the conversion began of a 1950s-era former IGA store in Lake CIty, Pa. This renovation project will result in a new, fully-modern, operational Dollar General retail unit within 90 days.
---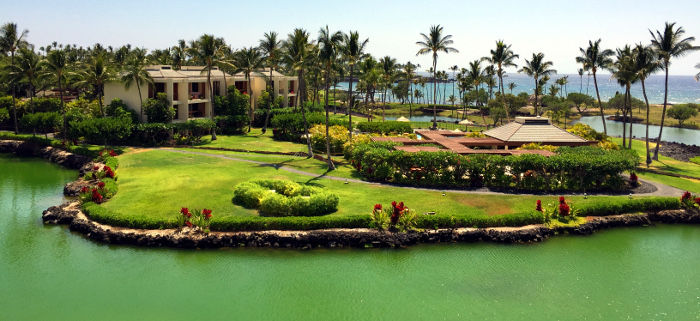 MBC Development, a Miller Bros. Construction affiliate, is now operating in 11 states with the recent acquisition of a solar power system serving Mauna Lani Terrace in Hawaii. This luxury oceanfront condominium development is located in Waimea, also known as Kamuela, on the Big Island.
The 70kw solar array is the company's fifth investment to date in solar power generation.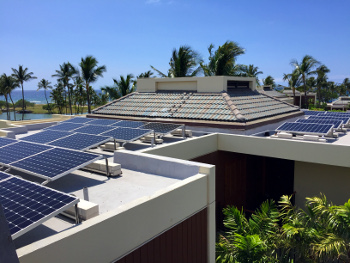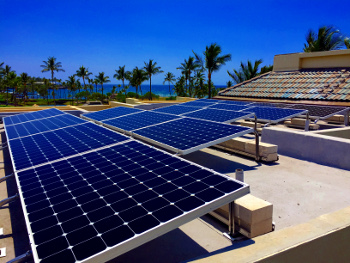 Hawaii is notable for its efficient solar production. A solar panel here will generate at least 50 percent more electricity than a similar panel in Pennsylvania. Since electric power is over three times more expensive in Hawaii than in Pennsylvania, solar investment in Hawaii is a terrific deal.
MBC currently owns and operates 1,380kw of solar power generation capacity, enough to supply electricity to approximately 175 homes.
---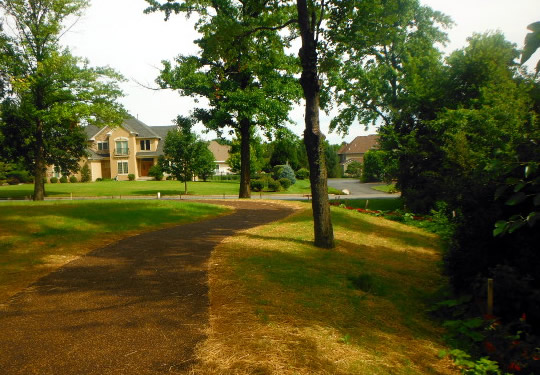 Sitework crews of Miller Bros Construction completed work on the Lindberg Park Perimeter Trail Project at the end of July. Lindberg Park is a neighborhood park in Salisbury Township, Lehigh County, adjacent to the City of Allentown.
The project involved the preparation of the site for the installation of an 8-foot-wide Flexi-Pave trail and a 6-foot-wide stone trail. The 4,500 feet of Flexi-Pave trail encompasses the perimeter of the park. The stone connecting trail extends 500 feet through a tree line to a nearby street.

Flexi-Pave is heavy-duty porous pavement made from recycled passenger tires. This product is the definition of environmentally friendly. Not only is Flexi-Pave made from old tires, it is exceptionally porous and it has been proven to clean water as it passes through.
The scope of work included erosion and sedimentation controls, clearing and grubbing of brush and trees, demolition, installation of new curbing and ADA-compliant ramps, site grading and excavation, installation of a crushed stone sub-base, Flexi-Pave installation, and final grading and seeding.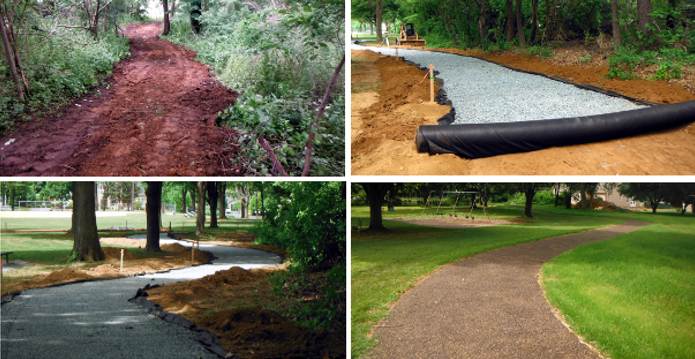 MBCI staffed the project with two crews working at opposite ends of the 20 acre park. The crews persevered through June and July as many rain events hindered their progress. They completed the project on schedule at the end of July.
---
In mid-April 2015 Miller Bros. wrapped up construction at an in-fill development site on Route 61 in the Borough of Leesport.
Upon turnover, the structure became the newest Dollar General store among a total of 15 in Berks County, Pennsylvania.
After fit out, the retailer staged a grand opening of the store on May 8, 2015.
Dollar General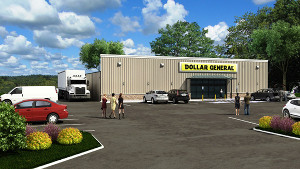 anticipates opening 730 new stores nationwide in 2015 and plans to remodel or relocate an additional 875 stores. Miller Bros. Construction Inc. (MBCI) is the retailer's contractor of choice in eastern and central Pennsylvania.
Darrin Rapali, MBCI Project Manager explained, "Leesport was our 25th project built for Dollar General and as of now [June 2015] we have more than 15 others in the pipeline in various stages of construction across the state."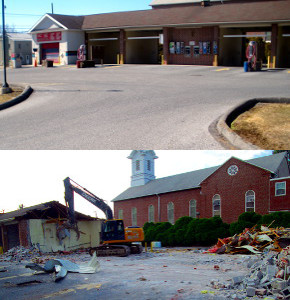 Construction of the 9,100 square foot pre-engineered steel building began in September 2014 with the razing of an existing car wash.
After demolition, site preparation included the creation of a 15-foot retaining wall that was required to allow for proper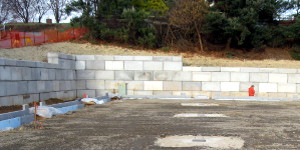 placement of the building.
Weather became an issue as the history-making harshness of the winter sparked interruptions in work progress.
"Despite weather setbacks," said Rapali, "we delivered the project on time and on budget."