Miller Bros. Construction Reports: 2022 Progress and Completions
---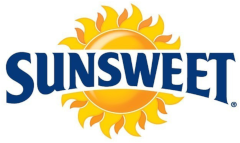 MBCI completed multiple projects in 2022 at the Sunsweet Growers facility in Fleetwood to aid in sustaining activities related to processing and maintenance. The company produces and nationally distributes prunes, prune juice, cranberries, apricots, nectarines, pineapples, mangoes and dates. During a planned plant shutdown in early December MBCI supported several projects, in coordination with a number of other specialty trades contractors, that needed closure within one week.
Among many tasks, our work included the creation of an additional opening in the building to allow for the installation of new food processing equipment.
---
NorthPoint Development—a privately held, nationwide real estate firm specializing in Class A industrial properties—often calls upon MBCI to conduct projects in the region. In December, MBCI completed a new 432,640-square-foot distribution center near Easton for the firm.
The development, known as Commerce 33, was built using the tilt-up construction method. Tilt-up is a construction technique that casts large concrete panels at the work site and then raises them into position with a crane.

Nationally known snack food maker Frito Lay leased the building before construction began.
---
The Hydro Extrusion Plant in Cressona is one of the largest facilities of its kind in the world.
In the final quarter of the year Hydro tasked MBCI to provide engineering services and construction skills to erect an approximately 42,000 square foot pre-engineered metal building as an addition to the facility. The building is destined for use as "cast house" additional space for storing and processing recycled aluminum. The re-processing and use of recycled aluminum reduces Hydro Cressona's carbon footprint, which is an important goal for the firm.
The project scope includes demolition of an existing boiler building and adjacent 225-foot-high chimney stack. In addition, modification of the existing exterior rail system will be part of the overall project.
Work will continue in 2023.
---
MBCI continued its years-long relationship with the Dollar General Corporation, completing ten more new units in 2022. The 115th Dollar General store completed for the corporation opened for business on Route 443 in Pine Grove, Pa. (near Friedensburg) in late October.
---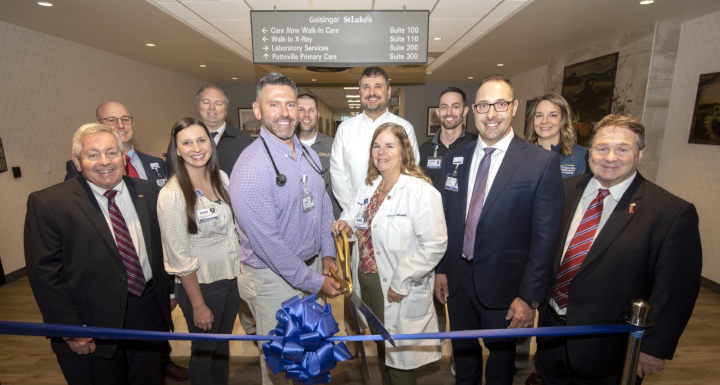 In October 2022, officials from Geisinger St. Luke's Hospital (GSL) — together with local lawmakers, business leaders, and MBCI project managers, Brandon Shade and Mark Hoover (back row, second and third from left) — cut a ribbon to formally open the new 21,000 square foot GSL Health Center in Pottsville.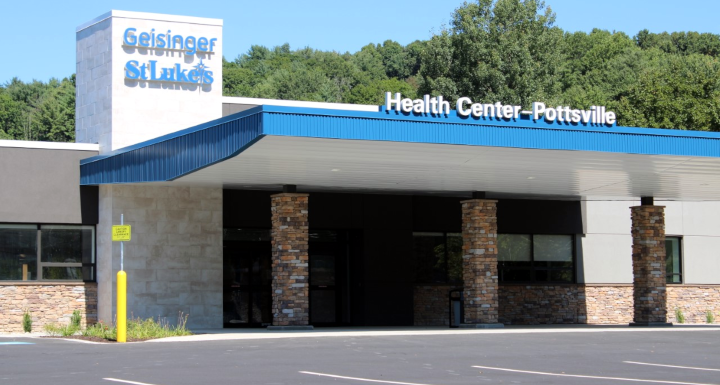 MBCI gutted the interior of the long-vacant building formerly occupied by the McCann School of Business, then conducted extensive renovations inside and outside. The completely rehabilitated structure now serves the medical needs of the people of Pottsville with several high-quality programs housed in the facility. These include Care Now walk-in, Pottsville Primary Care, Occupational Medicine, Physical Therapy at St. Luke's, Laboratory and Imaging Services.
Gabe Kamarousky, president of Geisinger St. Luke's Campus, thanked MBCI for excellent workmanship as he noted the timely delivery of the project, "despite the inevitable shortages of materials caused by national supply chain challenges."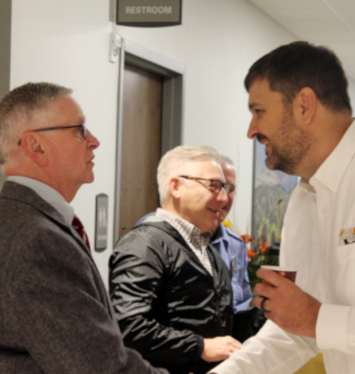 MBCI Project Manager, Mark Hoover (pictured right),
greets GSL Health Center staff during the coffee and
refreshments time after the ribbon cutting.
---
Hydro Extrusions in Cressona, Pennsylvania hired MBCI to construct its Press 19 Building that, when finished, will house a brand new aluminum extrusion press. The 40-foot high structure has a footprint of 11,000 square feet.
After erecting the steel framework, September 2022 saw the installation of overhead crane support apparatus. The overhead crane equipment had to be installed before the building was closed to the weather. The lift that day included placement of two crane bridge girders, each weighing 15 tons with a span of 100 feet six inches, onto the top of the structure.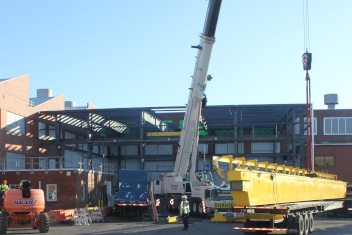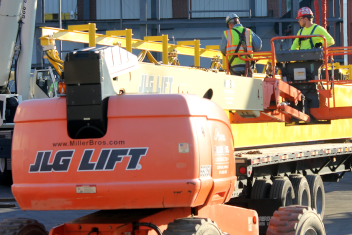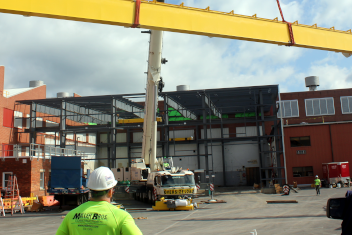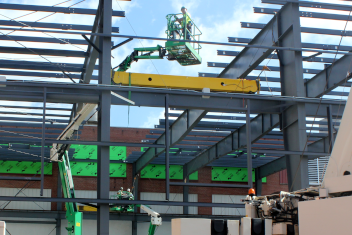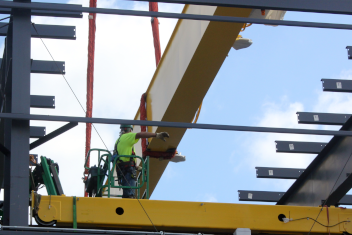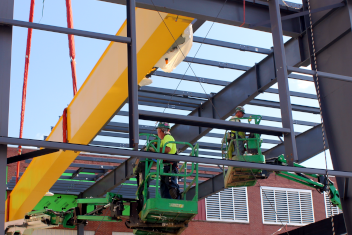 The carefully-executed operation took an entire day and concluded successfully.
---
September 2022 saw the completion of a Truck Maintenance Garage (TMG) at Walmart's Distribution Center #7030 in Schuylkill County.
MBCI's scope of work included construction of a pre-engineered metal building for parts and tire storage; a pre-engineered metal building to house a training room; and a similar third building for maintenance bays, trucker rest area, and shower room.
---
MBCI recently began work to construct a Truck Maintenance Garage (TMG) for the Walmart Distribution Center in Schuylkill County's Highridge Business Park.
The scope of work included the erection of three pre-engineered buildings with a total footprint of 25,000 square feet.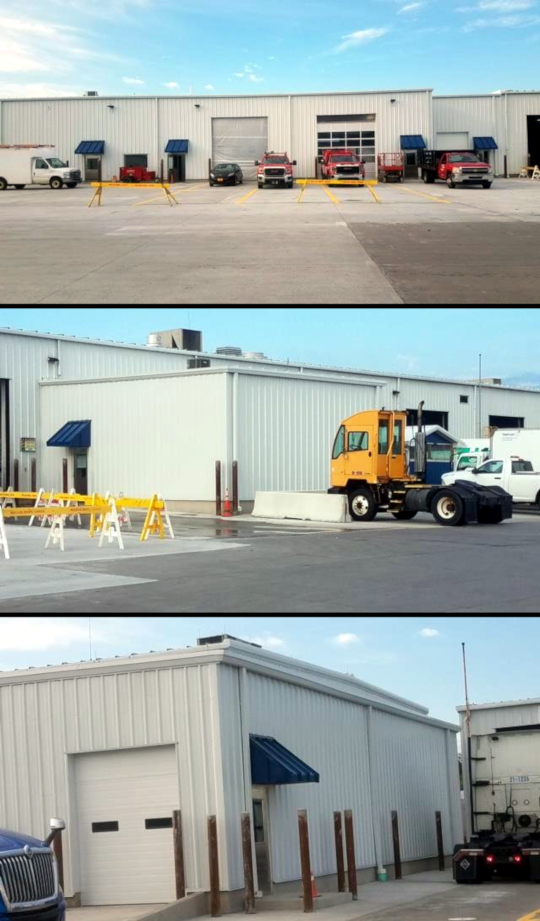 As of the beginning of July 2022, all interior mechanical, electrical and pluming rough-in was complete.
Other completed phases of the project include:
• Stud and drywall
• Painting
• Exterior site storm water and sanitary lines
• Exterior asphalt paving
• Exterior concrete
Work continues on the installation of exterior truck block warmers.
Installation is also continuing on restroom floor and wall tile, toilet fixtures, toilet accessories, ceiling grid, floor polishing, doors and hardware, and overhead garage doors.
---

Here is the status of the Yuengling project in Tampa as of June 2022.
Steel erection completed
Roofing completed
Started exterior metal wall panels and curtainwalls
Started and completed interior metal studs and drywall
Started bar/lounge construction (building will have five bars)
Started painting
Started and completed installation of kitchen hoods
Completed installation of roof top HVAC equipment
Started work on specialty overhead doors
Electrical work continuing
Sitework continuing
Preparation to begin interior finishes
Projected completion in first half of 2023.
---
MBCI is managing the construction of a 31,000 square foot structure on the Yuengling Tampa campus for D.G. Yuengling & Son, Inc., America's Oldest Brewery®. The ground breaking occurred in November 2020. The building will house retail space, a restaurant and private dining with full-service kitchen, multiple bar locations, meeting rooms and offices.

The aerial progress photos of the job site were captured in April 2022. Project completion is expected in 2023.
---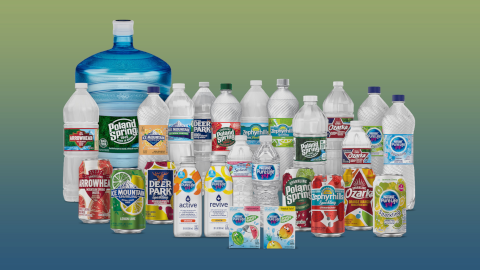 BlueTriton Brands, Inc. is an American beverage company formerly known as Nestlé Waters North America, Inc. It produces and distributes many brands of bottled water across North America including Arrowhead Water, Deer Park Spring Water, Ice Mountain, Pure Life, Splash, Ozarka, Poland Spring, and Zephyrhills.
MBCI supported several projects in 2022 designed to increase production at their bottling facility in Breinigsville. Installation of concrete and structural support items to increase floor-bearing capacity while keeping existing lines in production and maintaining a sanitary beverage production area came to the top of the list. Completion of a new bottling line occurred in early March.
---
MBCI is "Serious About Safety." Construction safety is the fundamental focus of all our operations. For many years we assembled all team members together on Safety Day to take part in a day-long program of instruction. Our safety day training in 2022 included classroom education and video instruction energetically executed by our Risk Management partners. Moreover, we added regularly scheduled monthly training sessions for our field workers to allow more in-depth coverage of worksite safety issues.
---