Miller Bros. Construction Reports: 2017 Progress and Completions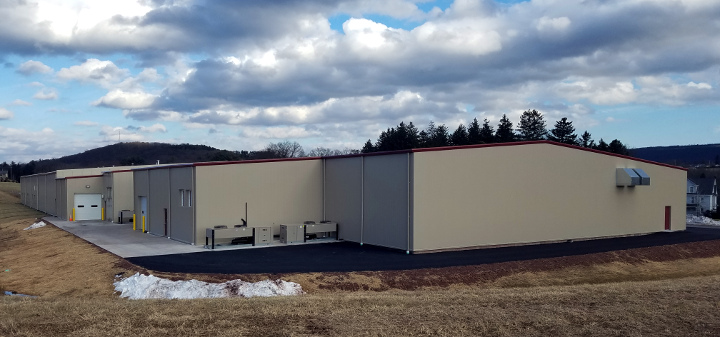 Huntsinger Farms Inc. -- a Pennsylvania-based, multi-generational-family-run, potato-growing enterprise established in 1921 -- hired MBCI to construct additions for potato storage, product washing equipment and a loading dock. A total of 12,700 square feet of new space was put under roof. The project was completed in 2017.
---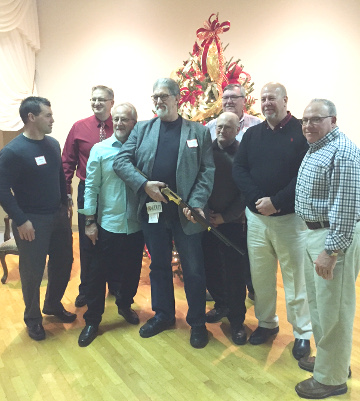 John P. Stock, upon his retirement in December 2017 after serving as our Chief Estimator for decades, was presented with a made-in-the-USA Henry Rifle as a token of the affection and respect of every member of our Miller Bros. team.
John is the big guy in the center of the picture, holding Henry's retro-looking, brass, lever-action rifle.
Thank you, John. Your contribution to the growth and success of the company is almost beyond calculation.
---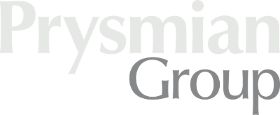 The Prysmian Group, the world's leading manufacturer of cable for the power distribution and telecom industries, hired MBCI in July 2017 to design and build 21,400 square feet of additional space in three different areas within its Schuylkill Haven, Pa. plant perimeter — all at the same time. Plant managers sought more room for production and greater production efficiency. The result of our collaboration was completed in December 2017.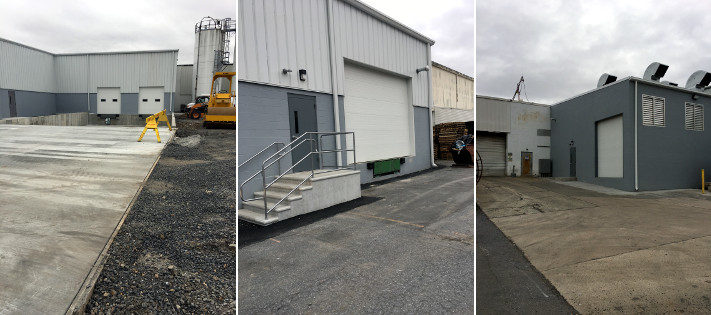 An air compressor room of 1,300 square feet, a plant maintenance area of 7,600 square feet, and a receiving building of 12,500 square feet are now contributing to management's goal of more space and greater efficiency.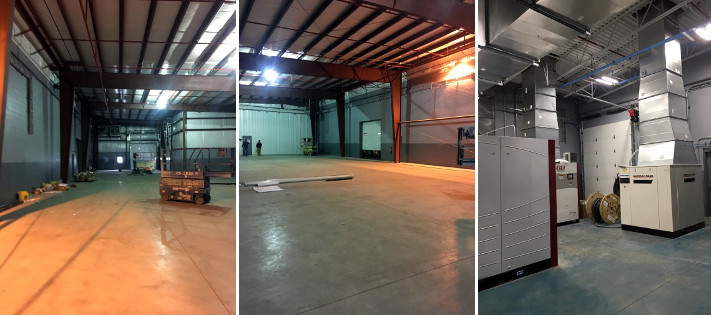 During construction, all material deliveries and access logistics across the site were extremely confined and had to be coordinated closely with Prysmian's security people. And this construction activity was occurring as the plant's existing primary electrical transformer service was being relocated. Despite these challenges, the plant's production process continued without interruption throughout the construction period.
The primary challenge in completing the project was the existing 12 KVA transformer sitting in front of what was to become the main entrance of the new receiving department. The transformer relocation occurred at the same time the steel of the building was going up. Our concrete and erection crews worked safely around the exposed live conductors and top-mounted terminals on the transformer that connected to adjacent power poles. Our MBCI Safety Director worked closely with an OHSA consultant and our crews to ensure that required minimum clear distances from the exposed conductors and terminals of the transformer was maintained.
There were two live electrical buss ducts along the south and west walls that were to remain in place after the job was complete. A third electrical buss duct on the east side was also live and remained in place during steel erection. Ultimately, this buss duct was knocked down and re-routed over the existing roof of the plant after completion of transformer demolition and the energization of a new transformer.
The Prysmian Group is an Italian multinational corporation headquartered in Milan that manufactures electric power transmission and telecommunications cables and systems at locations around the globe. It is the largest manufacturer of cables in the world measured by revenues.
MBCI continues to work with the Prysmian Group on design development for several future projects in Schuylkill Haven, Abbeville, South Carolina and Claremont, North Carolina.
---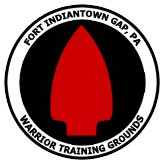 Fort Indiantown Gap's Muir Army Airfield is the second busiest Army heliport in the nation and the sixth busiest airport in Pennsylvania. Muir serves as the base of operations for a wide variety of rotary wing, fixed wing, and unmanned aerial systems.
In November, MBCI started work associated with an addition for the Unmanned Aerial Hangar at Fort Indiantown Gap. The 9,800 square foot addition enlarges the footprint of an existing building, providing more space for support of unmanned aerial vehicles operated by the Pennsylvania Army National Guard.

The scope of work includes the development of three detention basins and creation of an enlarged area for parking.
Anticipated completion of the project is August 2018.
---
In October 2017, MBCI started construction of the future Luzerne County home of the Butler Township municipal building and police station in the CAN DO Corporate Center in Drums, Pa.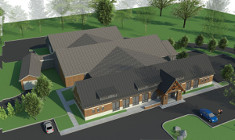 The building project includes a 10,000-square-foot space that will house Butler Township's administration building and police station along with an additional 8,000 square-foot garage.
Slabs were recently poured and wall construction is scheduled to begin January 22.

MBCI is the general contractor on the project. Completion expected in September 2018.
---
A very challenging job…

Michael Foods Inc. called on MBCI to mitigate an issue occurring in the south stair tower of the company's food processing facility in Klingerstown, Pa.
The stair tower is 65 feet high, comprising five flights of stairs and five landings.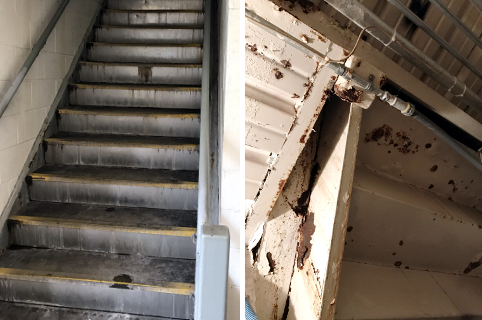 After years of nightly washing with strong chemical solutions, along with continuous condensation dripping on the uninsulated exterior wall, the existing concrete-filled steel pan stairway became pitted by corrosion. Once the corrosion process begins, steel expands causing high tensile forces which crack the concrete and further accelerate the deterioration process. In addition, the painted surface and sub-surface of the concrete block wall of the five-story stair tower presented numerous signs of deterioration.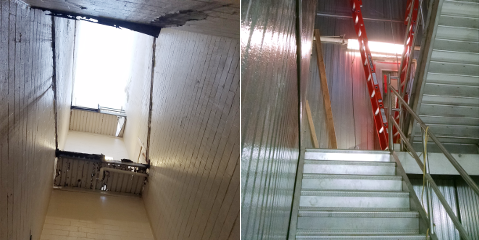 Since stainless steel is one of the few materials capable of holding up in this kind of environment, our solution was to demolish the entire stairway and replace it with stainless steel. To alleviate the problem of wall deterioration and condensation we laminated all walls and exposed surfaces with stainless steel insulated wall panels (IMPs) of two-inch thickness.
We also installed a washdown-grade heater and dehumidifier to support moisture management in the stair tower. And new stainless-steel doors were installed at each landing.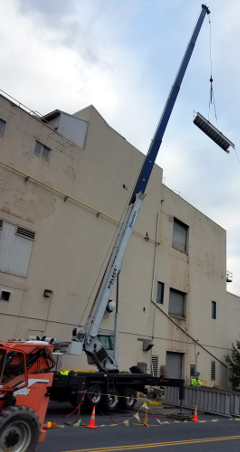 To remove the old stairs and install new stairs we had to take up an 8- by 20-foot section of roof and use a crane for stair removal and replacement.
About Michael Foods Inc.
The Michael Foods family of businesses has grown to become a $2 billion manufacturer and distributor of food service, food ingredient and retail offerings.
The company serves commercial restaurants, convenience stores, K-12 schools, colleges and universities, as well as lodging and recreation, business and industry, healthcare, and military customers.
Consumer brands available at leading grocery retailers include Crystal Farms®, Simply Potatoes® and other popular brands.
The company is based in Minnetonka, Minnesota and operates as a subsidiary of Post Holdings, Inc.
---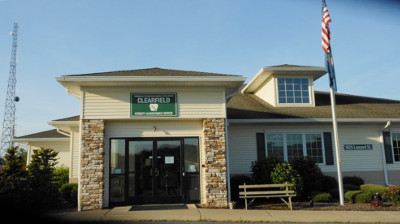 An existing 15,974 square-foot commercial structure in Clearfield, Pa. recently became our 19th acqusition of real property that we lease to the Commonwealth of Pennsylvania. The building houses the Clearfield County office of the Pa. Department of Public Welfare.
Our MBCI real estate porfolio comprising leases to various state agencies presently totals approximately 380,000 square feet.
---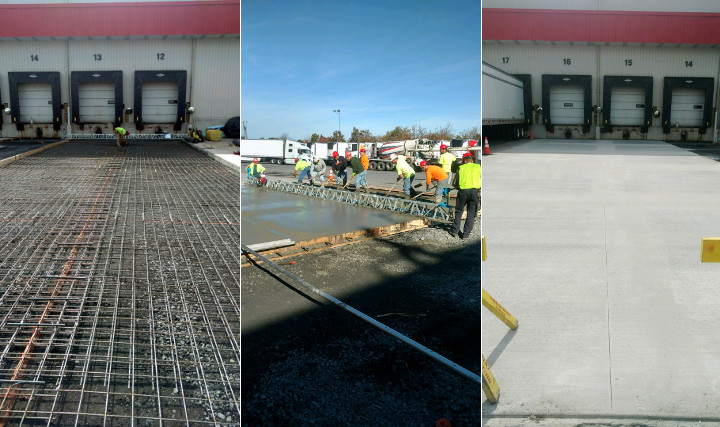 Managers of the Tyson Foods Distribution Center in Schuylkill County's Highridge Business Park called upon MBCI to tear up and replace 25,600 square feet of broken concrete in front of several loading docks at the 182,000 square foot facility.
The scope of work included removal of unsuitable subgrade and installation of filter fabric, rip-rap base and drainage system.
---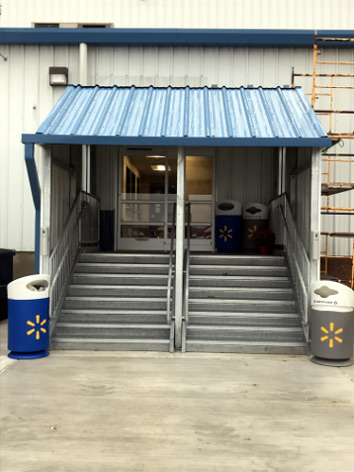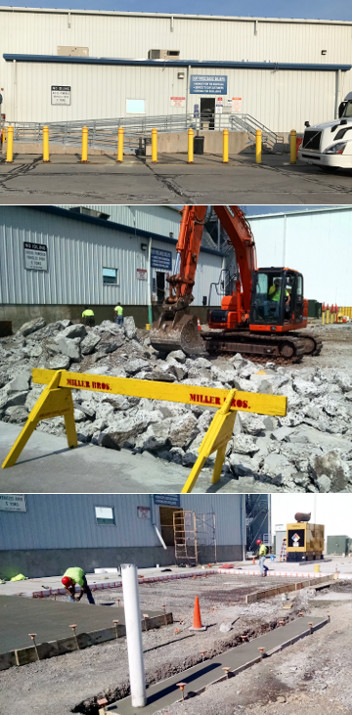 MBCI was hired to carry out a renewal project at the entrance to the Truckers' Office of the 900,000 square-foot Walmart Distribution Center in Schuylkill County's Highridge Business Park.
The scope of work included the replacement of 11,000 square feet of concrete in front of the entrance and the installation of trench, spot drains and rain leaders to alleviate drainage issues.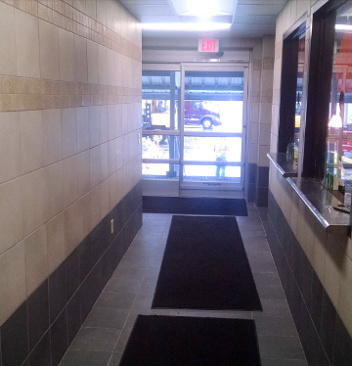 An existing concrete ramp and stair was removed and replaced with a new galvanized steel stairway, landing and entrance with full shelter-enclosure.
Renovations inside the entrance included new tile walls, floors, ceiling and lights along with removal of a manual man door and its replacement with an automatic double sliding door.
---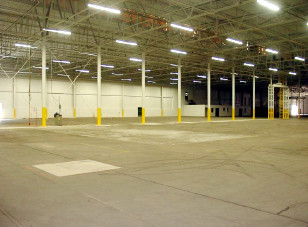 Multi-state cannabis operator Green Thumb Industries (GTI) took possession under lease of 68,680 square feet in Danville, Pa. that it intends to dedicate to the production of medical marijuana.
The company will invest more than $5 million in preparing the space originally made available through MBCI's visionary reclamation of an abandoned brownfields industrial site and converting it for use as the Iron Town Commerce Center several years ago.
GTI was awarded dispensary and cultivation-production licenses in Pennsylvania after achieving the highest scores for both types of licenses among a pool of hundreds of applicants.
---


STG International Inc. (STGi) of Alexandria, Virginia, was awarded a contract to develop and staff a new Schuylkill County Community Clinic for U.S. veterans.
Renovations by MBCI to house the clinic have begun in an existing building in Pottsville, Pa. Completion is scheduled for January 2018.
According to the U.S. Department of Veterans Affairs, the 9,400 square-foot center will provide a full range of services including mental health, behavioral health, women's health, primary care, laboratory, telehealth services, referral for specialty care, radiology and pharmacy services.
STGi provides comprehensive healthcare delivery services staffing to the Federal Government through numerous clinical, environmental, educational, and risk-based prevention programs. The Pottsville contract between STGi and the VA is for five years.
---


Big Lots, Inc. operating from headquarters in Columbus, Ohio, is a non-traditional, discount retailer with more than 1,400 stores in 47 states carrying general merchandise, clothing, and home products.
Big Lots called upon MBCI to tackle the challenges of relocating and renovating its store in the Bradford Mall, a 200,000 square-foot shopping plaza in Bradford, Pa.
The new 30,310-square-foot retail unit, situated just a few doors away from the original Big Lots location, was created within a vacated space formerly occupied by K-Mart.
---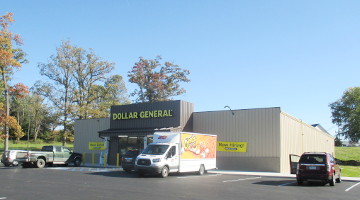 MBCI reported completion of its 57th Dollar General retail unit as of November 1, 2017. Eight additional units, still in various stages of construction, have anticipated completion dates before the end of the year.
The work is expected to continue in 2018 with 15 new retail stores already on the construction schedule.
---

The Commonwealth of Pennsylvania recently awarded design-build-lease contracts to MBCI for the construction of two barracks buildings for the State Police.
The Borough of Lewis Run in McKean County is the site of the first of the pair. The 8,896 square-foot building, adjacent to the Bradford Regional Airport, is scheduled for completion on December 1, 2018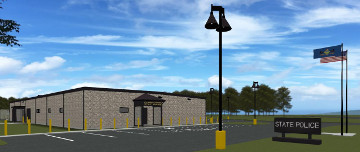 Coudersport, the county seat of Potter County, will see a building with a footprint of 8,246 square feet completed by November 1, 2019.
The exteriors of both will resemble this architectural rending.
---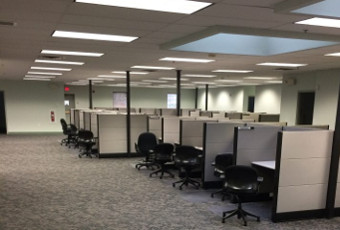 TruBridge is a wholly-owned subsidiary of CPSI -- a leading national provider of healthcare IT solutions and services for community hospitals and post-acute care facilities. TruBridge provides revenue cycle management software as well as business, consulting, and managed IT services to healthcare organizations.
MBCI was hired by TruBridge to achieve a total make-over of a vacant industrial building in Pottsville, Pa. on short notice. The conversion to 10,000 square feet of world-class phone- and web-connected office space was achieved in record time. This new medical call center now serves more than 200 hospitals across the nation.
---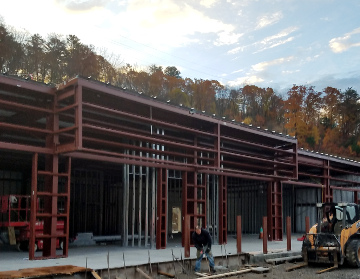 A new 6,000 square-foot automobile supplies and parts store is under construction for A&A Auto Stores on a site at Sharp Mountain Plaza, a prominent retail center in Pottsville, Pa.
A&A operates 18 stores in central and eastern Pennsylvania.
---
A market-leading manufacturer of consumer products operates a plant in Schuylkill County acquired about four years ago.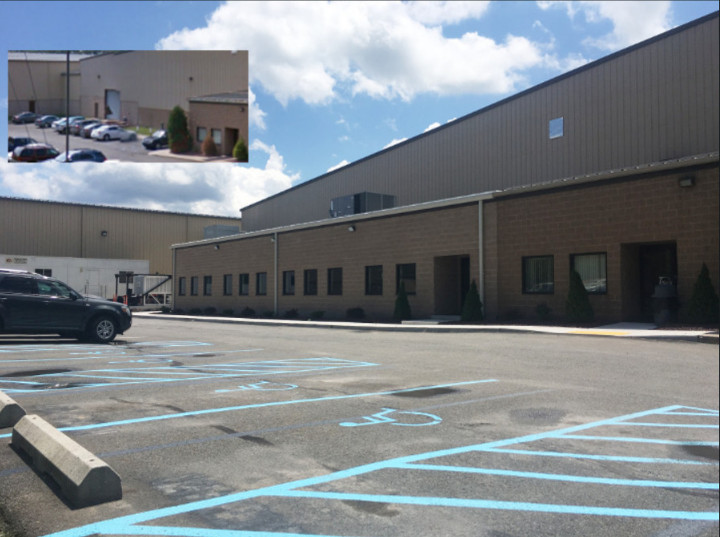 The company recently awarded a construction contract to MBCI for the creation of an employee cafeteria. The new 30-foot by 96-foot addition was joined seamlessly with present exterior walls using facades found closest in appearance to the existing work.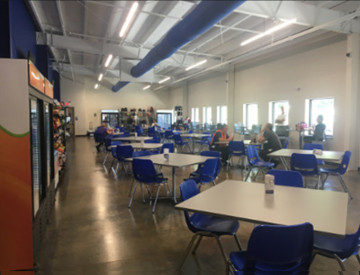 The new cafeteria seats 75 and can accommodate more than 100 standing. Scope of work included installation of card access for an employee entrance corridor, security cameras, an automated teller machine (ATM) and a leading-edge open vending kiosk.
A new kiosk, displaying employee benefits and a payroll look-up function, completes the installation along with several large flat-screen monitors used for announcements, meetings and training.
As frequently happens on MBCI projects, a growing customer/contractor bond of trust as the project unfolded sparked a request to do additional work. After the cafeteria was completed, the company tasked MBCI with the construction of a new parking lot with spaces for 72 vehicles.
---

In March 2016, the Pa. State Police Aviation Division (PSP) solicited bids for hangar development in order to move one of its fleet of seven rotary-wing aircraft from Hazleton where it had been located for more than 40 years. The PSP aimed to locate its five aviation patrol units strategically across the state and said the Wilkes-Barre Scranton International Airport in Avoca provided a good geographical location for regional responses.
MBCI was awarded the construction contract.
The newly-constructed 8,550 square foot hangar is large enough to accommodate the helicopter and one of the state police fixed wing aircraft at the same time.

The hanger features radiant heated floors and a heated apron outside large hanger door. The hanger door measures 85 feet by 20 feet and opens the entire side of the building. The floor is epoxy painted with trench drains to allow washing of aircraft inside. PSP aircraft are always spotless.
---
Niagara Bottling is the largest private-label bottled water supplier in the U.S., supplying major retailers across the nation. The firm uses leading-edge bottling technology to manage every aspect of production, running 24 hours a day, 365 days a year.

The company operates two bottling plants in Pennsylvania – one in Hamburg, the other in Allentown.
Recently, Niagara Allentown called on MBCI to fabricate and install a fiberglass catwalk, which is a narrow walkway or bridge, to be used to provide safer access to elevated conveyors for purposes of maintenance or clearing jams.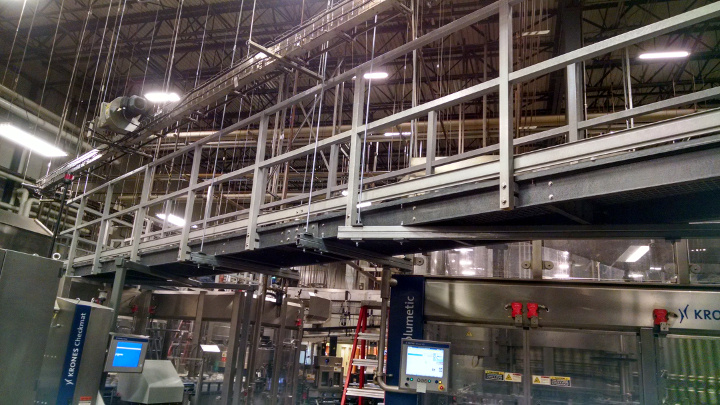 Upon inspection, we learned that some of the catwalk could be supported by existing columns. Yet most of the run would have to be suspended from roof bar joists 35 feet above. This due to the tightly-packed grouping of production machinery on the floor.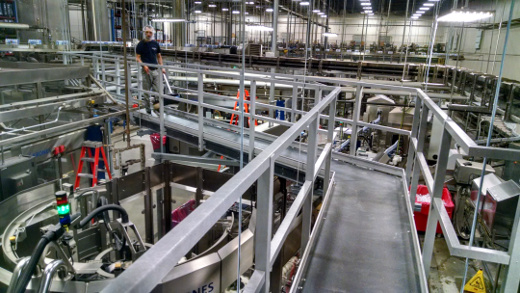 The installation challenge was heightened as we had to perform all work with zero interruption in the operation of the production line. In some cases, less than an inch of clearance existed between the structural components of the catwalk and the production equipment.
The result: Installation accomplished while the plant was running. No disruption.
Our client noted the competence and professionalism of our MBCI crew in an end-of-work statement to our project manager. It reads, "having craftsmen who are hard working, organized, clean and self-directed, able to interact with production to complete this major undertaking, was great."
---
Hollander Sleep Products is the largest supplier of bed pillows in North America, as it has been for more than 60 years. In addition, the business continues to maintain significant market share in comforters, mattress pads and other basic bedding products.

In a drive for greater production efficiency, the company decided to join together multiple Pennsylvania operations within a single, leased facility in Highridge Business Park, Schuylkill County. The consolidation allows for the creation of six new production lines, equating to an increase of 40 percent over prior output.
On April 15, 2017 NorthPoint Development of Riverside, Mo., the owner of the building, hired MBCI to perform a mechanical, electrical, plumbing and fire system fit out of a 9,500-square-foot space for offices and rest rooms for the new tenant within the 357,000-square-foot manufacturing space footprint. Construction completed in June.
The scope of interior work included erecting walls and partitions, installing ceiling grid and tile, ceiling framing, gypsum ceilings, insulation, casework, doors, frames, and hardware.

Painting, flooring, electrical, plumbing and fire protection work was also done.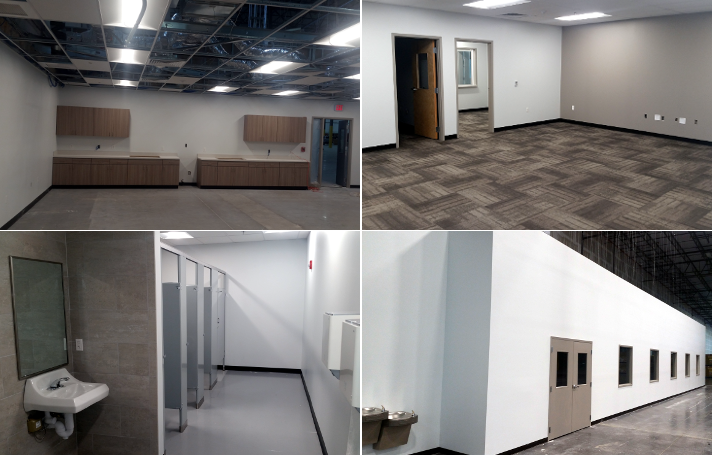 Lighting upgrades in the production space and the installation of eight new loading dock doors and modifications to 16 existing doors completed the interior picture.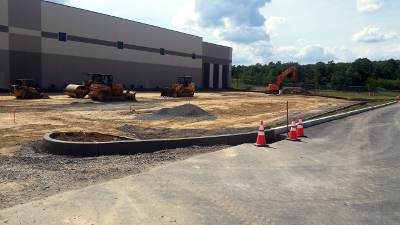 Exterior work encompassed excavation, grading, rock, storm water conveyance, seeding of disturbed areas, sidewalks, ADA-compliant signage, exterior lighting, and paving required to create a new, 98-space parking lot to accommodate the approximately 80 additional employees the expansion requires.
---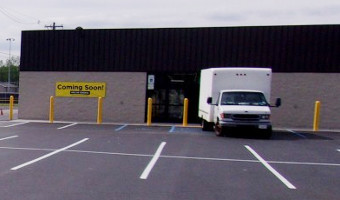 We completed a new Dollar General store in Philipsburg, Pennsylvania on June 20, 2017. It is the 50th unit constructed by MBCI since we started working for the Dollar General Corporation.
Within the time period from this completion to the end of July, MBCI turned over a total of four units to Dollar General. The other Pennsylvania communities with new Dollar General stores are Elmer, Elkland, and Hustontown. (pictured here)

As of July 2017, Dollar General operated more than 13,600 stores in 44 states.
---

Tobyhanna Army Depot, located in the Pocono Mountains of northeastern Pennsylvania, is part of the U.S. Army Communications-Electronics Command. The Depot is a recognized leader in providing world-class logistics support for command, control, communications, computers, intelligence, surveillance and reconnaissance systems.
About 3,200 people, both military and civilian, are employed at Tobyhanna. And the Army makes sure they have a place on post to get in shape and maintain a fitness program.
The 12,000-square-foot Mack Fitness and Recreation Center at Tobyhanna Army Depot was the site of a recent MBCI team design-build renovation project focused on the restroom and locker room areas. Our in-house design team created a concept. Our construction team executed the concept. We began by removing everything, even the walls.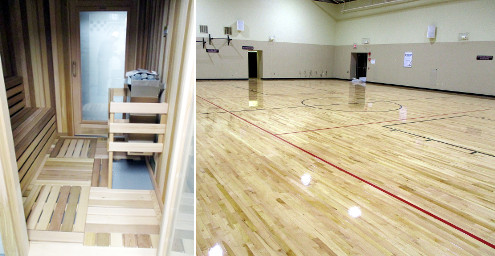 We installed new walls, ceilings, flooring, fixtures, lockers, showers, and a custom sauna.
We refinished the gymnasium floor.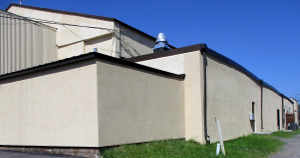 To complete the project, we also painted the entire exterior of the building.
---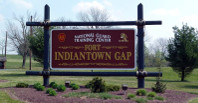 Fort Indiantown Gap is the only live-fire, maneuver, military training facility in Pennsylvania. It serves as headquarters to the Department of Military and Veterans Affairs and Pennsylvania National Guard and offers more than 17,000 acres and 140 training areas and facilities for year-round training.
As the nation's premier National Guard training facility, it offers full-spectrum combat training opportunities for Combat Arms, Combat Support and Combat Service Support units.
Miller Bros. was hired for several construction projects within the post that we carried out from spring 2016 through spring 2017.
An add-on to a heavy equipment maintenance garage was erected for the Air National Guard 193rd Regional Support Group Vehicle Maintenance unit. The construction of the 6,000 square-foot, pre-engineered metal building required extensive upgrades to existing utilities and significant sitework.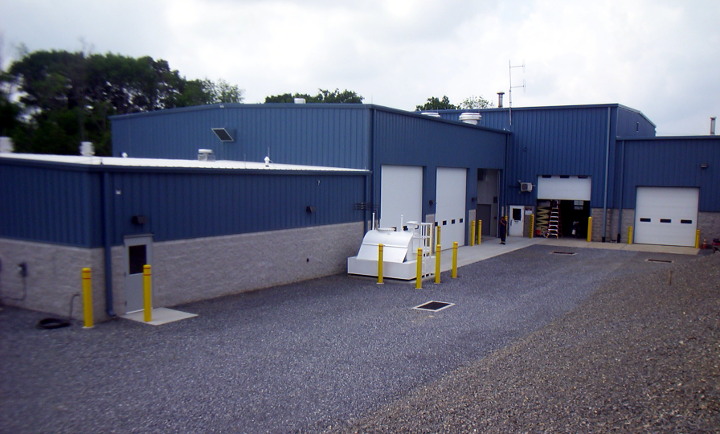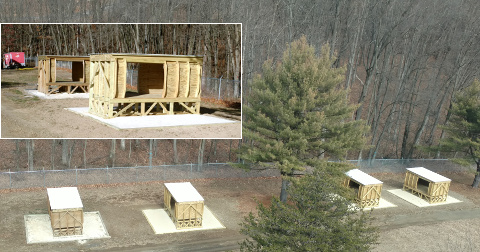 Rappel Training Structures
Wooden structures are used to simulate the interior of a UH-60 helicopter, serving as the first step in rappel training.
One already existed on site. We added three more.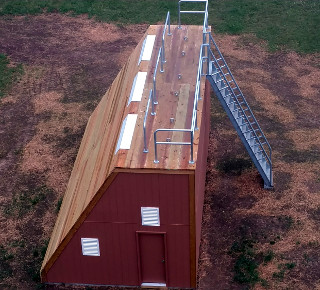 We built a structure known as a Bunny Ramp.
It is used in the second step of rappel training.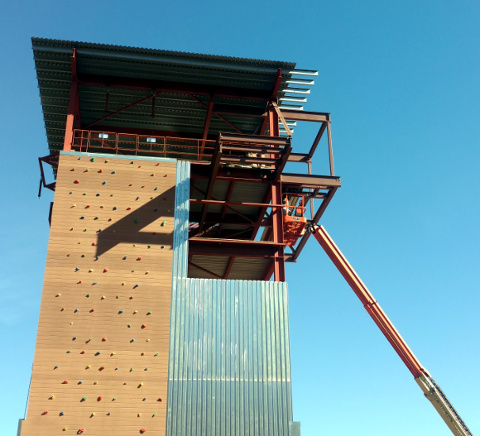 This state-of-the-art tower offers trainees opportunities for rappelling and fast rope climbing. The tower rises 60 feet above grade and there are five platforms to jump from.
We completed work on the second and fifth staging areas which included extending the rappel launch platform in two areas and adding hitching posts to create more jump stations.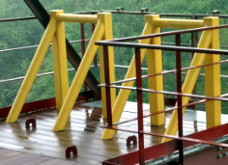 We had to remove an existing extension to install the two new extensions.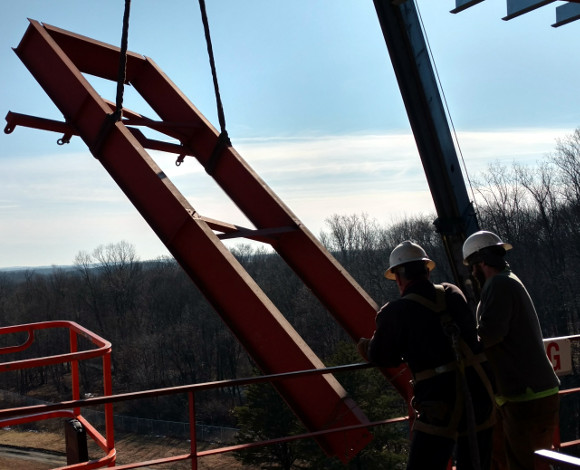 A trainee's perspective on our completed work on platform two.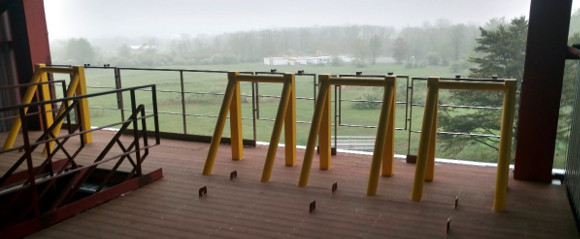 Trainees are able to rappel down along a wall or rappel in the air in order to simulate exiting a hovering helicopter.
---