Miller Bros. Construction Inc. Community Work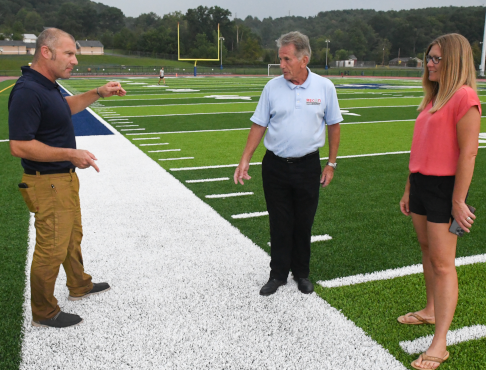 Clay Leibold, Blue Mountain Legacy Group vice-president, left; Mike Polak, Blue Mountain Legacy Group treasurer; and Becky Hoover, Blue Mountain Legacy Group president, review a new artificial turf installation on the playing field of Eagles' Nest stadium at Blue Mountain High School.
(Photos credit: Republican Herald)
Blue Mountain Legacy Group, comprising eight members - Hoover, Leibold, Polak, Chris Brauer, Joe Chipriano, Bob Greene, Roy Heim, and Jim Miller - was formed following a meeting at Miller Bros. in September 2022 for the purpose of acquiring artificial turf for the Blue Mountain High School stadium.
In less than a year the group collectively donated $750,000 to install artificial turf on the playing field of the stadium. The field is used for both football and soccer. The installation was completed in September 2023.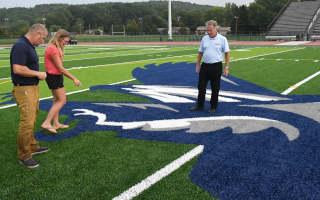 Becky Hoover, as quoted by the Republican Herald newspaper, said, "You have no idea of the pride and satisfaction I feel that we were able to accomplish getting turf in less than a year."
According to the newspaper, "All eight members of the Legacy Group are affiliated with a business in the Blue Mountain School District area, but all eight used personal funds to support the project."
---
In July, on day four of the Go Joe 26 Anniversary Bike Ride for St. Joseph's Center, Joe Snedeker - the bicycling meteorologist and WNEP-TV personality - rolled through Schuylkill County neighborhoods raising funds for the center.
While he was here, MBCI stockholders Bryan Herb and Beau Bruso presented him with a $5,000 donation to support the good work of the center.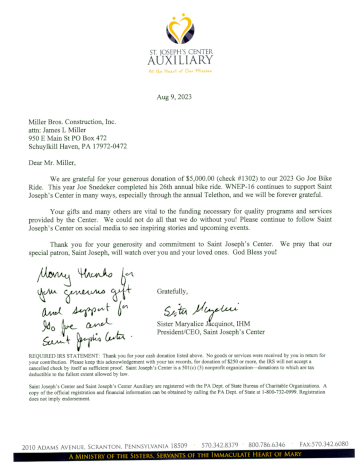 St. Joseph's Center provides individuals and families who have special needs the opportunity to develop their abilities and potential to the fullest extent possible.
As a recognized leader in care for people with special needs, the center offers outpatient therapy, in-home and community-based assistance, adult day programs, and expanded residential services for both children and adults.
---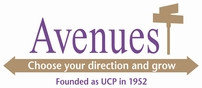 Avenues of Pennsylvania is a not-for-profit organization self-described as "A human service organization committed to providing quality services that enhance the lives of individuals with developmental and/or acquired disabilities."
Avenues has several locations in Schuylkill County including Lessie's Garden Greenhouse with surrounding grounds in Pottsville.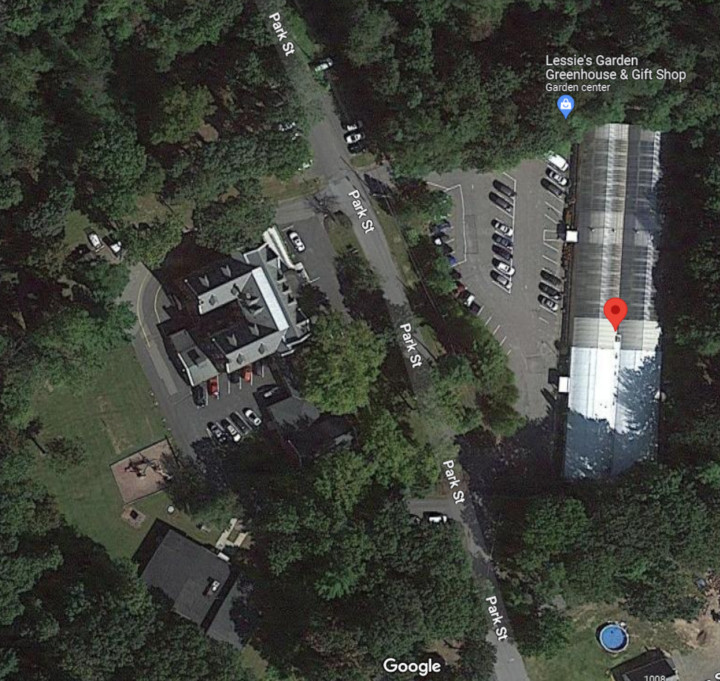 In early 2023 MBCI learned of a number of needed yet neglected repairs threatening the Avenues budget from board member Mike Hammer. We responded with an offer to provide the muscle and supplies necessary to accomplish these maintenance tasks at no cost.
The scope of work covered general maintenance items. The larger of these included:
Patching greenhouse gutters.
Repairing greenhouse downspout drops and resealing joints.
Excavating and repairing underground storm piping.
Repairing EPDM (rubber) roof at front entrance to main office.
Repairing plaster and vinyl cove base in rear stairwell of main office.
Repairing playground wood.
Diagnosing underground water leaks at Market Street Warehouse.
Repairing concrete block and foundation cracks at Market St Warehouse.
Repairing door frames and acoustical ceilings of Shenandoah storefront.
In addition, the foundation and archway bulkhead at the Peacock Street Warehouse was repaired with the help of the City of Pottsville.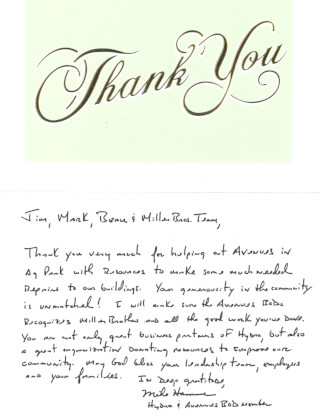 Mike Hammer, Hydro VP and Avenues Board Member, responded with this note of thanks.
He wrote:
"Thank you very much for helping out Avenues in Ag Park with resources to make some much needed repairs to our buildings. Your generosity in the community is unmatched! I will make sure the Avenues BODs [Board of Directors] recognizes Miller Brothers and all the good work you've done. You are not only great business partners of Hydro, but also a great organization donating resources to improve our community. May God bless your leadership team, employees, and your families.
In deep gratitude,
Mike Hammer
Hydro & Avenues BOD member"
---
In early November 2022, students enrolled in the Masonry and Carpentry Programs of Study at Schuylkill Technology Center installed a concrete floor in the new STC Miller Bros Building. Brad Frye, Miller Bros. Construction Supervisor, spent two full days on-site helping students with this project in order to expose them to real-world expectations and conditions.
Funds for the construction of the pole building, which will house the newly built STC Food Truck, were donated by Miller Bros Construction Inc. (MBCI). "The support of career and technical education in general and STC in particular by industry partners [like Miller Bros. Construction] is truly amazing," said STC Director Shannon Brennan.
Several masonry students look on as another student bull floats the freshly placed concrete to smooth it out while Carpentry Instructor Allen Wolff gives directions.
The students learned how a bull float is used to level and smooth freshly poured concrete during the first finishing process before surface water, called bleed water, appears.
When concrete is used for visible projects, such as garage floors, it requires finishing to give the concrete surface the desired smoothness, texture and durability.
MBCI's Brad Frye shows the process of finishing a cement floor with a power float, also known as a power trowel.
Floating with a power float is the final finishing procedure performed after the bleed water has dried.
For more information about the 21 programs of study available at STC, visit www.stcenters.org
---
Upon the occasion of a September 2022 groundbreaking ceremony, Shannon Brennan, Assistant Executive Director of the Schuylkill Technology Center, offers her hand in appreciation to MBCI executives Bryan Herb and Beau Bruso for making possible a corporate contribution of $20,000 toward the construction of a building to house the school's newly-completed food truck.

Pictured left: foodtruck at beginning of project; right: foodtruck at customer location, ready to serve.
MBCI executives joined state legislators, county officials, school administrators and business leaders, to kick off the construction phase of a new building to shelter the student-created and operated food truck.
The MBCI donation will secure a building materials package necessary to erect a pole barn type structure of approximately 30 x 40 feet. STC students are on task to install concrete, as well as electrical and HVAC systems, on their own. A dedication of the completed building is on the calendar for the end of the school year, Spring 2023.
STC is an accredited career and technical school comprising 12 public school districts in Schuylkill County. It serves students in grades 9-12. The school offers 21 programs of study that combine classroom theory, hands-on application, and access to leading-edge equipment. The courses are designed to prepare students for successful entry into the workforce or postsecondary education.
---
In early 2019, students of the Schuylkill Technology Center began working to convert a former baked goods delivery van into a fully-functioning lunch truck. At the end of April 2022 the truck, operated by students in the Culinary Arts curriculum, arrived at Miller Bros. Headquarters in Schuylkill Haven to serve their first meal in history. Visiting here first to recognize MBCI as the most generous donor to the project.

Students of more than half of the school's programs of study took part in bringing the project to a successful close, and the vehicle to a new life on the road, now ready to serve at community events of all kinds.

MBCI team members appreciated the honor shown by the school and really enjoyed a hot lunch of Philly cheesesteaks and mac & cheese.
---
On April 30, 2021 representatives from MBCI presented a $15,000 check to support the Food Truck Project of the Schuylkill Technology Center (STC). The funds will be used to construct a pole building in which to house the truck.
Since early 2019, STC students have been working to convert a former Tastykake delivery truck into a fully functioning food truck that will be operated by Culinary Arts students at events throughout Schuylkill County. This donation is the second from MBCI who earlier donated $5,000 as a Platinum Sponsor of the truck project.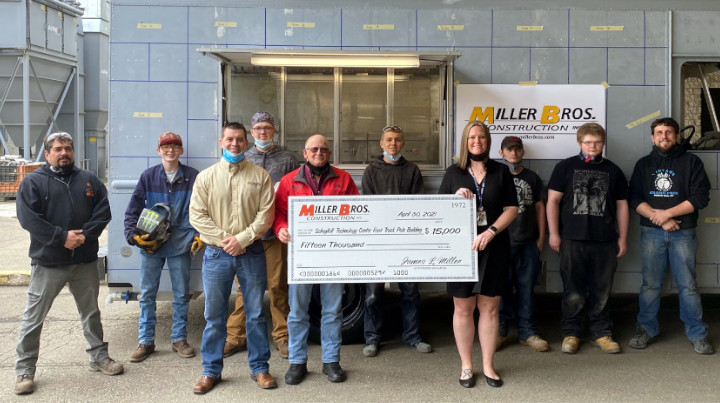 Front row center (l-r): Beau Bruso, VP - MBCI; Bryan Herb, Secretary - MBCI; and Stacey Minahan, STC Assistant Director. Back Row (l-r): Doug DelConte, Welding Instructor along with Welding and Collision students who worked on the project and Collision Instructor, Jesse Krasnitsky.
The Northeast Pennsylvania Manufacturers and Employers Association (NEPA MAEA) presented its Employers Excellence Award for Community Involvement to MBCI in mid-November 2020. The citation of the award reads as follows:
Look on the Miller Bros. Construction website under community work and you will see the statement, "Building better communities takes more than brick and mortar."
A few examples of Miller Bros. Construction assistance to the community include: giving an access easement to the Schuylkill River Greenway Association for a nominal consideration of one dollar; the ballfield, on Graeff Street in Cressona, was starting to look a little rough so MBCI team members Mark Hoover, Art Minnich and Dean Nicholas joined together at the center of the diamond to look around and take stock of the situation; they reconstructed portions of the field using MBCI equipment. The result was a playing field to be proud of. One hundred twenty campers attended Camp Cadet Troop L free of charge thanks to the support provided by friends and sponsors. And just as in many past years, Jim Miller, president of Miller Bros. Construction Inc., participated as a major sponsor of the event. The camp works to instill self-discipline, self-respect, and self-esteem along with establishing a positive relationship with law enforcement.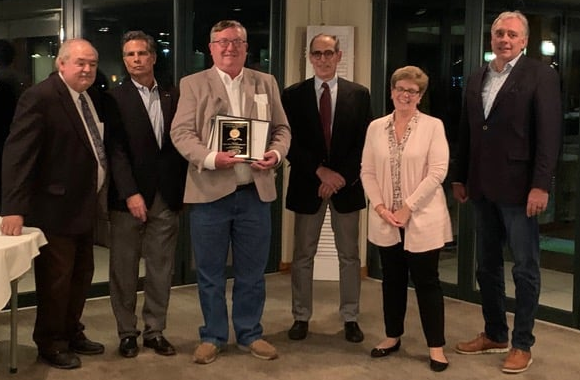 Federal, state, and county officials flank Jim Miller, MBCI president, (third from left) as he accepts a NEPA MAEA Community Involvement Award.
---
In May 2020, David Williams, president of the Valley View Park Association, told a reporter from the Republican Herald newspaper that, "If it wasn't for Rick Lettich and Miller Brothers Construction none of this would have happened."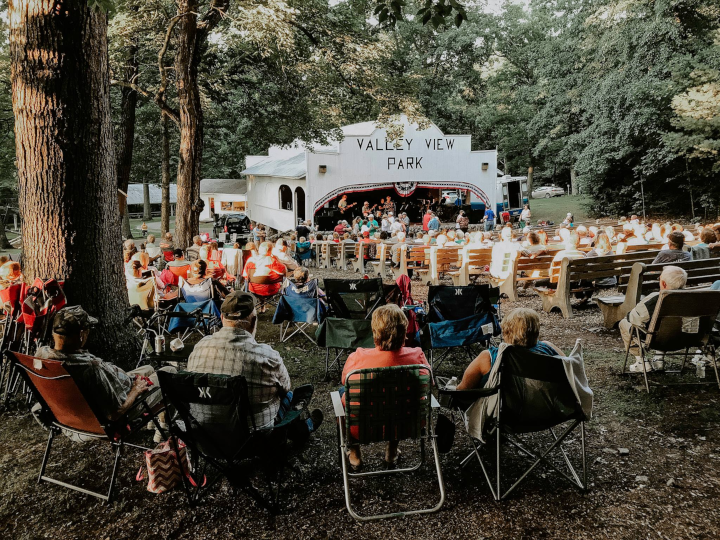 He was referring to recently installed improvements in the park consisting of a new 17-foot-wide concrete dance floor in front of the main stage, a new sidewalk to the stage rear, a dumpster pad and a new concrete floor for an old pavilion that is in process of being resurrected.
Miller Bros. provided labor and equipment at no charge to complete the three-days-long project.
In a letter of thanks to the company Williams wrote, "The work was skillfully performed and looks beautiful... The improvements make the Valley View Park a much better place and the community will certainly enjoy these improvements, especially the dance floor."
The Valley View Park Association is a 501(c)(3) nonprofit organization.
---
The Schuylkill River Trail attracts regional ecotourism enthusiasts as a destination that presents a range of habitats from the Appalachian Mountains near Schuylkill Haven to the urban landscapes of Philadelphia. The trail holds the potential to receive tens of thousands of visitors annually and serve as a recreational resource for the regional population.
The Schuylkill River Greenway Association works with partners to improve access to the Schuylkill River Trail, create a uniform sign system, and improve trail amenities. The nonprofit organization operates and maintains more than 30 miles of the trail in Schuylkill and Berks Counties.
There is a section along the planned route of the trail in Schuylkill Haven extending southwardly along the former Pennsylvania Railroad right-of-way from the Schuylkill Haven Senior Center on Haven Street to Adamsdale. The route loops around the rear of the Schuylkill Haven Area playing fields and crosses East Main Street adjacent to the Little League field. After crossing East Main Street the trail continues toward Adamsdale as a rather steep railway cut running along the line of Miller Bros. Construction (MBCI) property.
The Schuylkill River Greenway Association (SRGA) approached MBCI for permission to cross its property and gain access to the railway cut for the purpose of transporting fill material ultimately intended for use to construct an ADA-compatible ramp to facilitate trail access.
MBCI agreed to an access easement for a nominal consideration of $1. Then suggested the possibility of a partnering arrangement to acquire free fill from Hydro Cressona. SRGA agreed. MBCI transported Hydro-donated fill from a project on Hydro property and pushed it off into the railway cut. The material, machines and manpower needed for the job were provided at no cost whatsoever to the Greenway Association.
Now, the moment construction work launches on this segment of the trail, the fill is already there, primed for use to configure the ramp. This donation avoids a substantial outlay of cash that otherwise would have been required upon the budgeting of this trail segment.
---
23 Meadowbrook Center on Route 183 South in Schuylkill Haven offers meeting space to community organizations and groups in southern Schuylkill County. The building was donated by Jim and Michelle Miller to Bethesda Evangelical Congregational Church and is managed by the church as a community resource available to everyone at very low cost. Opportunities to utilize this space require no direct church connection or membership.
The center is the home of the Wayne Township Senior Group, open to all seniors in the community every Wednesday for a noonday meal and a special activity or program. Other users of the meeting space include Schuylkill County not-for-profit organizations like the United Way.
MBCI management took note of several areas where renovation and renewal would be appropriate and launched a series of construction tasks to be carried out without cost to the facility.
Reconstruction of restrooms took place inside of the building in 2018. And in 2019 exterior improvements were completed. These included a brand new roof over the entire 6,600 square foot building, new soffit, new facia, as well as new rain gutters and downspouts.
---
On the morning of May 17, 2019 a busload of invited students from the Schuylkill Technology Center (STC) arrived at the MBCI campus in Schuylkill Haven to take an active part in MBCI's Seventh Annual Safety Day.
STC is an accredited career and technical school comprising 12 public school districts in Schuylkill County serving grades nine through 12.
The students joined more than 100 members of our construction team in a multi-topic course of instruction. (And a big lunch.)
Of all the topics covering construction safety instruction that day the big hit for many of the students was the Live Line Electrical Safety Seminar with PPL instructors Dave Kimmel, Doug Haupt and Steve Krause.
Apparently there's just something riveting about the loud snap of a circuit breaker opening when electrical transmission lines are kissed by a mylar balloon.
---
The Cressona Area Baseball Association is the local Little League organization for boys and girls ages 4 to 16 that reside within Cressona Borough, North Manheim Township and Wayne Township.
Not too long ago the ballfield, on Graeff Street in Cressona, was starting to look a little rough. So MBCI team members Mark Hoover, Art Minnich and Dean Nicholas joined together at the center of the diamond to look around and take stock of the situation.
After requesting and receiving the use of MBCI equipment, the three set off to work reconstructing portions of the field. Result? When a team of exceptional skill faces a less-than-stellar field you end up with a playing surface that any Little League ball club would be proud of.
In addition, MBCI president Jim Miller and his wife Michelle donated a trip to Florida. Just as they have done each year for the last three years. Little League uses the trip as a prize in a fund-raising drawing. The proceeds from ticket sales have consistently helped to create a surplus in the association's operating budget year on year.
---
Schuylkill Technology Center (STC) in MarLin, Pa., recently launched a first-in-the-nation project among vocational-technical high schools.
The Food Truck Project involves converting a 19-year-old former bakery delivery truck into a fully functioning food truck. Ultimately, culinary students and their instructor will take the truck to community events. Proceeds from food sales will support student activities at STC.
This collaborative venture involves the efforts of students from more than half of the school's available programs of study: Auto Collision, Auto Mechanics, Culinary, Residential, Industrial Electricity, Business Administration, Criminal Justice, Welding, Computer Information Systems, Carpentry, and Plumbing.
MBCI was pleased to participate and support the venture as a Platinum Sponsor with a donation of $5,000.
Pictured front row (l-r) Beau Bruso, MBCI; Bryan Herb, MBCI; Jim Gurscik, STC Culinary Instructor; back row (l-r) Jesse Krasnitsky, STC Collision Instructor; Stacey Minahan, STC Assistant Director; STC students Kevin Barrell, Port Clinton; Trent Wenner, Pine Grove; Kole Miller, Tower City; Justin Schade, Orwigsburg.
MBCI's Bryan Herb noted, "We appreciate the opportunity to support the training of local people who will be entering the trades in the coming years. I'm told that when the truck is completed STC construction students will be building a garage for it."
---
Established in 1985, Camp Cadet Troop L is a week-long camp for boys and girls 12 to 15 years of age who reside in Berks, Lebanon and Schuylkill counties in Pennsylvania.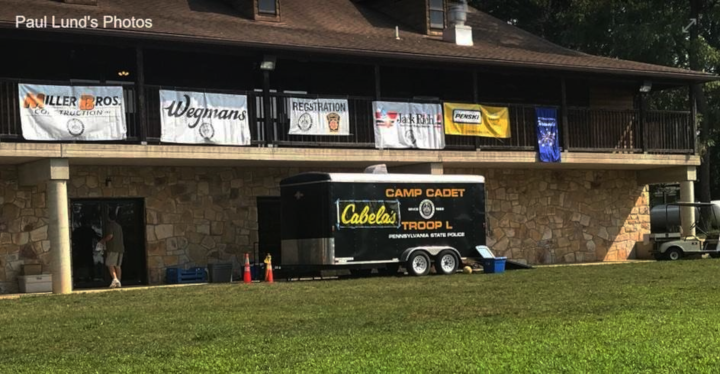 In August 2019, 120 campers attended free of charge thanks to the support provided by friends and sponsors. And just as in many past years, Jim Miller, president of Miller Bros. Construction Inc., participated as a major sponsor of the event.
The camp works to instill self-discipline, self-respect, and self-esteem along with establishing a positive relationship with law enforcement.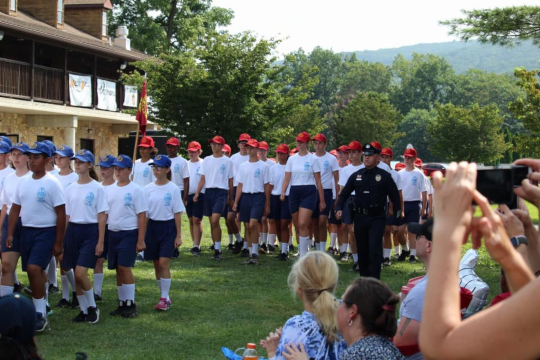 Two years ago, Jim accepted the Camp Cadet Troop L Lifetime Achievement Award for his "many years of meritorious service and dedication to the youth at Camp Cadet."
The award acknowledges those who have shown an unwavering dedication to community youth programs.
---
Jim Miller's life-long dedication to community enhancement found its most recent expression in his gift of a building to a local congregation who, in turn, performed a makeover and opened the structure to all local residents as a community activity center.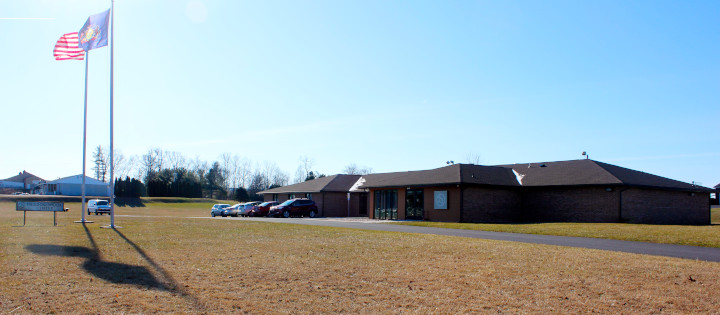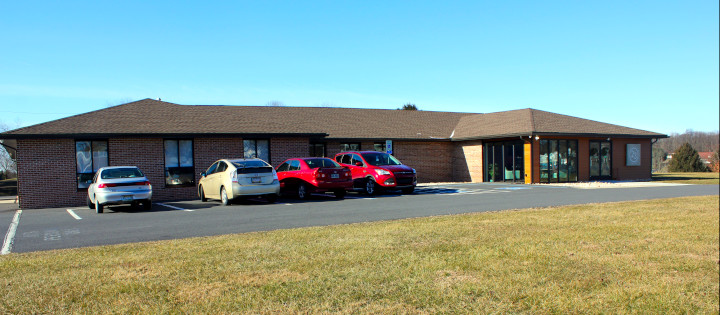 Situated on a 3-1/2 acre site fronting State Route 183, the 6,600 square-foot, single-story building was recently vacated by the Pa. State Police after serving as a barracks for more than three decades.
Bethesda Evangelical Congregational Church accepted Jim's gift of the structure on behalf of all the residents of Wayne Township and immediately set an army of volunteers to work to convert the building into use as a community center.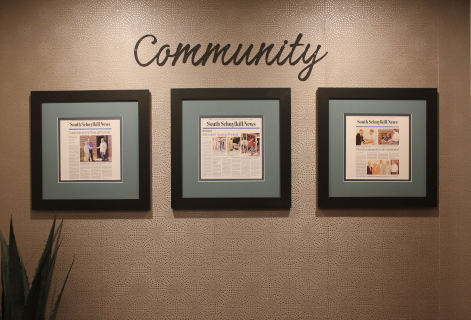 A Community Wall displays local press accounts that memorialize Jim's gift and the work of volunteers in preparing the building for the new use.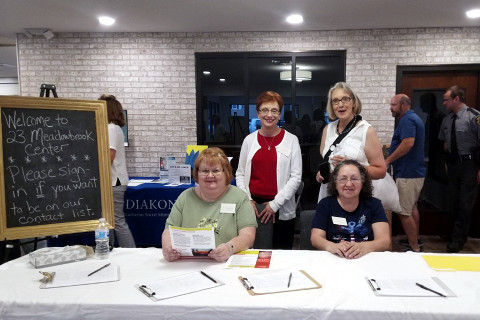 By Summer 2018, after months of work on the interior, 23 Meadowbrook Center was ready to welcome guests and begin a new cycle of use -- enriching the quality of life for area residents.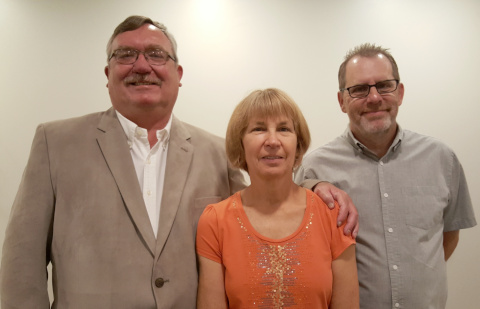 Pictured (l-r) at the dedication ceremony of the new community center, Jim Miller with Michele Miller, his wife, and Bethesda E.C. Church Lead Pastor, Jeff Byerly.
---

St. Joseph Center for Special Learning (SJC) is a special education institution for students aged four through 21 located in Pottsville, Pa. Sponsored by the Office of Education of the Roman Catholic Diocese of Allentown, SJC offers academic, social, religious, and pre-vocational instruction to students with intellectual and developmental disabilities regardless of race, creed, ethnic origin or religious affiliation.

In addition, SJC operates a state-licensed adult habilitation program for persons over the age of 18 who are unable to join the competitive or sheltered workforces. Habilitation is defined as the process of supplying the resources necessary to help individuals develop maximum independence in the activities of daily living through training, education, and/or treatment.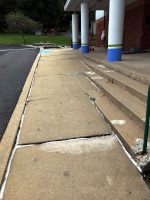 Deteriorating entry steps gradually presented a safety hazard. The sidewalks at the school became sunken and difficult to maneuver across -- especially for special-needs children. And having just one curb ramp was less than ideal with multiple kids being dropped off at the same time.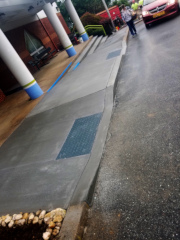 So, we installed an additional curb ramp with tactile pads to create a second accessible route for students to use to safely transition from the driveway to the sidewalk entrance and vice versa.
Scope of work performed: 1) Tear out and replace large steps; 2) Tear out and replace sidewalk and curb ramp; 3) Install an additional curb ramp; 4) Repair decaying storm inlet.
A significant portion of the project cost was offered as an in-kind donation. Other companies contributing to the project included Walmart Distribution Center #7030, Pottsville, and Quandel Concrete of Minersville, Pa.
---
On June 1, 2017, the Hawk Mountain Council of the Boy Scouts of America hosted its annual Service to Youth & Community Breakfast. The Council created the event to recognize people who have provided praiseworthy community service resulting in an improved quality of life for area residents.
[click image to enlarge]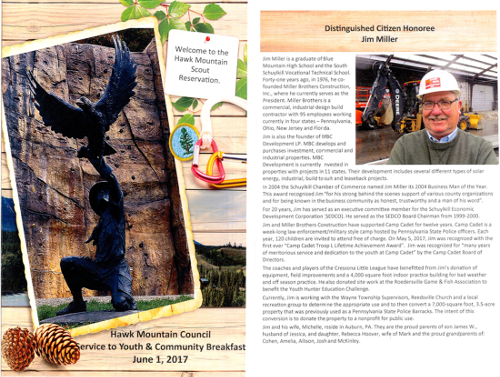 James L. Miller, president of Miller Bros. Construction Inc. was recognized during the breakfast as the recipient of the Distinguished Service to Youth and Community Award. The award acknowledges those who have exhibited an unwavering dedication to youth programs in their local communities.
The Hawk Mountain Council serves more than 8,000 youngsters in various Boy Scouts programs in Berks, Carbon, and Schuylkill Counties in Pennsylvania.
Hawk Mountain Scout Reservation, a 635-acre camp associated with the Hawk Mountain Council, is located near Summit Station, Pennsylvania.
---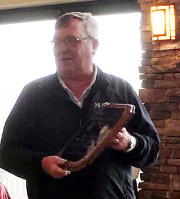 During its annual golf outing on May 5, 2017, Camp Cadet Troop L presented a Lifetime Achievement Award to Jim Miller, president of Miller Bros. Construction. Jim has supported the work of Camp Cadet for the past 12 years.
Established in 1985, Camp Cadet Troop L is a week-long camp for boys and girls 12 to 15 years of age who reside in Berks, Lebanon and Schuylkill counties in Pennsylvania. The camp works to instill self discipline, self respect, and self esteem along with establishing a positive relationship with law enforcement. The camp is staffed by state and local law officers.

Cadets participate in morning physical training and march in platoon formations to their classes and activities under the watchful eyes of police instructors. They participate in a wide variety of instructional sessions, learning about the use of police radar, fingerprinting, forensic photography, drug prevention, SCUBA and rescue operations, and juvenile law.
In addition to State Police, Municipal Police, and Military Personnel, past instructors have included: F.B.I., Secret Service, Berks County Correctional Officers, D.E.A., I.N.S., and many more.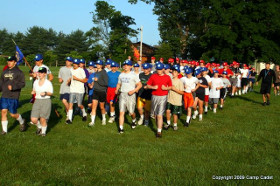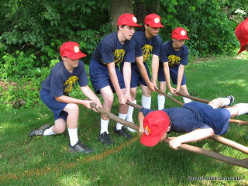 An active day for Cadets is highlighted by an exciting array of recreational activities and team sports. One alumni commented, "It was the best experience of my life. In one short week, I learned so much about not only myself and what I am capable of but also how to support those around me as a team. It was truly amazing."
---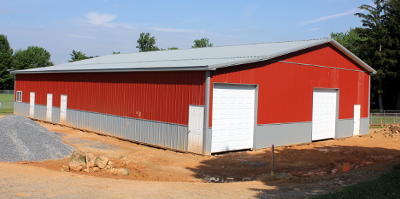 At MBCI we believe that the values passed on to young people through participation in competitive sports are critical to the future of our communities.
In June 2016 MBCI completed construction of a 3,200 square foot building on the grounds of the Cressona Area Baseball Association in Cressona, Pa. We donated the structure to the Little League for the protection and storage of equipment.
As of the end of the month only minimal sitework remained to be completed. Several other community-minded businesses will be donating mechanicals and interior finishing materials.

After the Cressona Girls Softball League received our gift of materials they used for the construction of two dugouts at their field, the girls snapped this photo and presented us with a plaque of appreciation.
---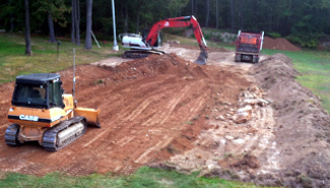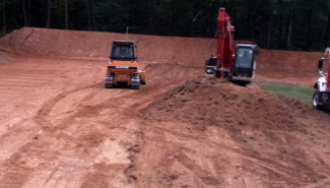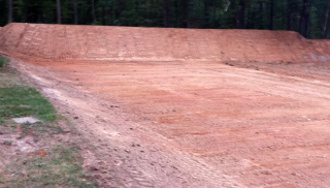 MBCI completed a sitework project in October 2015 at the Roedersville (pronounced raiders-ville) Game & Fish Association in southern Schuylkill County, Pa.
The work was an in-kind donation from Miller Bros. to benefit the Pine Grove YHEC organization (Youth Hunter Education Challenge) and will be recognized by the community as a "Make a Difference Day" volunteer effort.
The scope of work consisted of soil cut and fill along with landscaping to create a shooting range and backstop berm. Completion of landscape seeding and mulching occurred during the week of October 5.
---
Supporting opportunities for kids to particpate in competitive sports is important to caring adults in our community. And helping adult volunteers mentor future community leaders is important to the folks of Miller Bros. Construction Inc.

We recognized that adequate field maintenance is a key to a safe baseball program and a quality facility. Significant time and resources are required of time-starved volunteers to maintain a field properly. So in 2014 we presented the Cressona Little League with a new tool to help in their maintenance efforts.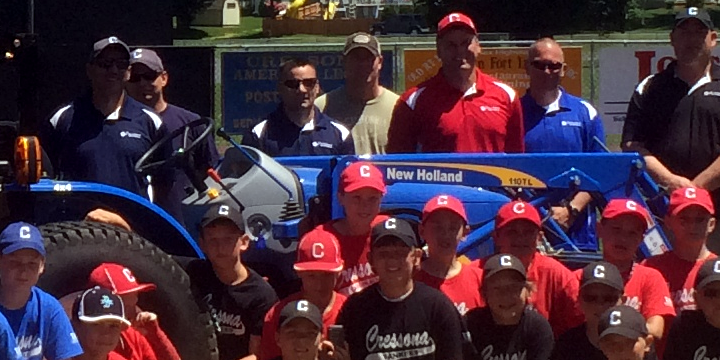 Our contribution to a stronger community -- a New Holland 110TL Workmaster tractor/loader -- is pictured in the field with the players and coaches of the 2014 season.