Miller Bros. Construction Reports: 2020 Progress and Completions

NorthPoint Development is a privately-held, national real estate development firm specializing in the development of Class A real estate facilities.
MBCI has built a history with the firm of successfully delivered projects.
NorthPoint once again called on MBCI to complete two tenant improvement projects within existing commercial-industrial buildings. One located in Hanover Township and the other in Wilkes-Barre Pa. NorthPoint wanted the two projects to track concurrently according to a tight schedule, with completion for both no later than the end of February 2020.
Project supervisors for NorthPoint tenant Johnson Health Tech – a Taiwan-based fitness equipment company enjoying a global reach – witnessed the MBCI team carve out 3,722 sf of space from within the huge Tradeport 164 Building 1, located in Hanover Township, Pa. In addition to offices the team created a breakroom, restrooms with showers, satellite restrooms and a patio area. Project start date: December 30, 2019. Completion: February 28, 2020.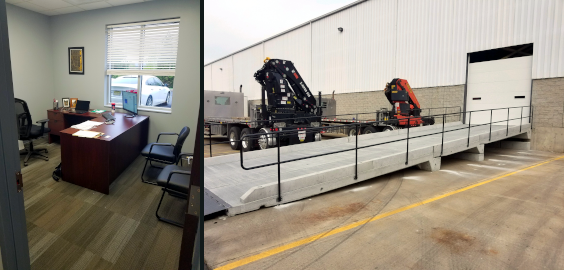 The second project comprised a not-dissimilar bundle of objectives for NorthPoint tenant National Cart Company within a building located at 32 Earth Conservancy Drive in Wilkes-Barre.
National Cart, headquartered in St. Charles, Missouri, is a family-owned and operated business and a leader in design, manufacturing, and distribution of material handling products, food service products, and store fixtures.The scope of work included a total renovation of 1,500 sf of office space with all new HVAC, electrical, flooring, ceilings and paint. MBCI specialists also carried out warehouse renovations that included installation of new dock equipment for existing doors, creation of a new wall opening for a drive-in door and an access ramp. Project start date: February 1, 2020. Completion: February 28, 2020.
---

STG International, Inc. (STGi) contracts with Federal government entities like the Veterans Administration to design, build, staff and manage healthcare clinics that deliver primary care, mental/behavior health, women's health, radiology, telehealth and other services.
STGi awarded MBCI the contract for interior fit out of a new VA clinic in a 10,000 sf former school building in Plattsburgh, New York. This was MBCI's fifth VA clinic project undertaken for STGi.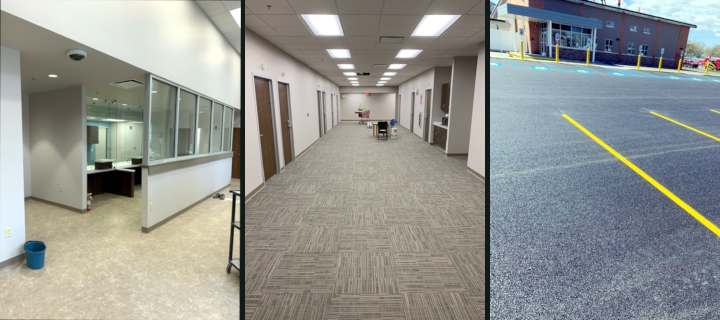 The existing interior was gutted to allow the creation of new interior spaces. Exam rooms, rest rooms, break area, utility spaces, waiting area and new entry vestibule were created. A new, durable, synthetic rubber roof (known as EDPM roofing) and facia was installed. The parking lot was re-paved along with new line striping.
The originally anticipated completion date was March 31. As a result of the shutdown related to the Covid-19 pandemic, we ultimatelyfinished the project during the first week of May.
---

Headquartered in Columbus, Ohio, Big Lots, Inc. is a community retailer operating more than 1,400 Big Lots stores in 47 states.
The Big Lots Distribution Center in Tremont Pa. called on MBCI to replace two existing exterior forklift ramps.
Each concrete ramp measured approximately 70 feet in length and 16 feet in width.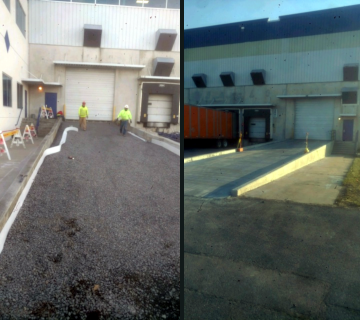 We razed the existing ramps and removed existing ramp wall guardrails.
We formed and poured new concrete ramp walls and 8-inch thick forklift ramps.
We finished the project with the installation of new metal guardrails.
---