Miller Bros. Construction Reports: 2023 Progress and Completions
---
Schuylkill Chamber of Commerce staff, government officials, and business community members joined two sisters in a celebratory ribbon cutting event in early May.
In 2021 two sisters from Frackville became aware of and bought, before it ever hit the market, an empty tract of land on the north end of town offered for sale by the former owner of an out-of-use daycare business (closed in 2019).
Sisters Jill Simons and Hollie Bindie, owners of Sisters Early Learning Center, selected MBCI for a comprehensive design build contract, including a boundary survey, Phase One and limited Phase Two environmental site assessments, land development plan, stormwater management design, NPDES permitting, landscape/lighting plans, architectural, structural, plumbing/HVAC, and electrical plans.
The result became a new 10,100 square foot single story structure consisting of nine classrooms with individual child lavatories, kitchen, meeting room, resources rooms, reception, playground area, and rear patio.
Construction began in September 2022 and was completed by April 2023.
---
As part of our ongoing project involving a 35,000 square foot addition to the cast house at Hydro in Cressona, MBCI collaborated with Antz Energy Systems of Shenandoah to conduct removal and replacement of roof-mounted fans at the facility on May 5, 2023.
Other critical members of the team that day were the pilots and ground crew of Midwest Helicopter Airways who carried out the lift. We began with a test run two weeks earlier using a crane to remove six old fans and lift six new ones in place. This proof of concept established that all was ready. At MBCI, safety is always of critical concern.
Midwest Helicopter Airways, based in Willowbrook Illinois, specializes in heavy lifting in the construction industry using 1950s-era Sikorsky S-58T helicopters that are capable of lifting loads up to 4,500 lbs. Interestingly, there were two pilots in the helicopter on lift day. One was dedicated to piloting removal of the old fans, and the other was focused upon setting the new fans down in the right place. The Midwest ground crew conducted the pre-lift safety briefing.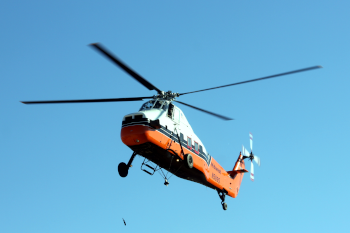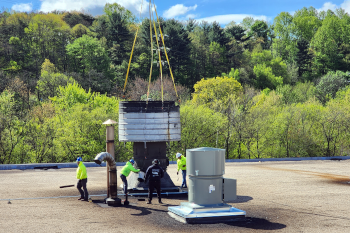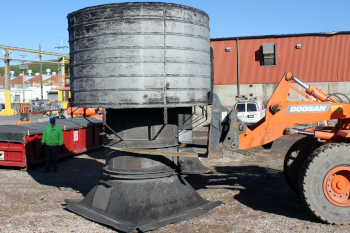 Thirty-one obsolete fans were taken off the roof that day: each weighing 1,500 pounds. These were replaced with new fans weighing 1,000 pounds each. Sixty-two fans, a total weight of almost 39 tons of old and new equipment, were moved at a rate of little more than two minutes per lift.
Antz Energy directed the charge on the fan work and will perform the fan connections and start up.
---
The Hydro Extrusion plant in Cressona, Pa. is one of the largest facilities of its kind in the world.
In the final months of 2022 Hydro tasked MBCI to engineer and construct a 35,000 square foot metal addition to its Bay-Zero building. The new structure will be used as additional space for storing and processing recycled aluminum. The use of recycled aluminum helps to reduce Hydro's carbon footprint, which is a significant target for the firm.
The scope of work involved the brick-by-brick demolition of a 225-foot-high chimney stack as well as the teardown of a boiler house that was longer in use.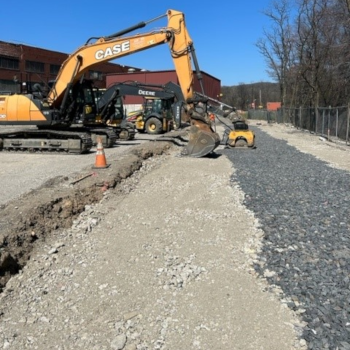 We are installing a new railroad spur.
And the installation of new—and the relocation of existing—underground public utilities has proved to be a very challenging piece of the project.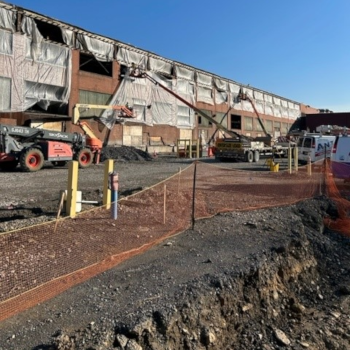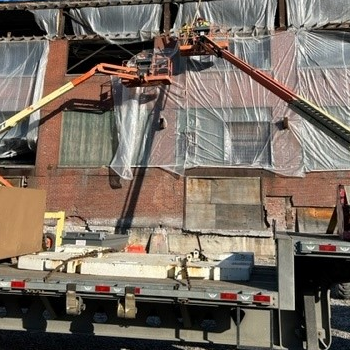 The work on the addition began with tearing away a wall of the existing building, followed by the installation of metal studs for a new parapet wall.
The completion of all work on the site is anticipated by January 2024.
---
J.F. Rohrbaugh & Co. — a manufacturer of specialty pallets, custom shipping boxes and crates, prefabricated turnkey framer wall panels and mulch — hired MBCI to design and build a new manufacturing facility in Oxford Township, Adams County comprising five separate buildings on a 95-acre site along Brickyard Road.
The project included a 125,000 square-foot manufacturing plant with attached two-story office, two warehouses — one of 11,200 square feet and another of 9,100 square feet — an 11,200 square-foot maintenance building, and a dust collection building of 700 square feet to house an extensive dust collection system.
Site activity began in May 2022 with the demolition of old concrete pads, foundations, a huge underground steel rotunda, draft tunnels, old railroad tracks, brushwood removal and everything else that needed to go.
Due to less-than-stellar soil conditions (as well as underground tunnels) MBCI installed more than 1,300 impact piers prior to starting any buildings. The impact pier method consists of installing columns of compacted stone in groups to increase bearing pressure and diminish settlement under structural footings and concrete slabs.
Since there was no sewer connection nearby, MBCI installed a three-quarter-mile-long sewer extension along Brickyard Road and connected properties along the route to the new extension. In addition, MBCI set down 2,000 feet of new railroad track creating a spur to the manufacturing campus.
Scheduled completion of the project was April 30, 2023. Thanks to the efforts of the team and a mild winter the project concluded five weeks ahead of schedule. The owner took possession earlier than anticipated, getting a jump on launching business operations.
---