Miller Bros. Construction Reports: 2018 Progress and Completions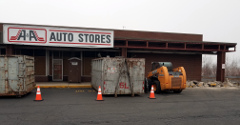 When NorthPoint Development acquired the site of the former Schuylkill Mall, the company arranged to relocate two mall tenants from inside the to-be-demolished mall building to a structure on the border of the property, a building that once housed an auto parts store.
NorthPoint hired MBCI to renovate the exterior of the former auto parts store to prepare new homes for the Mine Safety and Health Administration (MSHA) and the DaVita Kidney Care Dialysis Center.

Our scope of work included a totally new design for the front and sides of the building. We closed in old garage door openings, created new openings for storefronts and doors, and added new exterior lighting. We installed new exterior cladding of Nichiha fiber-cement panels on the fascia and end walls. And we added ADA-compliant concrete ramps.
In addition, we completed the interior of the MSHA-occupied space.

The project came in on time and on budget.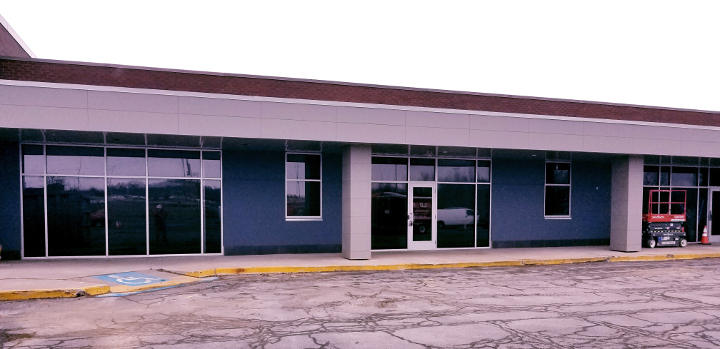 ---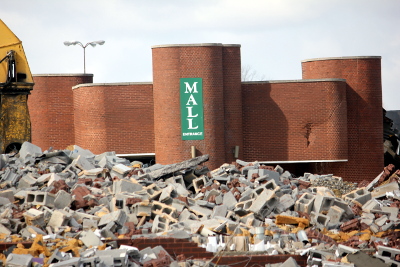 NorthPoint Development, the same Kansas City-based group that developed a major distribution center in Schuylkill County's Highridge Business Park for Hudson's Bay Company, called on MBCI to provide demolition and sitework services at the location of the former Schuylkill Mall in Frackville, Pa.
At the onset of work in January 2018 a 1980s-era, 840,000 square-foot, enclosed shopping mall could be found at the core of the 110-acre property with several other buildings along the periphery.
NorthPoint Development LLC bought the site, located at the intersection of Interstate 81 and Pa. Route 61, at a bankruptcy auction in January 2017 for $2.1 million.

NorthPoint is a privately held development firm based in Kansas City currently active in 11 states including: Kansas, Missouri, Texas, Illinois, Tennessee, Ohio, Indiana, Kentucky, Michigan, Florida and Pennsylvania.
MBCI's scope of work included complete demolition of the mall building as well as asbestos abatement within the structure. Water service to the mall had to be terminated and the main line relocated to continue supplying several ancillary buildings on the site. Occupants of these buildings include McDonalds, Big Lots, and soon-to-be-completed units that will house the field office of the Mine Safety and Health Administration (MSHA) and the DaVita Kidney Care Dialysis Center.

Electric service was similarly terminated at the mall building, relocated, and restored to the occupants remaining on the site.

Not insignificant challenges were overcome as the project moved forward. Demolition had to begin while some tenants remained actively engaged in daily business. Dunham's Sporting Goods and the Pearl Theatre remained open in the mall till the end of January. MSHA and DAVITA remained as tenants within the mall even as the walls near them were being pulled down. Provisions such as electric, data and sheltering walls remain in place to keep these businesses operating safely.
MBCI is currently renovating an existing building on the site to house new offices for both MSHA and DaVita.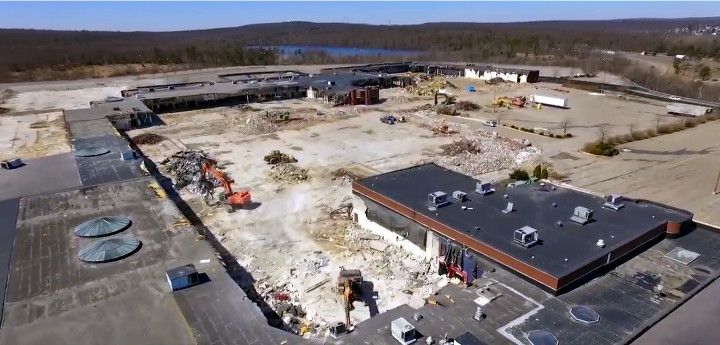 As of this writing (April 2018) about 50 percent of the former mall is flattened. The project is expected to conclude in early summer.
Once the mall site is completely cleared, Northpoint plans to construct two buildings for use as distribution centers offering approximately 1.3 million square feet under roof.
---
MBCI-installed improvements in manufacturing environments are often as simple as hanging a door or as complicated as transforming a bare building site into a manufacturing plant.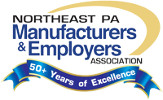 As seasoned professionals, our project managers construct improvements in industrial settings while minimizing disruption to production workflows. Our membership in the Northeast PA Manufacturers and Employers Association supports our grasp on the unique construction challenges to be found in manufacturing establishments.
Recently we were hired to cut a 25-foot x 15-foot wide opening in the insulated metal cladding of an exterior wall of a plant to allow the installation of two 12-foot diameter by 20-foot high mixing tanks, including a stainless steel elevated platform and stairs for accessing the mix tanks.
Another recent project encompassed the construction of a 70-foot long by 30-foot wide tanker truck unload enclosure using concrete, structural steel, and insulated metal exterior panels. We installed an elevated platform for accessing the top of the tanker truck and modified existing exterior site utilities. All while maintaining the manufacturing processes in operation.
Other recent manufacturing-related construction activity included: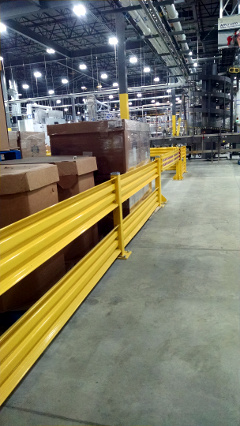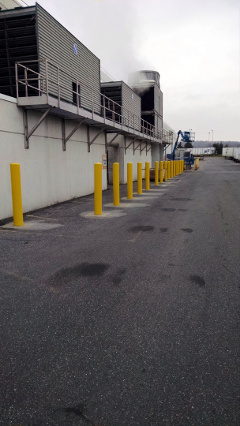 Installation of pedestrian walkway guard rail for employee safety. We have installed hundreds of lineal feet of guardrail over the last several years.
Installation of pipe bollards. Frequently installed around electrical transformers, dock doors, and for protection of buildings. We have done these numerous times as requested by customers.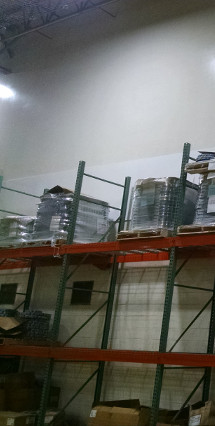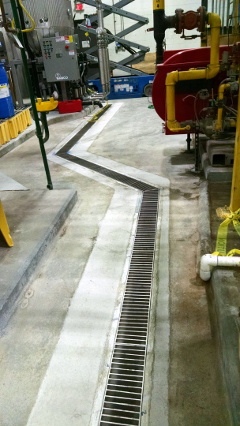 Installation of trench drain. We have done many of these. Saw cutting the existing floor, excavating for the drain, installing the drain and related piping while the plant remained in operation.
Installation of storage racking. Often used for storage of equipment, material, and product.
---