Miller Bros. Construction Reports: 2018 Progress and Completions
In the fourth quarter of 2018 our MBCI team turned over our 75th retail unit for Dollar General.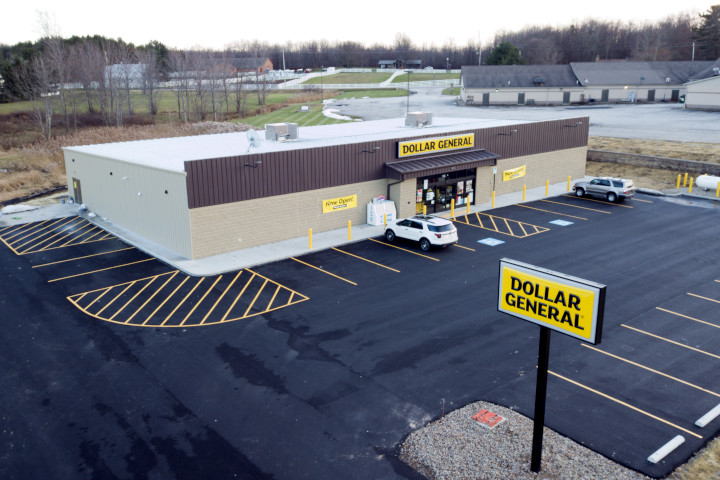 The new store is located in Chardon, Ohio — population 5,148. The city is located about 10 miles south of Lake Erie.
As of December 2018 we have more than a dozen new Dollar General store locations under agreement. In fact, we are on track to complete our 80th unit in the first quarter of 2019.
---

December 2018 saw our completion of a new Vehicle Wash Building for the Pennsylvania Department of Transportation in Schuylkill Haven, Pa.
PennDOT maintains nearly 40,000 miles of roads and 25,000 bridges statewide, which translates into nearly 95,000 snow-lane miles — enough to circle the globe nearly four times. To tackle this task, PennDOT uses more than 2,248 trucks, plows and salt spreaders, operated by more than 4,500 on-the-road workers. The department also rents about 380 trucks and hires temporary operators to assist with snow removal operations. During the 2018-19 winter season, PennDOT expects to use approximately 950 million tons of salt to keep Pennsylvania drivers moving.
Given the facts, it's no surprise that PennDOT appreciates the need to have their own truck wash stations to flush their plowing and salting equipment of saline residue. Recently the department decided to upgrade maintenance facilities at a number of locations by adding new truck washing capability. MBCI was pleased to have a part in one new truck wash project very close to home -- just 500 feet from our front door on East Main Street in Schuylkill Haven.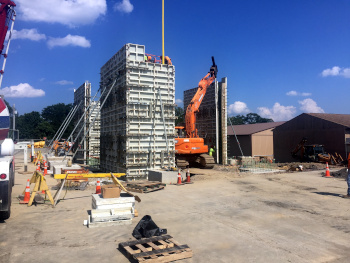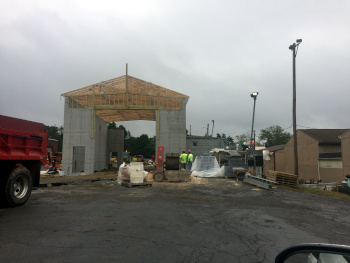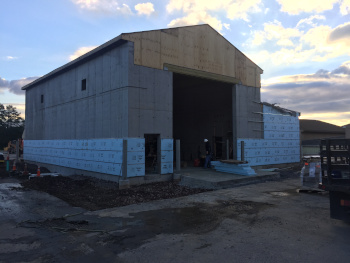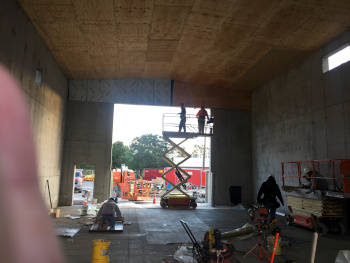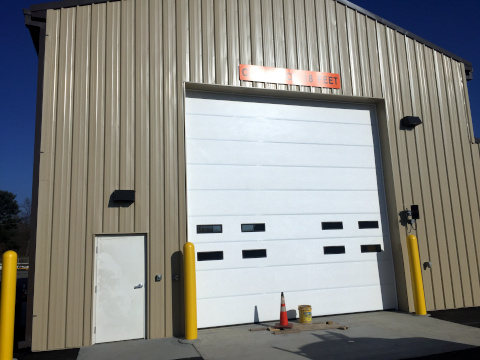 We constructed a 2,200 square-foot building having 25 foot high concrete walls using special sealed concrete.
We also installed truck washing equipment.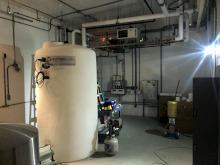 ---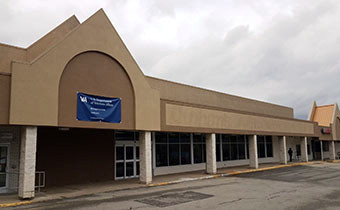 On December 3, 2018 we completed construction of a new VA Outpatient clinic in Uniontown, which is 45 minutes south of Pittsburgh in Fayette County.
We converted a 16,250 square foot space previously occupied by a Dunham's Sporting Goods store into a state-of-the-art healthcare facility for local veterans.
This design-build project called upon the experience and expertise of all of our departments. It required the tight integration of our real estate, design and construction teams in a fast-track process to bring in the job in less than 90 days.
This was our second project in a year for STG International, the operator of the facility. STGi provides comprehensive healthcare delivery services staffing to the Federal Government through numerous clinical, environmental, educational, and risk-based prevention programs.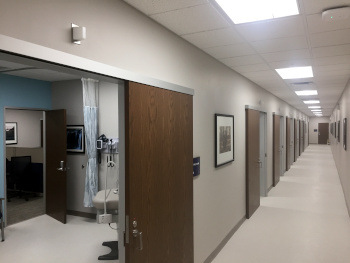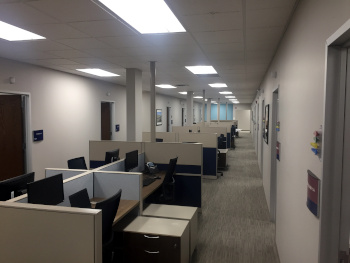 This new VA Outpatient Clinic is part of the VA Pittsburgh Healthcare System, one of the largest and most progressive in the nation. More than 3,700 employees serve approximately 70,000 veterans every year, providing a range of services from transplant medicine to primary care. It is also a center of research and learning, with more than $30 million in research projects and a robust training program for residents and students. The system is a leader in virtual care delivery through telemedicine.
---

Hydro Cressona is one of the largest facilities of its kind in the world. Hydro (pronounced hee-dro) provides a large range of aluminum extrusion, machining, fabrication, and finishing services.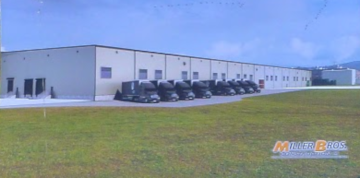 As an MBCI design-build project, we were called upon to construct a 96,000 square foot, pre-engineered industrial structure on a 12.67 acre site immediately adjacent to Hydro's existing 1 million square foot aluminum extrusion plant in Cressona, Pennsylvania.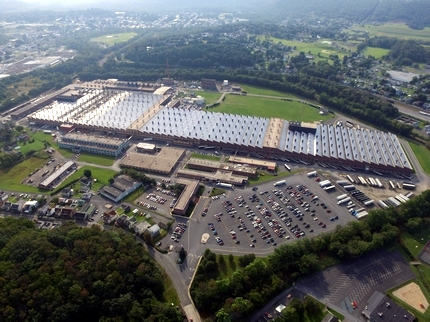 Hydro plans to install a 4,500-ton 10-inch aluminum press line in the new building in order to expand its offerings to automakers. The firm expects to invest more than $100 million into the project which will also include other infrastructure improvements within the existing facility.
According to Charles Straface, business area president for Extrusion North America at Hydro, "This state-of-the-art, high-performance press will enable us to make high strength precision parts for highly engineered applications, like the automotive industry which relies on Cressona to supply key components for lightweight vehicle designs."
The investment is projected to create 60 new jobs over the next three years and retain a further 1,307 existing jobs. Hydro is currently the largest manufacturing employer in Schuylkill County.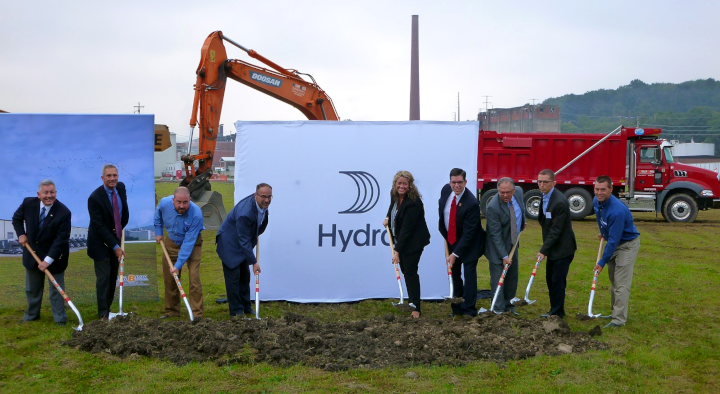 On October 2, 2018 company officials joined representatives of state and local government together with regional economic development officers to kick off the project with a ground breaking ceremony.
A local TV news report can be viewed here: WFMZ News Report
---
For more than 75 years Schuylkill County people trekked to the New York Bakery in Frackville to be greeted upon entry by the aroma of fresh-baked bread and other ethnic delectables. Sour dough rye bread was a particularly sought after delight. The bakery closed in 2011 upon retirement of the owner. A subsequent re-incarnation under new ownership proved short lived.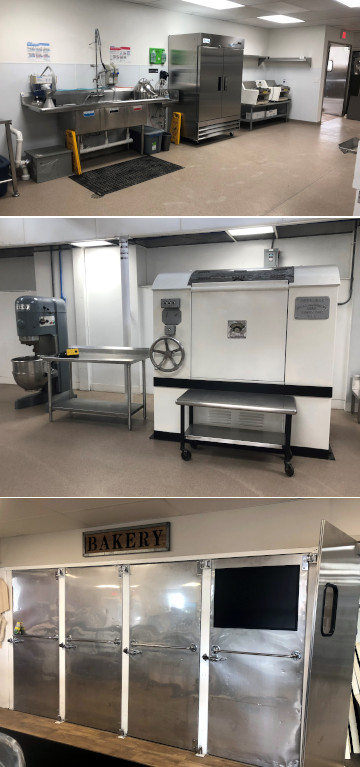 Now two Frackville natives have partnered to bring back to life the building that once housed that iconic bakery.
Building owner Bill Delinsky of Tana Properties teamed up with childhood friend Diane Pavalko to create the new Spring Street Bakery at 551 West Spring Street in Frackville – the very location of the famous bakery of old. Diane is the on-site manager of the new business.
The partners called on MBCI to do a complete interior renovation. Our scope of work included replacement of the main sanitary line in a crawl space under the floor and a total make-over of the plumbing and HVAC systems.
We added two new ADA-compliant restrooms and went on to put in new ceilings, walls, windows, doors, roof and a new side entrance offering ADA accessibility.
We painted the interior and installed new luxury vinyl tile (LVT) and epoxy flooring, new fixtures, new zinc checkout countertops, a coffee counter with wood base cabinets, wood wainscot, and brick accent walls.
New production equipment included an 800-loaf oven, a donut fryer and a humidified proofing box.
---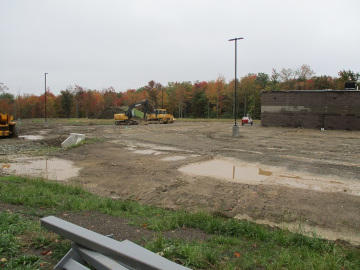 The Pennsylvania State Police Barracks in Lewis Run, McKean County, a new 9,300 square-foot building adjacent to the Bradford Regional Airport, is scheduled for completion and turn over in mid-December.
The structure will house office space, locker rooms, a fitness room, lunch room, and communications room.
As of mid-October, we are installing split face block on the exterior and the lobby interior, rooftop HVAC units, and level 5 exterior doors.
In addition, creation of an exterior impound yard is now in progress on site.
---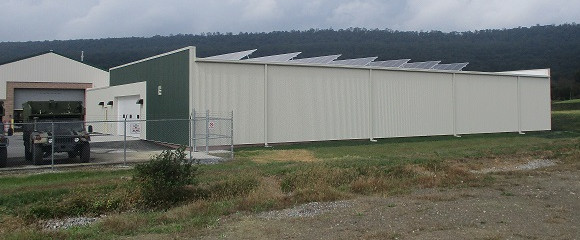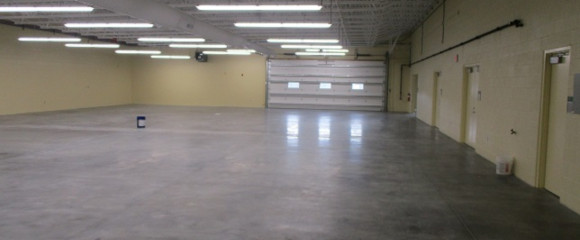 The construction of a hangar for Unmanned Aerial Vehicles (UAVs) at Ft. Indiantown Gap is about to conclude.
The space, a 9,800 square foot addition to an existing structure, was designed to house UAVs as well as a training room and lockers.
Rooftop solar panels add greater energy efficiency to the building.
---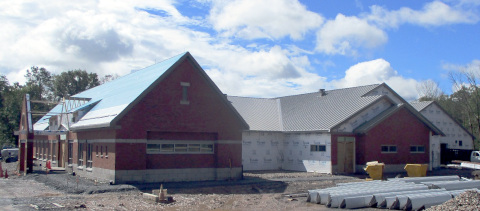 Since our last report in July 2018, construction progress on the Butler Township building located within the Can Do Corporate Center in Drums, Pa. has moved forward. Presently completed items include a standing seam roof, metal siding and brick veneer. Interior painting is 60 percent complete. Grid installation has begun and is about 20 percent complete.
Turnover to the owner expected to occur in late November.
---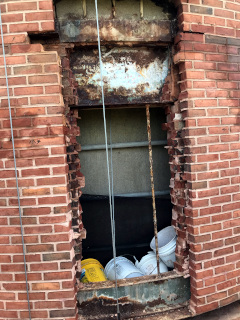 Recently a maintenance worker at a Pennsylvania manufacturing facility discovered that some of the structural steel supporting the building's brick façade was weakening. The area of concern was 65 feet above the ground.
Further investigation revealed that condensation from a sixth floor cooler was seeping through an exterior wall. Water trapped in the wall led to the untimely rusting of the structural steel.
Removal and replacement of the steel became an absolute necessity.
The repair work would require the demolition of 200 linear feet of a six-foot-high section of the three-wythes-wide brick façade. An extremely challenging task.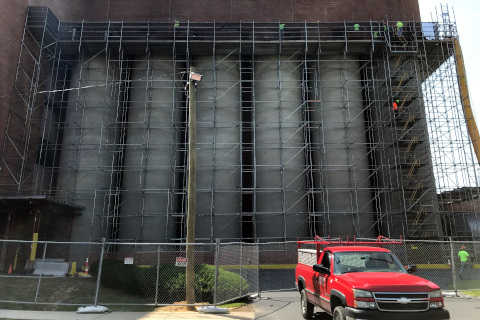 Safety was our top priority as we noted the chief constraints of the project:
Work area was 65 feet above the ground
Daily truck deliveries were within a few feet of the scaffolding and could not be disrupted
Materials had to be raised to the work area by a utility elevator
Demolition debris must be directed to a dumpster chute or elevator
Project had to complete by the end of October
And so we began by fully scaffolding the project to support the work and to protect people, traffic and tanks below.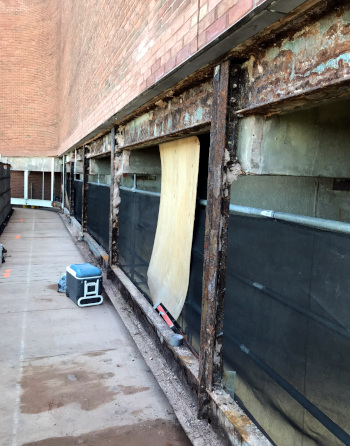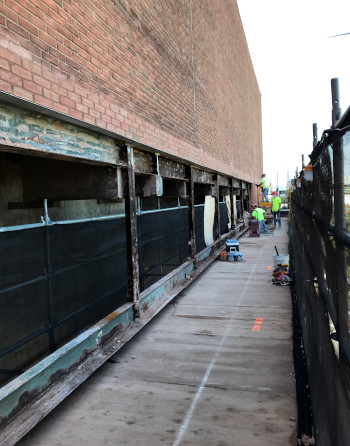 We removed three wythes of brick in a 200 foot by 6 foot wall section together with the associated structural steel behind the brick including inside and outside radiuses. We installed newly-fabricated structural steel. We encapsulated the new steel in a waterproof membrane.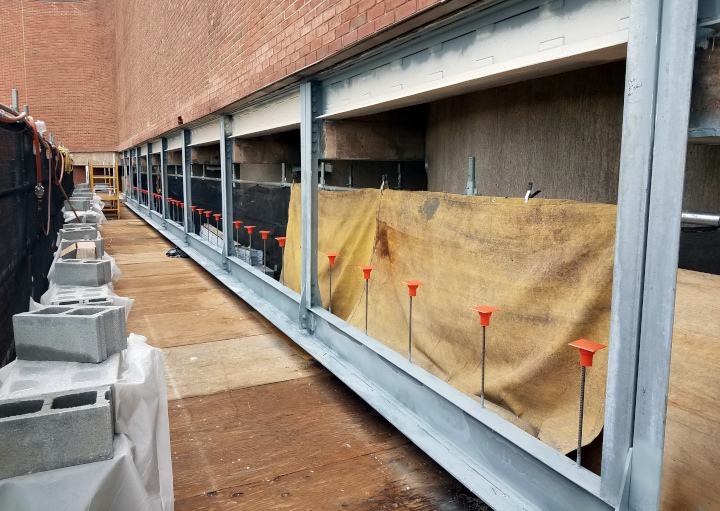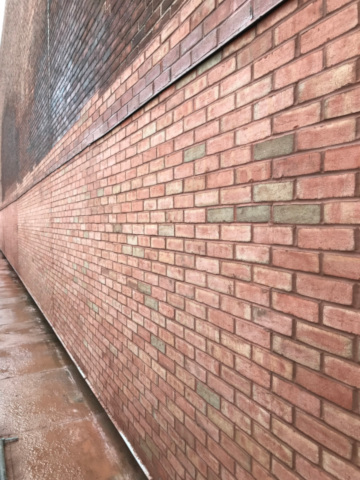 We laid a new wall with proper drainage and flashing to allow any condensate to escape.
After completing the work and removing the scaffold we re-caulked and washed the façade using a 125-foot boom lift.
Even with all the rainy days of summer causing delays, we managed to complete the work slightly ahead of schedule.
---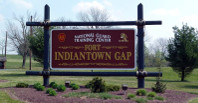 Our current project in support of the mission of the Fort Indiantown Gap Training Support Center (TSC) is the construction of a building to house training aids for the Pennsylvania National Guard.

The TSC provides its customers with the latest Training Aids, Devices, Simulators, and Simulations (TADSS) equipment along with information services.
Pad preparation and installation work began in Spring 2018.

The greatest point of interest in the erection of this building is the use of a process known as tilt-up construction. The American Concrete Institute defines tilt-up construction as "a construction technique of casting concrete elements in a horizontal position at the jobsite and then tilting and lifting the panels to their final position in a structure."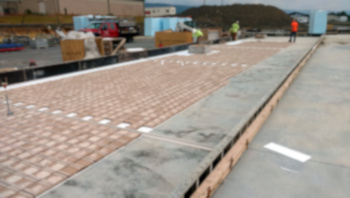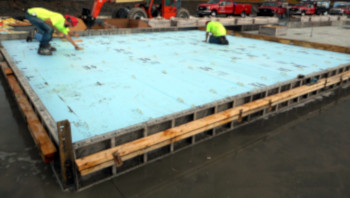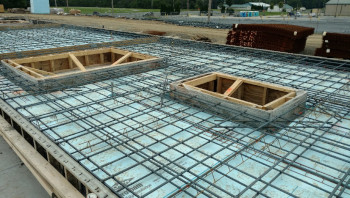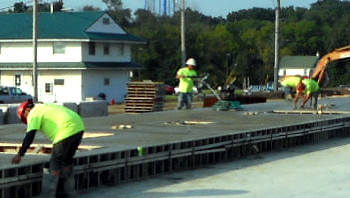 The wall of the new TSC building consists of a brick veneer face and concrete block backed by two inches of rigid insulation and a layer of reinforced concrete. The process requires laying the face brick and block horizontally on the building slab, then pouring concrete on top of them, then installing insulation panels under reinforcing steel and pouring more concrete on top of that.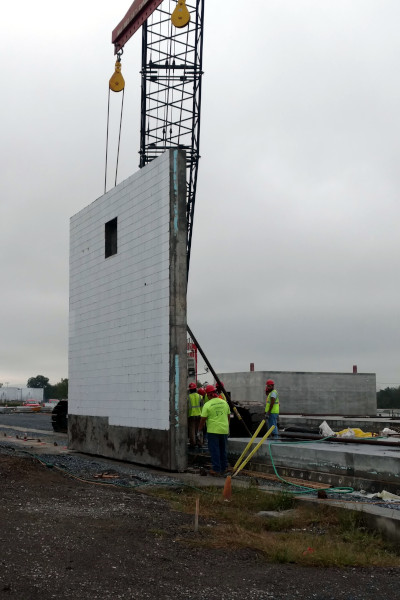 After about a month of curing the panel is lifted into final position.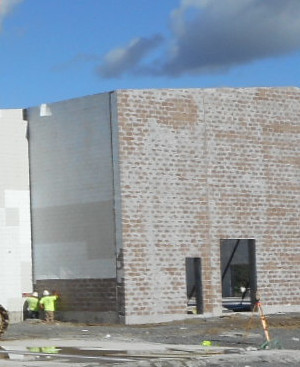 The white material visible on the outside of the wall is a plastic form used to accept the block and brick veneer.
After the plastic is removed the wall looks like traditionally erected masonry with the first layer of concrete simulating mortar joints.
As of September 2018 we are about midway through this 18-month-long project.
---

OMNOVA Solutions Inc., is a global manufacturer of emulsion polymers, specialty chemicals, and functional and decorative surfaces. OMNOVA designs and manufactures decorative laminates for residential and commercial interior environments in a facility located in Auburn, Pa.
We perform quite a bit of infrastructure work for Omnova's plant in Auburn. Most recently, we were called to inspect a section of interior concrete floor slab that had settled approximately 5 inches. The 25-foot by 10-foot area is heavily-trafficked by forklifts.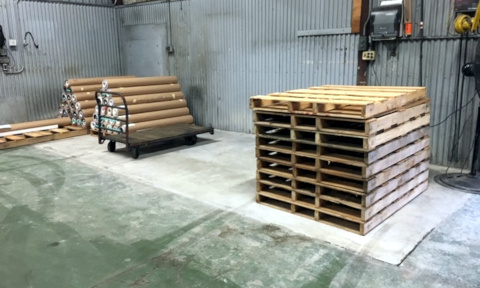 Our investigation began with a 3- by 3-foot saw cut opening in the concrete floor to expose the cause of the settling. We determined that the best solution would be to remove the existing concrete slab, infill the void with stone and lay down a 6-inch thick reinforced concrete slab.
Omnova, like many manufacturers in our region, contacts us frequently for facility maintenance projects like water line repair and concrete repair, along with capital projects including new roofing, new metal siding, and asphalt paving repairs.
---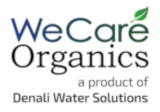 WeCare Organics LLC provides residuals management products and services to municipal, commercial, and residential communities in the northeastern United States. The company's line of products includes: WeCare Compost®, WeCare Engineered Soils™, WeCare Roof Mix™, and WeCare Mulch™.
The company hired MBCI to construct a processing facility on former coal mine land in Reilly Township, Schuylkill County designed to convert Class B biosolids into Class A by mixing an alkaline admixture, such as kiln dust, lime, or coal ash, then making the resultant material available for agriculture use, abandoned mine reclamation or landfill cover.
When completed, this building will serve the mixing and curing process where WeCare brings in biosolids and mixes other components with the material to produce agricultural fertilizer.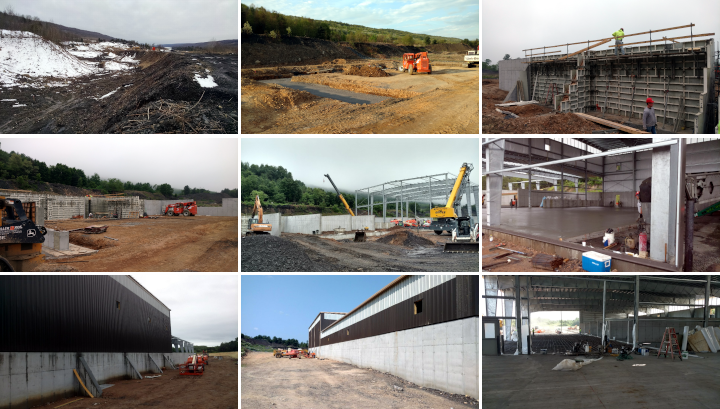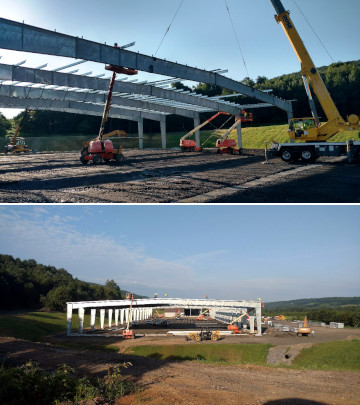 This day we were setting steel on a separate, clear-span building that will be used for receiving and storing Class B biosolids until the material can undergo conversion to Class A.
Class A biosolids can be used as fertilizer on farms, vegetable gardens, and can be sold to home owners as compost or fertilizer.
The building is 500 feet long. The sides are not closed in. The design calls for both sides to remain open down its entire length throughout the commercial life of the structure.
---

In the Borough of Lewis Run, McKean County can be found our construction site for a new Pa. State Police Barracks.
As of mid-July we have placed concrete for the slab and are setting concrete block for interior bearing walls and starting exterior walls of metal studs. Underground utilities are in place.

The 8,896 square-foot building, adjacent to the Bradford Regional Airport, is scheduled for completion on December 1, 2018.
---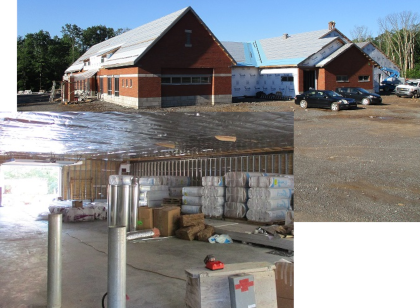 As reported last year, MBCI started construction in October on a new building for Butler Township in the CAN DO Corporate Center in Drums, Pa.
The project comprises 10,000 square feet to house administrative and police functions plus an 8,000 square-foot garage.
As of July 2018, exterior finishes are about 60 percent complete. Interior insulation and drywall installation are in progress.
We expect to turn over the project to the owner in early November.
---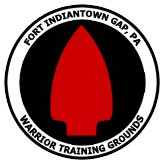 Work began in November 2017 on development of a hangar for Unmanned Aerial Vehicles (UAVs). The scope of work includes an 9,800 square foot addition to an existing building, sculpting of land contours and landscaping on the site.
Job progress as of mid-July 2018 included bar joists set, Thermoplastic Polyolefin (TPO) roofing installed, and final placement of ponds, trees and grass.

Interior rough-in is in progress. Exterior metal siding expected to start in two weeks, with installation of a photovoltaic array on the roof beginning in late August.
The project is on track for turn-over by September.
---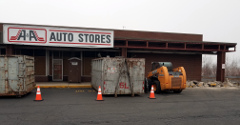 When NorthPoint Development acquired the site of the former Schuylkill Mall, the company arranged to relocate two mall tenants from inside the to-be-demolished mall building to a structure on the border of the property, a building that once housed an auto parts store.
NorthPoint hired MBCI to renovate the exterior of the former auto parts store to prepare new homes for the Mine Safety and Health Administration (MSHA) and the DaVita Kidney Care Dialysis Center.

Our scope of work included a totally new design for the front and sides of the building. We closed in old garage door openings, created new openings for storefronts and doors, and added new exterior lighting. We installed new exterior cladding of Nichiha fiber-cement panels on the fascia and end walls. And we added ADA-compliant concrete ramps.
In addition, we completed the interior of the MSHA-occupied space.

The project came in on time and on budget.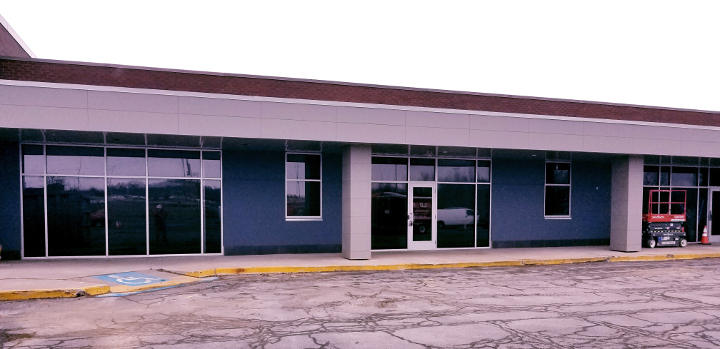 ---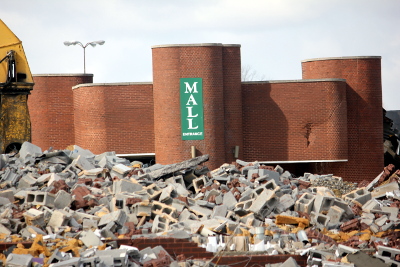 NorthPoint Development, the same Kansas City-based group that developed a major distribution center in Schuylkill County's Highridge Business Park for Hudson's Bay Company, called on MBCI to provide demolition and sitework services at the location of the former Schuylkill Mall in Frackville, Pa.
At the onset of work in January 2018 a 1980s-era, 840,000 square-foot, enclosed shopping mall could be found at the core of the 110-acre property with several other buildings along the periphery.
NorthPoint Development LLC bought the site, located at the intersection of Interstate 81 and Pa. Route 61, at a bankruptcy auction in January 2017 for $2.1 million.

NorthPoint is a privately held development firm based in Kansas City currently active in 11 states including: Kansas, Missouri, Texas, Illinois, Tennessee, Ohio, Indiana, Kentucky, Michigan, Florida and Pennsylvania.
MBCI's scope of work included complete demolition of the mall building as well as asbestos abatement within the structure. Water service to the mall had to be terminated and the main line relocated to continue supplying several ancillary buildings on the site. Occupants of these buildings include McDonalds, Big Lots, and soon-to-be-completed units that will house the field office of the Mine Safety and Health Administration (MSHA) and the DaVita Kidney Care Dialysis Center.

Electric service was similarly terminated at the mall building, relocated, and restored to the occupants remaining on the site.

Not insignificant challenges were overcome as the project moved forward. Demolition had to begin while some tenants remained actively engaged in daily business. Dunham's Sporting Goods and the Pearl Theatre remained open in the mall till the end of January. MSHA and DAVITA remained as tenants within the mall even as the walls near them were being pulled down. Provisions such as electric, data and sheltering walls remain in place to keep these businesses operating safely.
MBCI is currently renovating an existing building on the site to house new offices for both MSHA and DaVita.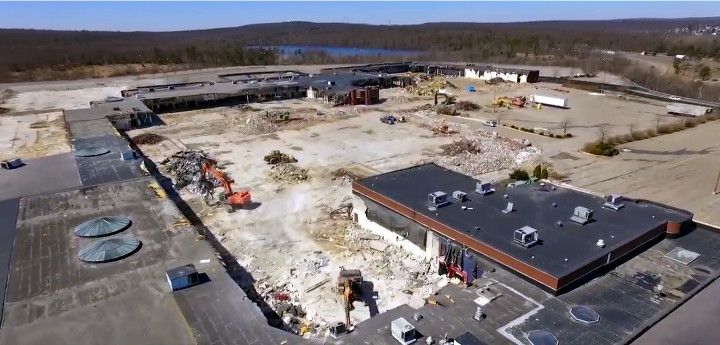 As of this writing (April 2018) about 50 percent of the former mall is flattened. The project is expected to conclude in early summer.
Once the mall site is completely cleared, Northpoint plans to construct two buildings for use as distribution centers offering approximately 1.3 million square feet under roof.
---
MBCI-installed improvements in manufacturing environments are often as simple as hanging a door or as complicated as transforming a bare building site into a manufacturing plant.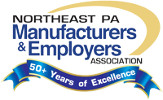 As seasoned professionals, our project managers construct improvements in industrial settings while minimizing disruption to production workflows. Our membership in the Northeast PA Manufacturers and Employers Association supports our grasp on the unique construction challenges to be found in manufacturing establishments.
Recently we were hired to cut a 25-foot x 15-foot wide opening in the insulated metal cladding of an exterior wall of a plant to allow the installation of two 12-foot diameter by 20-foot high mixing tanks, including a stainless steel elevated platform and stairs for accessing the mix tanks.
Another recent project encompassed the construction of a 70-foot long by 30-foot wide tanker truck unload enclosure using concrete, structural steel, and insulated metal exterior panels. We installed an elevated platform for accessing the top of the tanker truck and modified existing exterior site utilities. All while maintaining the manufacturing processes in operation.
Other recent manufacturing-related construction activity included: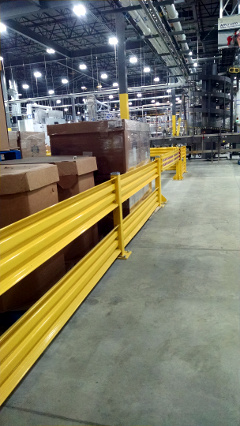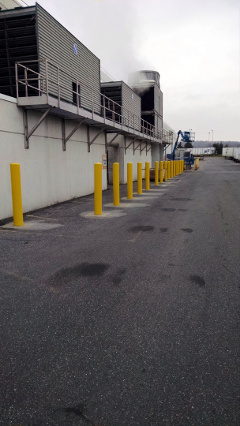 Installation of pedestrian walkway guard rail for employee safety. We have installed hundreds of lineal feet of guardrail over the last several years.
Installation of pipe bollards. Frequently installed around electrical transformers, dock doors, and for protection of buildings. We have done these numerous times as requested by customers.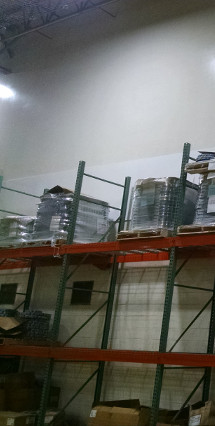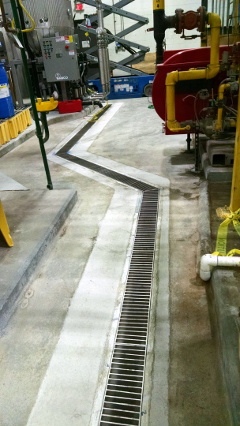 Installation of trench drain. We have done many of these. Saw cutting the existing floor, excavating for the drain, installing the drain and related piping while the plant remained in operation.
Installation of storage racking. Often used for storage of equipment, material, and product.
---